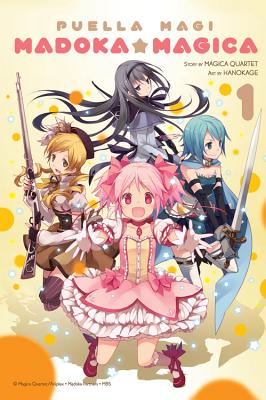 Puella Magi Madoka Magica, Vol. 1 (Paperback)
Yen Press, 9780316213875, 144pp.
Publication Date: May 29, 2012
Other Editions of This Title:
Paperback (12/15/2015)
Paperback (8/21/2012)
Paperback (12/11/2012)
Paperback (10/28/2014)
Paperback (6/24/2014)
Paperback (3/25/2014)
Paperback (7/21/2015)
* Individual store prices may vary.
Description
When a new girl joins her class, Madoka Kaname feels she recognizes the mysterious, dark-haired transfer student from one of her dreams...a dream where she is approached by a cat-like creature who offers Madoka an opportunity to change destiny. Madoka had always thought magic was the stuff of fantasy...until she sees the transfer student fighting with the very cat-being from her dream! And just like in Madoka's dream, the cat gives her a choice: Will Madoka become a Puella Magi in exchange for her dearest desire? What will be the cost of having her wish come true?
About the Author
Magica Quartet is a team formed of members of anime production studios SHAFT and Aniplex who came together to create "Puella Magi Madoka Magica." Members include Iwakami Atsuhiro, Akiyuki Shinbo, Gen Urobuchi, and Ume Aoki, who is also the creator behind "Sunshine Sketch."