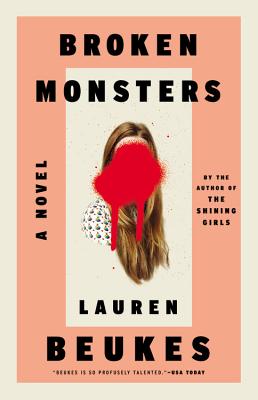 Broken Monsters
Hardcover

* Individual store prices may vary.
Other Editions of This Title:
Digital Audiobook (9/15/2014)
Paperback (6/16/2015)
CD-Audio (9/16/2014)
Description
A criminal mastermind creates violent tableaus in abandoned Detroit warehouses in Lauren Beukes's genre-bending novel of suspense.

Detective Gabriella Versado has seen a lot of bodies. But this one is unique even by Detroit's standards: half boy, half deer, somehow fused together. As stranger and more disturbing bodies are discovered, how can the city hold on to a reality that is already tearing at its seams?

If you're Detective Versado's geeky teenage daughter, Layla, you commence a dangerous flirtation with a potential predator online. If you're desperate freelance journalist Jonno, you do whatever it takes to get the exclusive on a horrific story. If you're Thomas Keen, known on the street as TK, you'll do what you can to keep your homeless family safe -- and find the monster who is possessed by the dream of violently remaking the world.

If Lauren Beukes's internationally bestselling The Shining Girls was a time-jumping thrill ride through the past, her Broken Monsters is a genre-redefining thriller about broken cities, broken dreams, and broken people trying to put themselves back together again.

"Scary as hell and hypnotic. I couldn't put it down...I'd grab it if I were you." -- Stephen King
Praise For Broken Monsters…
"Exquisitely paced and impeccably controlled . . . An enormously satisfying novel that employs the best attributes of multiple genres to dramatize big ideas about art, the Internet and urban decay. . . . Beukes moves effortlessly through many of the city's worlds, from police precincts to the Internet-driven secret lives of teenage girls and the homeless shelters and mostly dead neighborhoods of a hobbled American city, all while teasing a disturbingly beautiful and possibly supernatural universe existing at its borders."
—
New York Times Book Review
"Captivating . . . A thoroughly modern, supernatural thriller."
—
Karolina Waclawiak
,
Los Angeles Times
"Simple, elegant prose . . . The anticipation and dread Beukes crafts is remarkable. Also remarkable is Beukes's ability to blend genres, seamlessly incorporating horror, fantasy and traditional crime in ways that highlight the best parts of each. It feels new--unprecedented, in a way."
—
Madison Vain
,
Entertainment Weekly
"Flawless--I haven't read a scarier, more tense book in years. . . . It's hard to overstate how ambitious
Broken Monsters
is, maybe because Beukes somehow manages to make it look easy. Her prose is unhindered, exuberant and something like addictive--you can tell yourself you're just going to read one chapter, but before you know it, you've gone through 100 pages. You could say that she's as edgy as James Ellroy, as creepy as Stephen King and as darkly funny as Kurt Vonnegut, but Beukes is an author whose work is resistant to easy comparisons.
Broken Monsters
is one of the most remarkable books of the year, and one of the best suspense novels you'll read in quite some time."—
Michael Schaub
,
NPR.org
"Scary as hell and hypnotic. I couldn't put it down. . . . I'd grab it, if I were you."
—
Stephen King
"Dig it: what a brilliant crime-phantasmagoria novel this is!!!!! This splendid novel is THE new primer on urban decay to the nth degree. I unhesitatingly urge you to buy it and read it now!"
—
James Ellroy, author of American Tabloid
Mulholland Books, 9780316216821, 448pp.
Publication Date: September 16, 2014
About the Author
Lauren Beukes writes novels, comics and screeplays. She's the author of the critically-acclaimed international bestseller Broken Monsters; The Shining Girls, about a time traveling serial killer; Zoo City, a phantasmagorical Joburg noir and winner of the 2011 Arthur C Clarke Award; and the neo-political thriller Moxyland. She worked as a journalist and as show runner on one of the South Africa's biggest animated TV shows, directed an award-winning documentary, and wrote the New York Times bestselling graphic novel, Fairest: The Hidden Kingdom. She lives in Cape Town, South Africa.
or
Not Currently Available for Direct Purchase