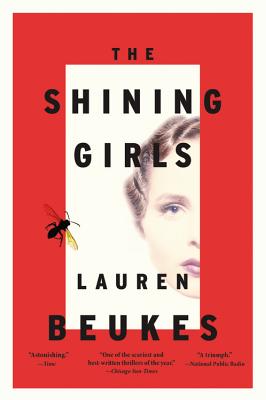 The Shining Girls
A Novel
Paperback

* Individual store prices may vary.
Other Editions of This Title:
Digital Audiobook (6/22/2020)
Digital Audiobook (6/3/2013)
Hardcover, Large Print (6/11/2013)
Compact Disc (6/4/2013)
Compact Disc (6/4/2013)
Description
Now an Apple TV+ series starring Elisabeth Moss: the girl who wouldn't die hunts the killer who shouldn't exist in this "expertly chilling" twist on the serial killer novel from the award-winning author Lauren Beukes (San Francisco Chronicle).

Harper Curtis is a killer who stepped out of the past. Kirby Mazrachi is the girl who was never meant to have a future. Kirby is the last shining girl, one of the bright young women, burning with potential, whose lives Harper is destined to snuff out after he stumbles on a House in Depression-era Chicago that opens on to other times.

At the urging of the House, Harper inserts himself into the lives of these shining girls, waiting for the perfect moment to strike. He's the ultimate hunter, vanishing without a trace into another time after each murder -- until one of his victims survives.

Determined to bring her would-be killer to justice, Kirby joins the Chicago Sun-Times to work with the reporter, Dan Velasquez, who covered her case. Soon Kirby finds herself closing in on an impossible truth . . .

"Utterly original, beautifully written, and I must say, it creeped the holy bejasus out of me. This is something special." —Tana French
Praise For The Shining Girls: A Novel…
One of the best crime books of the decade! (CrimeReads)

"Intriguing...Beukes deals with slightly surreal things in very real ways. I'm all over it."—Gillian Flynn, O magazine

"A grisly crime thriller meets sci-fi action meets historical fiction in a wildly inventive summer page-turner."—Entertainment Weekly

"One of the scariest and best-written thrillers of the year, not to mention the most memorable portrait of a serial killer since Henry H. Holmes in....Erik Larson's 2003 nonfiction bestseller The Devil in the White City."—Chicago Sun-Times

"A triumph ... [T]he smart and spunky Kirby Mizrachi is as exciting to follow as any in recent genre fiction ... [E]ach chapter in which [Harper] appears holds a reader's attention, especially the sharply described murder scenes - some of which read as much like starkly rendered battlefield deaths out of Homer as forensic reconstructions of terrible crimes ... This book means business."—NPR.org

"[Beukes is] so profusely talented - capable of wit, darkness, and emotion on a single page - that a blockbuster seems inevitable....The Shining Girls marks her arrival as a major writer of popular fiction."—USA Today

"The premise is pure Stephen King, but Beukes gives it an intricate, lyrical treatment all her own."—Time

"THE SHINING GIRLS is utterly original, beautifully written, and I must say, it creeped the holy bejasus out of me. This is something special."—Tana French

"A tremendous work of suspense fiction. What's more, it's a fabulous piece of both time-travel and serial killer fiction, using the intersection of those two themes to explore questions of free will, predestination, and causality in a mind-melting, heart-pounding mashup that delivers on its promise."—Cory Doctorow, Boing Boing

"I loved THE SHINING GIRLS. It really is a new kind of thriller, sitting somewhere between The Time Traveller's Wife and The Silence of The Lambs. A dark, relentless, time-twisting, page-turning murder story guaranteed to give you heart palpitations. It shines."—Matt Haig, author of The Radleys

"Very smart...completely kick-ass. Beukes' handling of the joints between the realistic and the fantastic is masterful, and those are always my favorite parts, in this kind of story. Not the weirdness (which is itself superb here, and very ample) but the segue to it. The liminal instant."—William Gibson

Unreservedly recommended."—Joe Hill

"One of the summer's hottest books."—Wired.com
Mulholland Books, 9780316216869, 400pp.
Publication Date: January 14, 2014
About the Author
Lauren Beukes writes novels, comics and screeplays. She's the author of the critically-acclaimed international bestseller Broken Monsters; The Shining Girls, about a time traveling serial killer; Zoo City, a phantasmagorical Joburg noir and winner of the 2011 Arthur C Clarke Award; and the neo-political thriller Moxyland. She worked as a journalist and as show runner on one of the South Africa's biggest animated TV shows, directed an award-winning documentary, and wrote the New York Times bestselling graphic novel, Fairest: The Hidden Kingdom. She lives in Cape Town, South Africa.