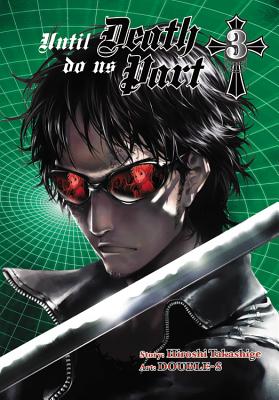 Until Death Do Us Part, Vol. 3 (Paperback)
Yen Press, 9780316217101, 416pp.
Publication Date: February 26, 2013
Other Editions of This Title:
Paperback (5/29/2012)
Paperback (9/25/2012)
Paperback (5/19/2015)
Paperback (1/20/2015)
Paperback (7/23/2013)
Paperback (9/23/2014)
Paperback (12/17/2013)
Paperback (5/27/2014)
* Individual store prices may vary.
Description
Haruka and Mamoru take to the streets, fleeing the deadly invisible enemy that pursues them. With Mamoru wounded and his sword blunted, Haruka fears that prolonging this fight will only end with her protector's destruction. But Mamoru has not been relying on his strength alone. Igawa has been working behind the scenes to counter the assassin's drones...but is the pair's technical expert up to the task of disabling government-grade weaponry? Or has Igawa met his match in the world-class hit man, Fang?!
About the Author
Artist DOUBLE-S made his Japanese manga debut with "Until Death Do Us Part." Hiroshi Takashige is a manga writer who studied at Gekiga Sonjuku, a school for manga creators established by the legendary Kazuo Koike (Lone Wolf and Cub). Takashige is best known for his work in Spriggan and the long-running, critically acclaimed Until Death Do Us Part.