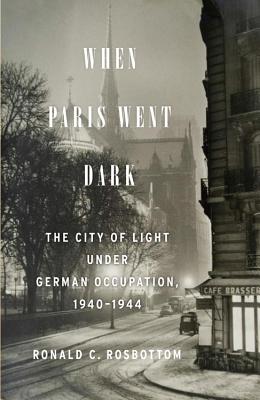 When Paris Went Dark
The City of Light Under German Occupation, 1940-1944
Hardcover

* Individual store prices may vary.
Other Editions of This Title:
Digital Audiobook (8/4/2014)
Paperback (3/17/2015)
Description
The spellbinding and revealing chronicle of Nazi-occupied Paris.

On June 14, 1940, German tanks entered a silent and nearly deserted Paris. Eight days later, France accepted a humiliating defeat and foreign occupation. Subsequently, an eerie sense of normalcy settled over the City of Light. Many Parisians keenly adapted themselves to the situation-even allied themselves with their Nazi overlords.

At the same time, amidst this darkening gloom of German ruthlessness, shortages, and curfews, a resistance arose. Parisians of all stripes -- Jews, immigrants, adolescents, communists, rightists, cultural icons such as Colette, de Beauvoir, Camus and Sartre, as well as police officers, teachers, students, and store owners -- rallied around a little known French military officer, Charles de Gaulle.

When Paris Went Dark evokes with stunning precision the detail of daily life in a city under occupation, and the brave people who fought against the darkness. Relying on a range of resources -- memoirs, diaries, letters, archives, interviews, personal histories, flyers and posters, fiction, photographs, film and historical studies -- Rosbottom has forged a groundbreaking book that will forever influence how we understand those dark years in the City of Light.
Praise For When Paris Went Dark: The City of Light Under German Occupation, 1940-1944…
"Ronald C. Rosbottom's rigorously researched and deeply compelling book,
When Paris Went Dark
, examines the relationship between the occupiers and the occupied, specifically how the vanquished Parisians either fought against or adapted to the conditions imposed by their Nazi rulers....Rosbottom strikes a perfect tone that is neither too scholarly nor too familiar and produces a chronicle that edifies as it entertains."—
Malcom Forbes
,
Minneapolis StarTribune
"Ronald C. Rosbottom's
When Paris Went Dark: The City of Light Under German Occupation, 1940-1944
resonated eerily with 2017 America. From its analysis of the French right's rise to power and the many attempts to deny what was occurring, to its nuanced exploration of how both government and average French citizen resisted--or collaborated with--the occupiers, this book is a compelling, sobering warning about the dangers of complacency in the face of intolerance."—
Celeste Ng
,
Wall Street Journal

"A well-rounded overview....The strength of Mr. Rosbottom's book lies in the
details he has culled from memoirs, letters, papers, films, plays, songs, and
diaries that illuminate the experience of both the occupiers and the occupied."
—
Caroline Moorehead
,
Wall Street Journal
"A profound historical portrait of Paris for
anyone who loves the city."

—
Dallas Morning News
"A riveting account of one of the most resonant hostage-takings in history: the 1,500 days when a swastika flew from the Eiffel Tower. Ronald Rosbottom illuminates every corner of a darkened, heartsick city, exploring the oddities, capturing the grisly humor, and weighing the prices of resistance, accommodation, collaboration. The result is an intimate, sweeping narrative, astute in its insight and chilling in its rich detail."
—
Stacy Schiff
,
author of Cleopatra, A Great Improvisation, and Véra
"
When Paris Went Dark
recounts, through countless compelling stories, how Nazi occupation drained the light from Paris and how many of its residents resisted in ways large and small. This is a rich work of history, a brilliant recounting of how hope can still flourish in the rituals of daily life."—
Scott Turow
,
author of Identical
"Ronald Rosbottom has recreated the Parisian world during the dark days of the German occupation like no previous writer I know. His secret is two-fold: first, exhaustive research that allows him to recover what we might call the importance of the ordinary; and second, a shrewd grasp of how memory works, often in strange ways."
—
Joseph J. Ellis
,
Ford Foundation Professor Emeritus at Mount Holyoke College, author of Founding Brothers, American Sphinx, and Revolutionary Summer
Little, Brown and Company, 9780316217446, 480pp.
Publication Date: August 5, 2014
About the Author
Ronald C. Rosbottom is the Winifred L. Arms Professor in the Arts and Humanities and Professor of French and European Studies at Amherst College. Previously, he was the Dean of the Faculty at Amherst, Chair of the Romance Languages Department at The Ohio State University, and taught at the University of Pennsylvania. He lives in Amherst, Massachusetts.
or
Not Currently Available for Direct Purchase