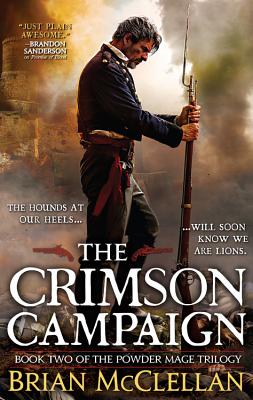 The Crimson Campaign (The Powder Mage Trilogy #2)
Paperback

* Individual store prices may vary.
Other Editions of This Title:
Digital Audiobook (5/5/2014)
Description
"Just plain awesome" -- Brandon Sanderson
A staggering defeat on the border of Adro and Kez leaves Tamas and his powder mages in grave danger and cut off from all aid. Meanwhile, deadly political games threaten his allies at home.

When invasion looms. . .

Tamas's invasion of Kez ends in disaster when a Kez counter-offensive leaves him cut off behind enemy lines with only a fraction of his army, no supplies, and no hope of reinforcements. Drastically outnumbered and pursued by the enemy's best, he must lead his men on a reckless march through northern Kez to safety, and back over the mountains so that he can defend his country from an angry god, Kresimir.

But the threats are closer to home. . .

In Adro, Inspector Adamat wants only to rescue his wife. To do so he must track down and confront the evil Lord Vetas. He has questions for Vetas concerning his enigmatic master, but the answers will lead Adamat on a darker journey.

Who will lead the charge?

Tamas's generals bicker among themselves, the brigades lose ground every day beneath the Kez onslaught, and Kresimir wants the head of the man who shot him in the eye. With Tamas and his powder cabal presumed dead, Taniel Two-shot finds himself as the last line of defense against Kresimir's advancing army.

The Crimson Campaign continues the most acclaimed and action-packed new epic fantasy series in years, following on from Promise of Blood - an adrenaline-fuelled debut of flintlock mages, civil war, and cold-blooded murder in a world where gods walk the earth.
Praise For The Crimson Campaign (The Powder Mage Trilogy #2)…
"This swirling sequel to Promise of Blood draws the reader deep into political intrigue and military matters in a gun-powder-sprinkled fantasy world."—Publishers Weekly on The Crimson Campaign

"Promise of Blood is a hugely promising debut. Guns, swords, and magic together? What more could you want? How about tense action, memorable characters, rising stakes, and cool, cool magic? Not only the finest flintlock fantasy I've read, but also the most fun. Brian McClellan is the real thing."—Brent Weeks, New York Times bestselling author on Promise of Blood

"This book is just plain awesome. I found myself enjoying every moment of it. Innovative magic, quick-paced plot, interesting world. I had a blast."—Brandon Sanderson, New York Times bestselling author on Promise of Blood

"Impressively distinctive and pungent, with solid plotting and exceptional action sequences."—Kirkus on Crimson Campaign

"Brian McClellan is an explosive powder keg of imagination with an expertly-plotted fuse. The stories he tells are the stories we'll be reading for years to come."—Sam Sykes on Promise of Blood

"The world of the privileged sorcerers and the strange abilities of the powder mages who can manipulate gunpowder are just as well drawn in this captivating universe."—RT Book Reviews (4 1/2 stars) on Promise of Blood

"McClellan's debut packs some serious heat.... A thoroughly satisfying yarn that should keep readers waiting impatiently for further installments."—Kirkus (Starred Review) on Promise of Blood

"Gunpowder and Magic. An explosive combination. Promise of Blood is the best debut I've read in ages."—Peter V. Brett

"I love the world Brian McClellan builds, Powder Mages with flintlock pistols against white-gloved Privileged for the fate of a nation and more. Promise of Blood feels like the start of something amazing."—Django Wexler

"Brings a welcome breath of gunpowder-tinged air to epic fantasy."—Anthony Ryan on Promise of Blood
Orbit, 9780316219075, 640pp.
Publication Date: January 20, 2015
About the Author
Brian McClellan is an American epic fantasy author from Cleveland, Ohio. He is known for his acclaimed Powder Mage novels and essays on the life and business of being a writer. Brian now lives in Utah with his wife, Michele.