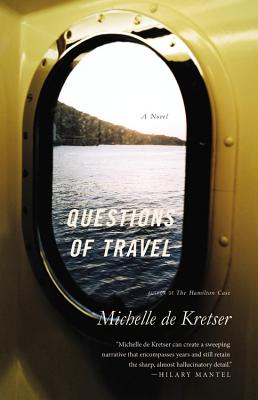 Questions of Travel (Hardcover)
A Novel
Little, Brown and Company, 9780316219228, 480pp.
Publication Date: May 14, 2013
* Individual store prices may vary.
Description
"It is not really possible to describe, in a short space, the originality and depth of this long and beautifully crafted book."--A.S. Byatt, Guardian
Laura Fraser grows up in Sydney, motherless, with a cold, professional father and an artistic bent. Ravi Mendis lives on the other side of the globe--exploring the seductive new world of the Internet, his father dead, his mother struggling to get by. Their stories alternate throughout Michelle de Kretser's ravishing novel, culminating in unlikely fates for them both, destinies influenced by travel--voluntary in her case, enforced in his.

With money from an inheritance, Laura sets off to see the world, eventually returning to Sydney to work for a publisher of travel guides. There she meets Ravi, now a Sri Lankan political exile who wants only to see a bit of Australia and make a living. Where do these two disparate characters, and an enthralling array of others, truly belong? With her trademark subtlety, wit, and dazzling prose, Michelle de Kretser shows us that, in the 21st century, they belong wherever they want to and can be--home or away.
About the Author
Michelle de Kretser is a Sri Lankan who has lived in Australia for several years. She is the author of the novels The Rose Grower, The Hamilton Case, and The Lost Dog, and she is currently an associate of the English Department at the University of Sydney.
Praise For Questions of Travel: A Novel…
Praise for Questions of Travel

"This is a novel unlike any other I have read....Questions of Travel is about uprootedness and travel, about tourism and flight from terror, about the trivial and the terrible....It seems to proceed with an uncanny lightness, in glimpses and sudden shifts. De Kretser is a master storyteller and again and again prepares small--and large--shocks that explode tens of pages later, and cannot be given away."--A.S. Byatt, Guardian

"Studded with fine and funny writing, bursts of affecting drama, and disarming images."--New York Times Book Review

"Questions of Travel should ensure her place as a serious international novelist of the first rank."--Economist

"De Kretser's brilliantly observed new novel explores the meaning of travel....She offers deadly darts of observation that puncture clichés and deflate false enthusiasm. In the end she leaves you flat on the ground, possessed of harder truths."--Publisher's Weekly (Boxed Review)

"Exquisite, haunting....As she traces Laura's and Ravi's lives over four decades, de Kretser's style is poetic, indelible, and often breathtaking in its beauty."--Library Journal (Starred Review)

"Questions of Travel is that gleaming thing that makes everything around it seem dull in comparison. It's one of the most beautifully written books I've ever read."--The Globe and Mail

"De Kretser writes movingly of the sudden attachments and partings that mark her characters' peripatetic lives. And her evocations of place are wonderfully precise... Even as she evokes the pleasures of travel, however, de Kretser wants us to think about its underlying meaning and purpose... She raises profound questions-is the connectedness of modern life an improvement over the rootedness of old? Is any attempt to confront a foreign culture fated to end in dubious simplifications?-but like all the best novelists, she leaves the answers up to her readers." -David Evans, The Independent on Sunday

"As surprising as it is ambitious, Questions of Travel is a satisfying journey through the dislocations of contemporary life." -Arminta Wallace, Irish Times
or
Not Currently Available for Direct Purchase