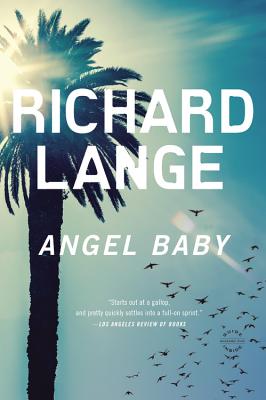 Angel Baby (Paperback)
A Novel
Mulholland Books, 9780316219839, 336pp.
Publication Date: May 27, 2014
Other Editions of This Title:
Hardcover (5/14/2013)
* Individual store prices may vary.
Description
**Winner of the International Association of Crime Writers' Dashiell Hammett Award**A woman goes on the run in this intense and cinematic thriller by an award-winning writer.
To escape the awful life she has descended into, Luz plans carefully. She takes only the clothes on her back, a Colt .45, and all the money in her husband's safe. The corpses in the hallway weren't part of her plan.

Luz needs to find the daughter she left behind years earlier, but she knows she may die trying. Her husband is El Principe, a key player in a high-powered drug cartel, a business he runs with the same violence he has used to keep Luz his perfect, obedient wife.

With the pace and relentless force of a Scorsese film, ANGEL BABY is the newest masterpiece from one of the most ambitious and talented crime novelists at work today.


This edition of Angel Baby includes a bonus short story, "Must Come Down."
About the Author
Richard Lange is the author of the story collection Dead Boys, which received an award from the American Academy of Arts and Letters, and the novel This Wicked World. He is the recipient of a Guggenheim Fellowship, and his fiction has appeared in Best American Mystery Stories 2004 and 2011. He lives in Los Angeles.
Praise For Angel Baby: A Novel…
PRAISE FOR ANGEL BABY:

"The plot explodes.... You know you're in the hands of a real writer."
--Marilyn Stasio, New York Times Book Review

"Opens with a trigger-snap of trouble and blasts forward with the propulsive force of a bullet and never stops moving."
--Benjamin Percy, Esquire

"Thrilling and cinematic, told as one long chase scene."
--Christian DuChateau, CNN

"A fast-paced thrill ride."
--Cameron Martin, Daily Beast

"One lean, tough novel. Lange's prose is sharp throughout and his pacing moves with the momentum of rolling thunder."
--Derek Hill, Mystery Scene

"A rising star.... Lange embraces classic noir in all its violence, bleakness, and dark humor. He makes readers care about his flawed characters and appreciate the odds that were stacked against them by the circumstances of their upbringing. A film waiting to happen, this book boasts memorable characters, evocative settings, and a suspenseful plot."
---Kirkus

"A forceful read....Richard Lange's gripping novel is full of compelling characters, including a manipulative Mexican drug lord, a treacherous hit man, and sleazy border opportunists, but at the heart of this fast-moving story is Luz."
---Don Mann, author of Inside SEAL Team Six

"Angel Baby starts off in a sprint and never slows down. Richard Lange is a natural-born storyteller. What an excellent novel, both suspenseful and surprisingly moving."
---Ron Rash, author of The Cove

"This novel should come with a warning....The sentences flash like switchblades, the chapters rattle off like gunfire. Make all the comparisons you like -- Cormac McCarthy, Dennis Lehane, Martin Scorsese -- but Richard Lange is a force of his own, the high standard for crime fiction."
---Benjamin Percy, author of Red Moon

"Richard Lange has a PhD in badass, and in Angel Baby he leads the reader through every can't-look, can't-look-away corner of treachery and sleaze, violence and danger. Lange stands out as the greatest young crime writer of his generation, precisely because he doesn't write crime-he writes literature."
---Jerry Stahl, author of Permanent Midnight

"Angel Baby is a bone-crushing nightmare parable: bad people doing the wrong things for love."
---Warren Ellis, author of Gun Machine