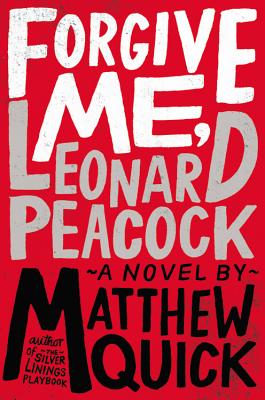 Forgive Me, Leonard Peacock (Paperback)
Little, Brown Books for Young Readers, 9780316221351, 304pp.
Publication Date: July 1, 2014
* Individual store prices may vary.
Description
In addition to the P-38, there are four gifts, one for each of my friends. I want to say good-bye to them properly. I want to give them each something to remember me by. To let them know I really cared about them and I'm sorry I couldn't be more than I was--that I couldn't stick around--and that what's going to happen today isn't their fault.
Today is Leonard Peacock's birthday. It is also the day he will kill his former best friend, and then himself, with his grandfather's P-38 pistol. Maybe one day he'll believe that being different is okay, important even. But not today.
About the Author
Matthew Quick (aka Q) is the author of The Silver Linings Playbook (Sarah Crichton Books / Farrar, Straus & Giroux) and three young adult novels, Sorta Like a Rock Star, Boy21, and Forgive Me, Leonard Peacock (Little, Brown & Co.). His work has received many honors--including a PEN/Hemingway Award Honorable Mention--been translated into many languages, and called "beautiful...first-rate" by The New York Times Book Review. The Weinstein Company and David O. Russell have adapted The Silver Linings Playbook into a film starring Robert De Niro, Bradley Cooper, and Jennifer Lawrence. Matthew lives in Massachusetts with his wife, novelist Alicia Bessette. His website is www.matthewquickwriter.com.
Praise For Forgive Me, Leonard Peacock…
"Books like Quick's are necessary...We should be grateful for a book that gets kids, and the leaders they'll become, thinking about the problem now."—The New York Times

"Full disclosure: you might need tissues to make it through Leonard Peacock, but even if you don't, you'll likely be touched by Leonard's story."—Entertainment Weekly

"At a time when bullying and gun violence is at the top of the national conversation, this novel servies as a literary segue for teens, parents and teachers into an open dialogue on sensitive topics."—USA Today

"If only Hollywood could get novelist Matthew Quick to write faster. Everything the Massachusetts-based writer pens seems to be scooped up by the studios as soon as the books are bound."—The Los Angeles Times

* "Quick's use of flashbacks, internal dialogue, and interpersonal communication is brilliant, and the suspense about what happened between Leonard and Asher builds tangibly. The masterful writing takes readers inside Leonard's tormented mind, enabling a compassionate response to him and to others dealing with trauma."—School Library Journal, starred review

* "Quick's attentiveness to these few key relationships and encounters gives the story its strength and razorlike focus...Through Leonard, Quick urges readers to look beyond the pain of the here and now to the possibilities that await."—Publishers Weekly, starred review

" Over the course of one intense day (with flashbacks), Leonard's existential crisis is delineated through an engaging first-person narrative supplemented with footnotes and letters from the future that urge Leonard to believe in a "life beyond the übermorons" at school. Complicated characters and ideas remain complicated, with no facile resolutions, in this memorable story."—The Horn Book

"...the novel presents a host of compelling, well-drawn, realistic characters-all of whom want Leonard to make it through the day safe and sound."—Kirkus

"This is one of the most important books of our time."—A.S. King, Printz Honor author of Everybody Sees the Ants and Ask the Passengers

"Leonard's life teeters dangerously between moments of pain and beauty. A fast read, because I needed to keep reading. I will not forget Leonard Peacock. I love this book."

—Jay Asher, #1 New York Times bestselling author of Thirteen Reasons Why and The Future of Us