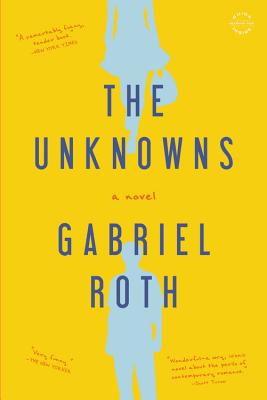 The Unknowns
A Novel
Paperback

* Individual store prices may vary.
Other Editions of This Title:
Digital Audiobook (7/1/2013)
Description
Eric Muller has been trying to hack the girlfriend problem for half his life. As a teenage geek, he discovered his gift for programming computers-but his attempts to understand women only confirm that he's better at writing code than connecting with human beings. Brilliant, neurotic, and lonely, Eric spends high school in the solitary glow of a screen.

By his early twenties, Eric's talent has made him a Silicon Valley millionaire. He can coax girls into bed with ironic remarks and carefully timed intimacies, but hiding behind wit and empathy gets lonely, and he fears that love will always be out of reach.

So when Eric falls for the beautiful, fiercely opinionated Maya Marcom, and she miraculously falls for him too, he's in new territory. But the more he learns about his perfect girlfriend's unresolved past, the further Eric's obsessive mind spirals into confusion and doubt. Can he reconcile his need for order and logic with the mystery and chaos of love?

This brilliant debut ushers Eric Muller-flawed, funny, irresistibly endearing-into the pantheon of unlikely heroes. With an unblinking eye for the absurdities and horrors of contemporary life, Gabriel Roth gives us a hilarious and heartbreaking meditation on self consciousness, memory, and love.
Praise For The Unknowns: A Novel…
"If only all social misfits were as stealthily charming as Eric Muller, the nerdy narrator of Gabriel Roth's sparkling debut novel. Mr. Roth's remarkably funny, tender book is much more than one code-writing kid's success story. As its title indicates, "The Unknowns" is about how Eric grows up trying to fathom those things he doesn't naturally understand. Mr. Roth writes in a gently self-mocking, utterly disarming style that gives "The Unknowns" an unusual type of tension."—Janet Maslin, New York Times

"Smart, funny and emotionally layered, Roth's debut explores the eternal struggle between intimacy and autonomy."—People Magazine

"[Eric's] analytic mind, so useful in the world of computers, hinders his human interactions in the real world, especially with the fairer sex.... He perceives dating with an omniscience reminiscent of Neo from The Matrix.... the book crackles with commentary, one part post-structuralism and one part observational comedy, on how we interact in 2013."—Daily Beast
Back Bay Books, 9780316223300, 240pp.
Publication Date: May 13, 2014
About the Author
Gabriel Roth was born and raised in London and educated at Brown University and at San Francisco State University, from which he received a Master of Fine Arts in creative writing. For several years he was employed as a reporter and editor at the San Francisco Bay Guardian. He now works as a writer and software developer and lives with his family in Brooklyn, New York. The Unknowns is his first novel.