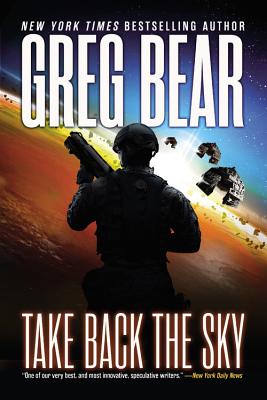 Take Back the Sky (War Dogs #3)
Hardcover

* Individual store prices may vary.
Other Editions of This Title:
Compact Disc (12/20/2016)
Compact Disc (12/20/2016)
Description
The conclusion to an epic interstellar trilogy of war from master of science fiction, Greg Bear.

Marooned beneath the icy, waxy crust of Saturn's moon, Titan, Skyrine Michael Venn and his comrades face double danger from Earth and from the Antagonists, both intent on wiping out their growing awareness of what the helpful alien Gurus are really doing in our solar system.

Haunted by their dead and by the ancient archives of our Bug ancestors, the former combatants must now team up with their enemies, forget their indoctrination and their training, and journey far beyond Pluto to the fabled Planet X, the Antagonists' home world, a Sun-Planet in the comet-generating Kuiper belt. It's here that Master Sergeant Venn will finally understand his destiny and the destiny of every intelligent being in the solar system-including the enigmatic Gurus.
Praise For Take Back the Sky (War Dogs #3)…
"Stuffed with adrenaline-pumping action and mystifying ambiguity, Bear's series launch is a tempest of rousing SF adventure with a dash of Peckinpah."
—
Publishers Weekly on War Dogs
"Military sci-fi, action and adventure, and a whole lot of thought-provoking complexity."
—
San Diego Union-Tribune on War Dogs
"Packed with adventure and incident...and conveyed with gritty realism."
—
Kirkus on War Dogs
"Greg Bear's voice is a resonant, clear chord of quality binding some of the best SF of the 20th Century to the short list of science-savvy, sophisticated, top-notch speculative fiction of the 21st. More than a grace note,
Hull Zero Three
is a compelling allegro in the growing symphony of Greg Bear's finest work."—
Dan Simmons
"
Hull Zero Three
is a grand adventure of scientific discovery in the tradition of "Orphans of the Sky" and "Rendezvous with Rama" -- by turns chilling and touching, it poses challenging questions about what it means to be human."—
Charles Stross
"
Hull Zero Three
is a lean, mean, supercharged sense-of-wonder engine."—
Alastair Reynolds on Hull Zero Three
"Not for those who prefer their space opera simple-minded, this beautifully written tale where nothing is as it seems will please readers with a well-developed sense of wonder."
—
Publisher's Weekly (Starred Review) on Hull Zero Three
"Greg Bear is one contemporary master of the old ways, and in
Hull Zero Three
he gives the generation starship theme - crystallized beautifully by Robert Heinlein in 1941's "Universe" - a vigorous makeover...."—
BN.com
"The heart of the mystery is worthy of Bear in its bravura extrapolations into far-future science and moral ambiguity...a testament of faith both in human beings and in something beyond them, divine or indistinguishable from it, and it seems directed as much toward the world of today, with all its sinful affections and deceits, as it is toward the far future."
—
Locus on Hull Zero Three
"I loved
Hull Zero Three
- this book reminds me of why I fell in love with science fiction in the first place. Searing questions of humanity, a good old fashioned riddle of a plot, and excellent conceptualization make
Hull Zero Three
more than worth the effort."—
thebooksmugglers.com
Orbit, 9780316223973, 296pp.
Publication Date: December 20, 2016
About the Author
Greg Bear is the author of more than thirty books of science fiction and fantasy, including Forerunner: Cryptum, Mariposa, Darwin's Radio, Eon, and Quantico. He is married to Astrid Anderson Bear and is the father of Erik and Alexandra. His works have been published internationally in over twenty languages. Bear has been called the "Best working writer of hard science fiction" by the Ultimate Encyclopedia of Science Fiction.
or
Not Currently Available for Direct Purchase