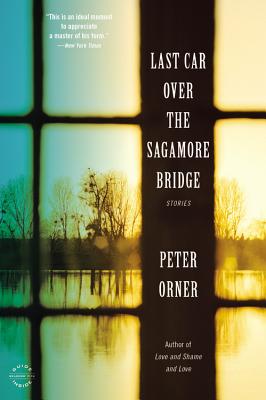 Last Car Over the Sagamore Bridge (Paperback)
Back Bay Books, 9780316224611, 224pp.
Publication Date: August 5, 2014
Other Editions of This Title:
Hardcover (8/6/2013)
* Individual store prices may vary.
Description
"A ravishing collection, full of wisdom, grief, beauty, and especially surprise."--Anthony Doerr, author of The Shell Collectors

Peter Orner zeroes in on the strange ways our memories define us: A woman's husband dies before their divorce is finalized; a man runs for governor of Illinois and loses much more than an election; two brothers play beneath the infamous bridge at Chappaquiddick. Employing the masterful compression for which he has been widely praised, Orner presents a kaleidoscope of individual lives viewed in startling, intimate close-up.

Whether writing of Geraldo Rivera's attempt to reveal the contents of Al Capone's vault or of a father and daughter trying to outrun a hurricane, Orner illuminates universal themes. In stories that span considerable geographic ground--from Chicago to Wyoming, from Massachusetts to the Czech Republic--he writes of the past we can't seem to shake, the losses we can't make up for, and the power of our stories to help us reclaim what we thought was gone forever.
About the Author
Peter Orner is the author of Esther Stories, The Second Coming of Mavala Shikongo, and Love and Shame and Love. His fiction and nonfiction have appeared in the New York Times, The Atlantic, The Paris Review, Granta, McSweeney's, Best American Stories, and other periodicals. Orner has received the Rome Prize from the American Academy of Arts and Letters, The Goldberg Prize for Jewish Fiction, a Guggenheim Fellowship, and two Pushcart Prizes. He teaches at San Francisco State University and lives in Bolinas, California.
Praise For Last Car Over the Sagamore Bridge…
Praise for Last Car over the Sagamore Bridge

"A séance of a book--moody, tragic, sacred by turns."--Stuart Dybek, author of The Coast of Chicago

"One of our best and most adventurous writers....By casting a wide net and depicting so many and various souls, he urges us toward recognition of the transcendent--the beauty of it all, the one big soul."--Daniel Woodrell, author of The Maid's Version

"Reaffirms Peter Orner's storytelling mastery."--Chicago Tribune Printers Row

"A magnificent and moving mosaic."--San Francisco Chronicle

"Orner packs remarkable pathos into his condensed narratives."--Wall Street Journal

"Peter Orner is mining a deep vein of human experience....What he comes up with is a true work of art that will make you think, 'Oh, this is how it's done.'"--Maile Meloy, author of Both Ways Is the Only Way I Want It

"Orner fires jewel-toned shards of fiction into a stunning whole."--Publishers Weekly

"Imagine Brief Interveiws with Hideous Men written by Alice Munro."--Tom Bissell, Harper's Magazine

"Orner is an undisputed master of the short short story."--Booklist

"Last Car Over the Sagamore Bridge is an incredible achievement. Peter Orner has a daring imagination and a voice all writers yearn for; he has joined the masters of the short story form."-Chris Abani

"The stories of Last Car Over the Sagamore Bridge confirm what I've long suspected: Peter Orner is one of the most accomplished writers of our generation. Yes, he is a master craftsman; every word is nailed down, and there isn't a sentence, or even a sound, out of place. But he's something else besides-a savant of the soul. Think Grace Paley, Michael Ondaatje, Paul Bowles, then add Bruce Springsteen's rhythm and overwhelming loyalty to humanity, and you get close to Orner's fierce, gorgeously poetic, heartbreaking prose."-Alexandra Fuller, author of Don't Let's Go to the Dogs Tonight

"Orner packs memorable characters into an exceptionally small space....Throughout the stories, he shows himself to be a master of the pithy phrase."-Kirkus Reviews

"Orner returns to the short form he handled so well in Esther Stories, a Rome Prize winner."-Library Journal

"No, we won't last. But the stories we tell ourselves sustain us in ways we never would have suspected. Mere anecdote rarely achieves profundity, yet it does here."-Ann Beattie, Electric Literature (on "At the Fairmont")

"A kind of dark kaleidoscope of American moments, when both the powerful and powerless wonder, why can't our dreams be content with the terrible facts?"-Pamela Masin, "Book of the Week," O, The Oprah Magazine

"The opening sentences of Peter Orner's lapidary stories are irresistible invitations to read further....These very short tales...range without straining over a great expanse of time and experience....With this new publication and with the recent reissue of Mr. Orner's 2001 collection, Esther Stories, this is an ideal moment to appreciate a master of his form."-John Williams, New York Times

"Orner's crystalline sentences and his ability to pay close and sustained attention to small moments transform the ordinary elements of each story into an even more astonishing whole....Orner can nail interior monologue in a way that recalls Grace Paley...Every story in Last Car over the Sagamore Bridge is excellent, incisive, moving."-Lauren Groff, New York Times Book Review

"Radiant....There's a curiosity in Orner's work, this need to seek out stories and lives well beyond his own sphere, and there's a necessary humility as he does this seeking."-Peter Mountford, Tin House

"Once again Peter Orner has produced a masterful and compelling collection of short stories....In a one-page story, a blind, old poet...recites, 'Why can't our dreams be content with the terrible facts?' This question serves as a theme for the entire collection."-Suri Boiangiu, Jewish Book Council Reviews

"Orner's stories exult and serve remembering and the heartbreak that so often attends it."-Kate Petersen, Rain Taxi

"Orner's...stories, despite their length, are big, universal, with Orner working it and working it, until he hits the gold vein of the unknown....Themes knit the stories together: family, death, politics, death, memory, and the significance of story and storytelling itself....The superglue of this collection is language. The compression of it-the pressure to say a lot with a little."-Nina Schuyler, The Rumpus

"You wouldn't think someone could haunt you with a life that spans just a few lines, but Peter Orner can. He can tell you an entire ghost story, and you won't stop believing it until the next welcome specter chases it away." -Mia Lipman, San Francisco Journal of Books