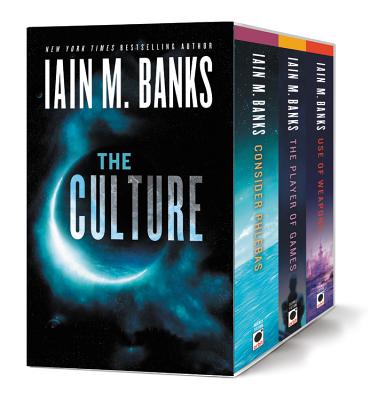 The Culture Boxed Set (Paperback)
Consider Phlebas, Player of Games and Use of Weapons
Orbit, 9780316225083, 1472pp.
Publication Date: November 6, 2012
* Individual store prices may vary.
Description
This special boxed set includes the first three books in Iain M. Banks's modern classic science fiction series, The Culture. The boxed set is the perfect introduction to the The Culture, a utopian conglomeration of human and alien races that explores the nature of war, morality, and the limitless bounds of mankind's imagination.

"Banks writes with a sophistication that will surprise anyone unfamiliar with modern science fiction." - New York Times
Consider Phlebas: The war raged across the galaxy. Billions had died, billions more were doomed. Moons, planets, the very stars themselves, faced destruction, cold-blooded, brutal, and worse, random. But deep within a fabled labyrinth on a barren world, a Planet of the Dead proscribed to mortals, lay a fugitive Mind sought by both sides: the Idirans and the Culture. Consider Phlebas introduces readers to the ground-breaking SF series penned by Iain M. Banks.
The Player of Games: The Culture - a human/machine symbiotic society - has thrown up many great Game Players, and one of the greatest is Jernau Morat Gurgeh. Master of every board, computer and strategy. Bored with success, Gurgeh travels to the Empire of Azad to try a game so complex, so like life itself, that the winner becomes emperor. But The Player of Games may have at last met his match.
Use of Weapons: The man known as Cheradenine Zakalwe was one of Special Circumstances' foremost agents, changing the destiny of planets to suit the Culture through intrigue, dirty tricks, and military action. But, all that of is in the past. Or so Zakalwe thinks until two figures from those dark days return to talk him out of retirement for one last job.
About the Author
Iain Banks came to controversial public notice with the publication of his first novel, The Wasp Factory, in 1984. Consider Phlebas, his first science fiction novel, was published under the name Iain M. Banks in 1987. He is now widely acclaimed as one of the most powerful, innovative and exciting writers of his generation.
Praise For The Culture Boxed Set: Consider Phlebas, Player of Games and Use of Weapons…
"Banks writes with a sophistication that will surprise anyone unfamiliar with modern science fiction."—New York Times

"The standard by which the rest of SF is judged."—Guardian

"The Culture books are not technological just-so stories. They're about faith in the future, about the belief that societies can make sense of themselves, can have fun doing so, can live by Good Works, and can do so in circumstances far removed from our own little circle of western civilization."—Wired.com

"Banks writes space opera on the grand scale: he measures time in eons, space in light-years, tragedies in gigadeaths."—Time Magazine

"[Banks] can summon up sense-of-wonder Big Concepts you've never seen before and display them with narration as deft as a conjuror's fingers."—scifi.com

"Banks' ability to combine humor and horror, the cosmic and the human, as he builds an action-packed story on a moral framework, as well as his wonderfully original characters and, of course, the lavish descriptions of weapons and spaceships, makes Surface Detail all you could ask for in a space opera. Nobody does it better." --- Times (UK)

"This is an engrossing novel of ideas ornamented by fantastically cinematic set-pieces." --- The Guardian (UK)

"Surface Detail is the type of widescreen space adventure we've come to expect from Banks, full of elaborate games, spellchecker-busting names, salty dialogue and, above all, a thrilling sense of the limitless scope SF affords an author's imagination." --- Financial Times (UK)

"Iain M. Banks' new novel, Surface Detail, is some of the best work he's done in his galaxy-spanning Culture universe." --- io9.com

"Banks' labyrinthine and devious ninth Culture space opera novel...adeptly shifts perspective between vast concepts and individual passions." --- Publishers Weekly

or
Not Currently Available for Direct Purchase