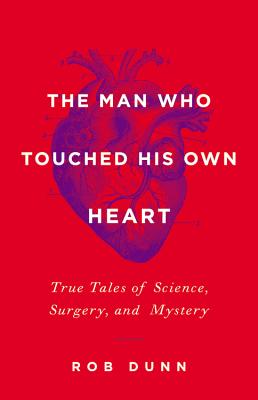 The Man Who Touched His Own Heart
True Tales of Science, Surgery, and Mystery
Hardcover

* Individual store prices may vary.
Other Editions of This Title:
Digital Audiobook (2/2/2015)
Description
The secret history of our most vital organ: the human heart.

The Man Who Touched His Own Heart tells the raucous, gory, mesmerizing story of the heart, from the first "explorers" who dug up cadavers and plumbed their hearts' chambers, through the first heart surgeries -- which had to be completed in three minutes before death arrived -- to heart transplants and the latest medical efforts to prolong our hearts' lives, almost defying nature in the process.

Thought of as the seat of our soul, then as a mysteriously animated object, the heart is still more a mystery than it is understood. Why do most animals only get one billion beats? (And how did modern humans get to over two billion, effectively letting us live out two lives?) Why are sufferers of gingivitis more likely to have heart attacks? Why do we often undergo expensive procedures when cheaper ones are just as effective? What do Da Vinci, Mary Shelley, and contemporary Egyptian archaeologists have in common? And what does it really feel like to touch your own heart, or to have someone else's beating inside your chest? Rob Dunn's fascinating history of our hearts brings us deep inside the science, history, and stories of the four chambers we depend on most.
Praise For The Man Who Touched His Own Heart: True Tales of Science, Surgery, and Mystery…
"These true stories about the heart pulsate with information and intrigue."—Tony Miksanek, Booklist (starred review)

"This delightful book is a page-turner, whose pulse never slows. In Dunn's hands, the evolution and history of the human heart is as engrossing, surprising, and vital as the heart itself."—Dan Lieberman, Professor of Human Evolutionary Biology at Harvard University and author of The Story of the Human Body

"Dunn's books are always lively, informative, and full of fascinations, but The Man Who Touched His Own Heart is especially so, because he goes straight to the little-known history, medicine, and heart of our most symbolic organ."—Diane Ackerman, author of The Human Age

"A perfect mix of science, history and biology, The Man Who Touched His Own Heart is a delightful page-turner that reminds us of all that we have learned by standing on the shoulders of giants. Dunn recognizes the importance of historical and comparative perspectives -- historical in terms of our intellectual ancestors, and more broadly in terms of our evolutionary history."—Charles Nunn, Professor of Evolutionary Anthropology and Global Health at Duke University and author of The Evolution of Sleep

"These true stories about the heart pulsate with information and intrigue. Meshing medical history, biography, physiology, and evolutionary science, biologist Dunn scrutinizes a living pump that is simultaneously strong and vulnerable."—Tony Miksanek, Booklist

"We've all got to have heart, and Rob Dunn's wonderful book will help us have a better one. Or at the very least, it will help us be more informed about the heart we have, with its peculiar history and its fragile yet sturdy operation. Over the course of two billion beats, hearts break and are mended, and Dunn is there to chronicle their stories. In a gripping style, he shows us how our hearts are linked to those of ancient Egyptians, chimpanzees and lungfish, and how these linkages help us solve the modern heart's mysteries."—Marlene Zuk, Professor of Ecology, Evolution and Behavior at the University of Minnesota and author of Paleofantasy

"The Man Who Touched His Own Heart is a captivating journey through the history of the human heart. Author Rob Dunn weaves a fascinating tale of the science and humanism that underlie how mankind has worked to understand and control our most vital organ."—Aaron Baggish, Associate Director of the Cardiovascular Performance Program at the Massachusetts General Hospital Heart Center

"Dunn reminds us that the heart remains a fascinating, far-from-understood organ with an incredible biologic and cultural history.... A clear, engaging account of the heart's long and gruesome history.... Dunn is an impressive storyteller."—Bret Stetka, Slate

"An encounter with Rob Dunn can change the way you look at the world. Dunn is a modern day explorer who fearlessly and humbly ventures into the unknown. In his latest book, The Man Who Touched His Own Heart, Dunn brings his scientific curiosity, humanity, and uncanny eye for a good story to what many have called "the seat of our souls." In Dunn's telling, the human heart is an entrée to understand our basic biology, our connections to other animals on our planet and, even, one of the greatest scientific frontiers."—Neil H. Shubin, Senior Advisor to the President and Robert R. Bensley Distinguished Service Professor of Anatomy at the University of Chicago

"Fascinating.... [An] enticing weave of biography, social history and heart-related scientific drama.... Dunn's book is a great contribution to our understanding of the lifelong work of our beating hearts."—Alden Mudge, BookPage

"In this story of one of the body parts I worry about most, Rob Dunn brings the skills of a great writer and the knowledge of a fine evolutionary biologist together in the form of a gripping drama that gallops across thousands of years and from graveyard to surgical theatre to modern doctor's office. In the process Dunn sheds light not just on our own hearts but also those of all of the other animals with which we share Earth."—Paul R. Ehrlich, co-author of The Population Bomb and Hope on Earth

"A suspense-filled account of error and discovery, peopled with creative and obsessive scientists, daring and compassionate doctors, inventors, improvisers and experts in odd things, including fungus, pollution and mummies.... Dunn combines his knowledge of scientific method with his impressive narrative powers to reveal the personal and scientific drama behind our understanding of the heart.... Dunn's great strength is his breadth of vision.... By the end of this expansive book, Dunn's readers will find in their hearts a deep sense of connectedness to the plants and animals of our magnificent planet, and they'll owe Dunn a heartfelt thanks for leaving us so enriched."—Elizabeth Dreesen, The News & Observer

"Dunn paints a detailed picture of the myriad ways our hearts can break and the men and women brave enough to try putting them back together."—Brenda Poppy, Discover

The Man Who Touched His Own Heart has "page-turning detail that at times reads more like a novel than nonfiction."—Leslie Barker, Dallas Morning News

A "fascinating book on the mysteries of the human heart.... Rob Dunn's The Man Who Touched His Own Heart shows that the organ's complexities extend beyond the science."—Sam Kean, Wall Street Journal

"The writing in this book is clear and understandable.... An extensive collection of medical anecdotes and fascinating history.... I would recommend it to anyone who is interested in the heart, in medical history, or in dramatic and improbable stories from the field of medicine."—Yevgeniya Nusinovich, Science

"From the tale of the African American doctor in a poor hospital who first dared pierce a beating heart with a surgical needle, Rob Dunn's stirring chronicle of the triumphs and tragedies that have informed our fragile understanding of the heart beats with the energy and emotion worthy of his subject."—Jamie Shreeve, Science Editor at National Geographic

"With the engaging prose that has become his trademark, Dunn plumbs the depths of the heart, through the eyes of the ancients, early researchers, and contemporary scientists."—Bob Grant, The Scientist

An "entertaining history of cardiac research and treatment."—Publishers Weekly

"A lively, sometimes humorous, and very helpful book."—Terri Schlichenmeyer, Naples Daily News

"The account is brisk and accessible...knowledge hoarders will relish Dunn's vivid historical scenes and explanations of cutting-edge research, not to mention the lifeblood pumping through them: the author's enthusiasm."—Brian Howe, The Independent Weekly
Little, Brown and Company, 9780316225793, 384pp.
Publication Date: February 3, 2015
About the Author
Rob Dunn is a professor in the Department of Applied Ecology at North Carolina State University and in the Natural History Museum of Denmark at the University of Copenhagen. He is the author of The Man Who Touched His Own Heart, The Wild Life of Our Bodies, and Every Living Thing, and his magazine work is published widely, including in National Geographic, Natural History, New Scientist, Scientific American, and Smithsonian. He has a PhD from the University of Connecticut and was a Fulbright Fellow. He lives in Raleigh, North Carolina.
Coverage from NPR