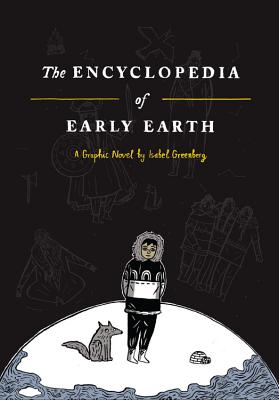 The Encyclopedia of Early Earth
A Novel
Hardcover

* Individual store prices may vary.
Description
A beautifully illustrated book of imaginary fables about Earth's early -- and lost -- history.

Before our history began, another -- now forgotten -- civilization thrived. The people who roamed Early Earth were much like us: curious, emotional, funny, ambitious, and vulnerable. In this series of illustrated and linked tales, Isabel Greenberg chronicles the explorations of a young man as he paddles from his home in the North Pole to the South Pole. There, he meets his true love, but their romance is ill-fated. Early Earth's unusual and finicky polarity means the lovers can never touch.

As intricate and richly imagined as the work of Chris Ware, and leavened with a dry wit that rivals Kate Beaton's in Hark! A Vagrant, Isabel Greenberg's debut will be a welcome addition to the thriving graphic novel genre.
Praise For The Encyclopedia of Early Earth: A Novel…
One of Time's Top 10 Fiction Books of 2013

One of National Public Radio's Great Reads of 2013

One of Slate's Best Books of 2013

One of Amazon's Top Ten Books of December 2013

A Top Ten Graphic Novel of 2013, Booklist.

"It's a book about many things--love, snow, God, poisoned sausages...but mostly it's a celebration of storytelling itself. Strange and wry and funny and beautifully drawn." ---Mark Haddon, author of The Curious Incident of the Dog in the Night-Time

"Greenberg speaks of storytellers, but she's a great storyteller hself, and it's easy to be pulled into the worlds that she writes, housed neatly by tight drawings in a style that is bright enough to bring these worlds to life, and detached enough to feel a little otherworldly." ---Kate Beaton, author of Hark! A Vagrant

"The Encyclopedia of Early Earth is a delightful accordian of a book. This graphic novel casts a spell like that of Scheherazade--when you sit down with it, prepare to stay until the last page." ---Eowyn Ivey, author of The Snow Child


"A loving homage to storytelling itself...Sewing her own sly humor, Greenberg deeply immerses readers in the themes and lessons of world mythology...Just as evocative is her art, which uses simple, childlike illustrations to channel the power of ancient cave paintings and archetypal images from our own imaginations. A unique, compelling standout." -- Jesse Karp, Booklist

"This little gem of a graphic novel is... Part storybook, part allegory, part meditation on the need for mankind to tell stories, the book manages to encompass all of existence without ever feeling too big for its britches. Never has a story about the primordial world felt so cozy." - A.V. Club

"Hugely imaginative and sardonically funny" - Glen Weldon, author of Superman: The Unauthorized Biography

"Ambitious and impressive enough as a feat of world-building, but it's a good deal more than that. From its gods and ghosts and monsters, a rich and palpably human tale emerges - a sad and unshowily beautiful love story that lands with an emotional impact you likely won't see coming." -- National Public Radio

"Hands down the most accomplished and satisfying graphic novel of the year." ---Salon

"In all its trapdoored complexity, its stories within stories about stories, The Encyclopedia of Early Earth is a funny and touching celebration of the narrative species that we are." --- Slate

"It seems most years there is a singular graphic novel release that positions itself above the majority: Building Stories (Chris Ware) in 2012, Habibi (Craig Thompson) in 2011...I would suggest Isabel Greenberg's book could be that title this year." --- IGN


"Utterly charming...a graphic remaining of early Earth that is both a tribute and send-up of the folk tales we know." -- The Buffalo News

"Graphic novel lovers will be enamored of Greenberg's breathtaking artwork and the vividness of her apparently boundless imagination. For fans of meta-fictions, her story twists around itself, creating new iterations of ongoing histories. This is mythmaking at its finest, as Greenberg melds ancient oral traditions with her own spectacular interpretations, neatly bringing it all together in the closing pages." -- Shelf Awareness

"It's pieced together from bits of the Old Testament, a little Greek mythology, and some of this and that, told as a series of stories that nest and dovetail with one another in a way that is at once unpretentious and straightforward, but also complex, meaty, and ultimately very satisfying... the themes from these stories wrap around each other as a series of simple variations that build to a crescendo of marvelous richness." -Boing Boing

"A handsome volume with the intimacy and sweep of a modern fairy tale."—Chicago Tribune's Printers Row Journal

"An entrancing new graphic novel...Dreamy and thoughtful, yet also sharp and smart, this Encyclopedia conjures visions of an ancient world merely a hairsbreadth from our own." --Florida Weekly



"When it was released at the very end of 2013, Isabel Greenberg's The Encyclopedia of Early Earth very quickly turned its author from a young cartoonist with a first book to one of the most acclaimed of her generation." - Comic Book Resources

"Greenberg's stunning graphic novel, her first, isn't an encylopedia at all but an intricately crafted mythology told from within a young man's grand adventure."—Booklist

"[The stories] are all wonderfully real and magical, otherworldly yet familiar."—Shelf Awareness Pro
Little, Brown and Company, 9780316225816, 176pp.
Publication Date: December 3, 2013
About the Author
Isabel Greenberg is a writer and illustrator who lives and works in North London. She studied illustration at the University of Brighton in 2010, and has worked for NoBrow Press, Seven Stories Press, and Solipsistic Pop. She is the winner of the 2011 Observer/Cape Graphic Short Story Prize.