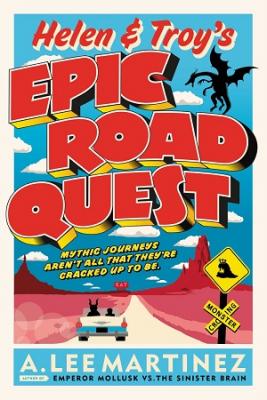 Helen and Troy's Epic Road Quest (Paperback)
Orbit, 9780316226431, 368pp.
Publication Date: July 16, 2013
Other Editions of This Title:
MP3 CD (7/5/2016)
* Individual store prices may vary.
Description
Witness the epic battle of the cyclops!

Visit the endangered dragon preserve! Please, no slaying.

Solve the mystery of The Mystery Cottage, if you dare!

Buy some knick knacks from The Fates! They might come in handy later.

On a road trip across an enchanted America, Helen and Troy will discover all this and more. If the curse placed upon them by an ancient god doesn't kill them or the pack of reluctant orc assassins don't catch up to them, Helen and Troy might reach the end their journey in one piece, where they might just end up destroying the world. Or at least a state or two.

A minotaur girl, an all-American boy, a three-legged dog, and a classic car are on the road to adventure, where every exit leads to adventure. Whether they like it or not.
About the Author
A. Lee Martinez was born in El Paso, Texas. At the age of eighteen, for no apparent reason, he started writing novels. Thirteen short years (and a little over a dozen manuscripts) later, his first novel, Gil's All Fright Diner, was published. His hobbies include juggling, games of all sorts, and astral projecting. Also, he likes to sing along with the radio when he's in the car by himself. For more information on the author, check out www.aleemartinez.com
Praise For Helen and Troy's Epic Road Quest…
"It's a guilty pleasure without guilt, and simply a blast to read."—The A.V. Club on The Emperor Mollusk Versus the Sinister Brain

"Abundant, zany humor."—Publishers Weekly on Monster

"Divine Misfortune reads like a mash-up of Neil Gaiman, Monty Python, and a sugar-bombed nine-year old."—Locus

"Divine Misfortune is a light and wonderful read from start to finish."—sfsignal.com

"Sweetly charming, gleefully entertaining tale of two teens traveling across the country, one mythic encounter at a time... Martinez is a master at making the fantastic so mundane it's fantastic again."—Publishers Weekly

"Another winner with the zany adventures of a pair of intelligent, out-of-the-ordinary young adults in a world where humans and mythic creatures coexist. Martinez's full-blown comic talent places him in a category with Piers Anthony and Terry Pratchett as a master of comedic fantasy."—Library Journal