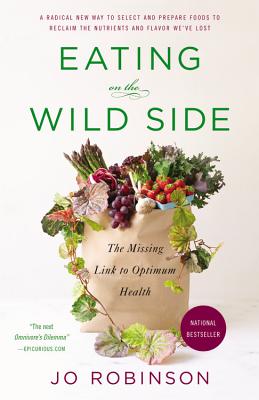 Eating on the Wild Side
The Missing Link to Optimum Health
Paperback

* Individual store prices may vary.
Other Editions of This Title:
Digital Audiobook (6/3/2013)
Compact Disc (6/4/2013)
Compact Disc (6/4/2013)
Description
The next stage in the food revolution: a radical way to select fruits and vegetables and reclaim the flavor and nutrients we've lost.

Ever since farmers first planted seeds 10,000 years ago, humans have been destroying the nutritional value of their fruits and vegetables. Unwittingly, we've been selecting plants that are high in starch and sugar and low in vitamins, minerals, fiber, and antioxidants for more than 400 generations.

Eating on the Wild Side reveals the solution -- choosing modern varieties that approach the nutritional content of wild plants but that also please the modern palate. Jo Robinson explains that many of these newly identified varieties can be found in supermarkets and farmer's market, and introduces simple, scientifically proven methods of preparation that enhance their flavor and nutrition. Based on years of scientific research and filled with food history and practical advice, Eating on the Wild Side will forever change the way we think about food.
Praise For Eating on the Wild Side: The Missing Link to Optimum Health…
"I learned so much from this outstanding book. Highly recommended reading for all who are health conscious."—Andrew Weil, MD

"Phenomenal....The cure for what ails us is right there, and it's delicious."—Dan Barber, chef and owner of Blue Hill and Blue Hill at Stone Barns

"Because recent studies have taught us that we should be getting our beta carotene and other health-builders not from pills but from well-grown food, this book is just what gardeners and cooks need."—The Washington Post

"Eating on the Wild Side is a wonderful, enlightening book. Jo Robinson has done a magnificent job of bringing together information from so many diverse disciplines--most of it unknown to nutritional scientists, physicians, and lay people alike."—Loren Cordain, Ph.D., author of The Paleo Diet

"If the organic movement needs a Joan of Arc I would surely nominate Jo Robinson. Eating on the Wild Side illustrates why she is without a doubt the quiet anchor of the movement. Only Michael Pollan would come close to her superbly researched work.."—Bill Kurtis, Chairman and Founder, Tallgrass Beef Company

"With Eating on the Wild Side, Jo Robinson has written the next Omnivore's Dilemma--a book of revelations that food lovers and home cooks everywhere will be reading, recommending, quoting, and living by. Robinson may not be a household name yet, but her groundbreaking work will turn much of what you thought you knew about food upside down and inside out."—Epicurious.com

"From its pages, you will get a wonderful education on the changes that have taken place in agriculture over the past century, and you will discover new ways to enhance your health by choosing the best that natures has to offer us."—The Sacramento Bee

"A great book. I think people will change the way they buy their food. I know that I will."—Dr. Sanjay Gupta

"Robinson busts conventional wisdom on vegetables. Those of us who follow nutrition news have heard it all. And so it is not insignificant to say that Robinson has turned things on their proverbial heads."—The Huffington Post

"Eating more fruits and vegetables is wise advice. This entertaining and informative guidebook shows us why it's true--and which types are the best to add to our diet."—Shelf Awareness
Little, Brown Spark, 9780316227933, 416pp.
Publication Date: May 20, 2014
About the Author
Jo Robinson is the author or co-author of 14 books of nonfiction. Her research on pastured animals has been featured in the New York Times, the Wall Street Journal, Time, Mother Jones, USA TODAY, Men's Health, the San Francisco Chronicle, Atlantic Monthly, and many other publications. She lives and works on Vashon Island, a rural island close to Seattle, WA.