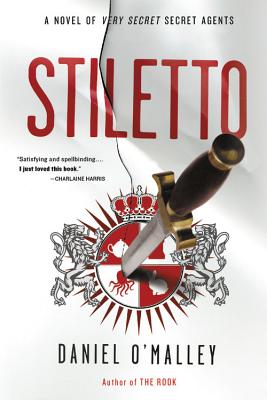 Stiletto
A Novel (The Rook Files #2)
Paperback

* Individual store prices may vary.
Other Editions of This Title:
Digital Audiobook (8/31/2016)
Digital Audiobook (6/13/2016)
Hardcover (6/14/2016)
Compact Disc (6/14/2016)
Compact Disc (6/14/2016)
Description
In this spirited sequel to the acclaimed The Rook, Myfanwy Thomas returns to clinch an alliance between deadly rivals and avert epic -- and slimy -- supernatural war.

When secret organizations are forced to merge after years of enmity and bloodshed, only one person has the fearsome powers -- -and the bureaucratic finesse -- -to get the job done. Facing her greatest challenge yet, Rook Myfanwy Thomas must broker a deal between two bitter adversaries:

The Checquy -- -the centuries-old covert British organization that protects society from supernatural threats, and...

The Grafters -- -a centuries-old supernatural threat.

But as bizarre attacks sweep London, threatening to sabotage negotiations, old hatreds flare. Surrounded by spies, only the Rook and two women who absolutely hate each other, can seek out the culprits before they trigger a devastating otherworldly war.

Stiletto is a novel of preternatural diplomacy, paranoia, and snide remarks, from an author who "adroitly straddles the thin line between fantasy, thriller, and spoof "(Booklist).
Praise For Stiletto: A Novel (The Rook Files #2)…
An Amazon pick for "Best Books of June 2016" and "Best Books of 2016 So Far: Science Fiction & Fantasy"

Year's Best in "Fantasy" -- The Reading List Council Awards

"I just loved this book. If you think Daniel O'Malley couldn't top The Rook, you were wrong. STILETTO is as satisfying and spellbinding as his first book, with a new cast of magic-wielding humans called the Grafters. Myfanwy Thomas, the Rook, is trying to broker a truce between the Grafters and her own Checquy, but a third party is trying to prevent this truce by any means possible...including Myfanwy's assassination."
—Charlaine Harris

"Daniel O'Malley raises the action, monsters and witticisms to new levels in this sequel to The Rook....a devilishly funny follow-up....This ambitious romp reads like X-Men meets Supernatural as narrated by Jasper Fforde, only funnier....O'Malley reaches new heights of grotesquery in the best possible way."—Jaclyn Fulwood, Shelf Awareness

"O'Malley strikes a skillful balance between irreverent humor and adventure. His narratives move back and forth, providing detail but without becoming cumbersome. This X-Men meets X-Files-style adventure will appeal to fans of superhero comics and adventure novels."
—Vicki Briner, Library Journal

"There are writers who craft intricate plots, writers who breathe life into incredible characters, and writers who pen lines you want to quote all day long. O'Malley is one of the rare finds who regularly manages all three....It took Daniel O'Malley four long years to write this sequel. That time paid off."
—Jeff Somers, B&N Sci-Fi & Fantasy Blog

"Much-anticipated....Stiletto is less office politics and Cthulhu and more X-Men and Dungeons & Dragons."—Andrew Liptak, i09, "All The Books You Desperately Need to Add to Your 'To Read' Pile This Summer"

"An excellent sequel.... O'Malley works his magic in adroit new ways, recalling all the legerdemain that delighted us the first time around [in The Rook]. STILETTO is laugh-out-loud funny, occasionally bawdy and paced like a spy thriller replete with chases, betrayals and tragedies...Fear not, dear reader: Daniel O'Malley is in charge."—Joyce Saenz Harris, Dallas Morning News

"My favorite book of 2016....STILETTO is a light-hearted romp through a world that's both familiar and strange."
—Ellen Zielinski, Louisiana Advocate

"Thank goodness I didn't find out about O'Malley's first book, 2012's The Rook, until this year; there's no way I could have waited four years for the sequel."

—Alex Lent, Millis Public Library, Literary Hub
Back Bay Books, 9780316228022, 592pp.
Publication Date: April 18, 2017
About the Author
Daniel O'Malley graduated from Michigan State University and earned a Master's Degree in medieval history from Ohio State University. He then returned to his childhood home, Australia, where he works for the Transport Safety Bureau, writing press releases for government investigations of plane crashes and runaway boats.