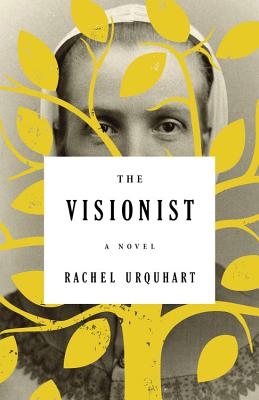 The Visionist (Hardcover)
A Novel
Little, Brown and Company, 9780316228114, 352pp.
Publication Date: January 14, 2014
Other Editions of This Title:
Digital Audiobook (1/13/2014)
Paperback (3/17/2015)
Pre-Recorded Audio Player (1/14/2014)
Compact Disc (1/14/2014)
Compact Disc (1/14/2014)
Paperback (9/11/2014)
Hardcover (2/27/2014)
* Individual store prices may vary.
Description
An enthralling first novel about a teenage girl who finds refuge -- but perhaps not -- in an 1840s Shaker community.

After 15-year-old Polly Kimball sets fire to the family farm, killing her abusive father, she and her young brother find shelter in a Massachusetts Shaker community called the City of Hope. It is the Era of Manifestations, when young girls in Shaker enclaves all across the Northeast are experiencing extraordinary mystical visions, earning them the honorific of "Visionist" and bringing renown to their settlements.

The City of Hope has not yet been blessed with a Visionist, but that changes when Polly arrives and is unexpectedly exalted. As she struggles to keep her dark secrets concealed in the face of increasing scrutiny, Polly finds herself in a life-changing friendship with a young Shaker sister named Charity, a girl who will stake everything -- even her faith -- on Polly's honesty and purity.
About the Author
Rachel Urquhart's work has been published in The New Yorker, Tin House, Elle, the New York Times, Vogue, and Spy, among other publications, and she is the author of three Chic Simple lifestyle books. She lives in Brooklyn with her husband and two sons.
Praise For The Visionist: A Novel…
PRAISE FOR THE VISIONIST:

"Gripping, profound, and beautifully written, The Visionist takes us to a world where faith and fear exist simultaneously and safety has a price. A remarkable exploration of love in all its forms with complex characters who linger far beyond the final pages."—Brunonia Barry, author of The Lace Reader

"The Visionist is both a haunting, beautifully imagined tale of lives devastated by cruelty and transformed by love, and a gorgeously evocative portrait of an 1840s Shaker settlement that is as startling as it is convincing."—Cathy Buchanan, author of The Painted Girls

"Rachel Urquhart's transporting debut The Visionist lifts the veil on the intriguing, mystical past world of the Massachusetts Shakers. Equal parts exquisite historical coming-of-age story and harrowing crime procedural, The Visionist breathes life into desperate young orphan Polly Kimball, weaving a complex and compelling drama about one of American history's most elusive religious communities. Lovers of historical fiction and seekers after truth will devour The Visionist just like I did."—Katherine Howe, New York Times bestselling author of The Physick Book of Deliverance Dane

"Rachel Urquhart paints a fascinating, complex portrait of Shaker culture in early America. An unexpected coming of age story, a suspenseful mystery. But what makes The Visionist particularly engaging is its thoughtful examination of the nature of good and evil, and our struggle to recognize it in ourselves and in others."—Eowyn Ivey, New York Times bestselling author of The Snow Child

"Urquhart captures in exquisite detail the cruel demands of grueling poverty in 1840s New England, and, by contrast, the orderly Shaker community... She layers The Visionist with many startling moments, from the chorus of consoling angels that come to Polly when her father visits her bed at night, to the lengths to which ways her courageous mother goes to protect her...And in the course of her lyrically written tale, she offers a fresh view of this mysterious religious sect." -National Public Radio

"Urquhart has created a world rich in details and vibrant in its historical dimensions...Urquhart captures how the Shakers live, dance, dine, garden, heal and worship, but she also has a genuine feel for her characters' longings and devotion...The true virtue of this story is the meditative consideration of the value of hardship and the transformative nature of ecstasy. Like Marilynne Robinson's Gilead and Edward P. Jones's The Known World, The Visionist aspires to illuminate our understanding of faith, resilience, shame and forgiveness." - Amber Dermont, New York Times

"The Visionist reads in parts like a Victorian thriller...but [it] is more than a mystery. Ms. Urquhart also takes a close look at the notions of justice, faith and morality that prevailed at the time and the struggles of those trying to live 'pure' lives...In a painstakingly researched novel framed by a suspenseful plot, Ms. Urquhart gives the reader an intriguing glimpse behind these doors." - The Wall Street Journal

"Beautifully written in the language and style of the 1840s, "The Visionist" is a fascinating story detailing an often overlooked religious sect: the Shakers."-The Gazette (Iowa City)



"A daring novel of secrets, revelations, and redemption...Rachel Urquhart's engrossing first novel...sparks a story of guild, greed, friendship, and fanatical piety in 19th-century Massachusetts." -O, the Oprah Magazine

"Rich with history and mystical intrigue, Urquhart's American gothic is capable of sending chills across your skin one moment, then warming your heart the next...The story is as eerie as it is heartrending, weighing miracle against coincidence, deviation against sincerity, with the remnants of one rural family hanging in the balance. The Visionist will have you holding your breath until the final, magnificent revelation." - Shelf Awareness (Starred Review)

"Rachel Urquhart's shatteringly original debut transports readers...The Visionist is told in three eloquent voices, Polly, Sister Charity and Simon Pryor, all blazingly alive, each walking a high-wire act of moral choices...writing so rich, so detailed, that you not only come to care for all the characters deeply, you also become so immersed in the world of the Shakers, you can almost feel the floor moving as they stomp in ecstatic dance. Part mystery and part thriller, The Visionist is also a shimmering exploration of identity." -San Francisco Chronicle

"A simmering, brooding novel...[Urquhart] delivers a book perfectly suited to curling up with by the hearth...Both the era and the culture are deeply explored, as is the psyche of a tormented girl for whom it seems there is no safe haven." - The New York Daily News



"Written in sparsely beautiful prose, Urquhart's novel is like reading Edith Wharton, the mood dark and subdued." - Curled Up With a Good Book
or
Not Currently Available for Direct Purchase