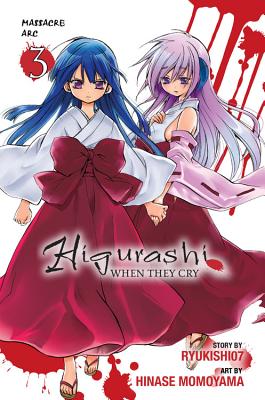 Higurashi When They Cry (Paperback)
Massacre Arc, Vol. 3
Yen Press, 9780316229449, 496pp.
Publication Date: March 26, 2013
* Individual store prices may vary.
Description
Watching the people of Hinamizawa rally together to liberate her friend Satoko gives Rika hope that she too can defy fate and curb her tragic demise. But when the bodies of Takano and Tomitake are discovered, Rika fears her chance is slipping away. Not knowing who to trust and not wanting to put anyone else in danger, Rika pulls away from her friends. But as her experiences in this world continue to diverge from the norm, Rika clings to the hope that the events that lead to her murder might also change. She has the will to change her destiny, but will that be enough to defeat whoever-or whatever-wants her dead?
About the Author
Ryukishi07 leapt into the spotlight with HIGURASHI NO NAKU KORO NI which was originally conceived as a series of visual novels and later adapted into the popular manga and anime franchise.