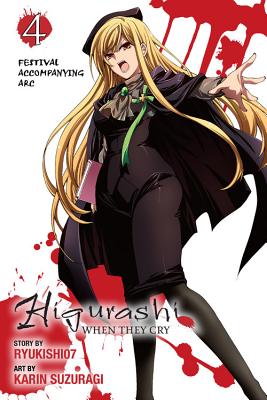 Higurashi When They Cry (Paperback)
Festival Accompanying Arc, Vol. 4
Yen Press, 9780316229494, 416pp.
Publication Date: April 22, 2014
* Individual store prices may vary.
Description
At last, after countless failures, Rika has exposed Takano's mad plot to destroy the village of Hinamizawa for the sake of her and her grandfather's research. Barricading herself in Irie Clinic, Takano draws her allies in close even as Rika and her friends organize a siege outside the facility. Takano's cleverness has allowed her to elude capture in every other world. Will Rika find a way to defeat her would-be murderer and reclaim her life beyond the Cotton Drifting? This final confrontation will decide everything!
About the Author
Ryukishi07 leapt into the spotlight with HIGURASHI NO NAKU KORO NI which was originally conceived as a series of visual novels and later adapted into the popular manga and anime franchise.