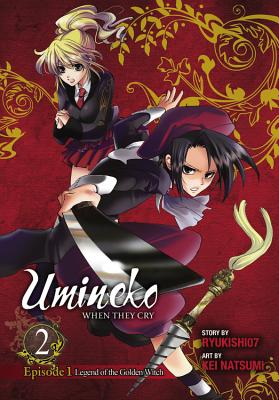 Umineko WHEN THEY CRY Episode 1 (Paperback)
Legend of the Golden Witch, Vol. 2
Yen Press, 9780316229500, 624pp.
Publication Date: February 26, 2013
Other Editions of This Title:
Paperback (7/23/2019)
Paperback (4/30/2019)
* Individual store prices may vary.
Description
Six people are dead, and Battler and his remaining relatives slowly come around to addressing the terrifying reality of their situation: Either one of their number is a murderer, or there is a nineteenth person on the island who wants the Ushiromiya family dead. Regardless, the killer seems to be following the inscription beneath the portrait of Beatrice, the instructions for finding the elder Ushiromiya's vast treasure of gold. But each line of the inscription calls for more death, more blood...and the revival of the witch Beatrice herself... Will any remain alive to see the end of this mystery?
About the Author
Ryukishi07 leapt into the spotlight with HIGURASHI NO NAKU KORO NI which was originally conceived as a series of visual novels and later adapted into the popular manga and anime franchise.