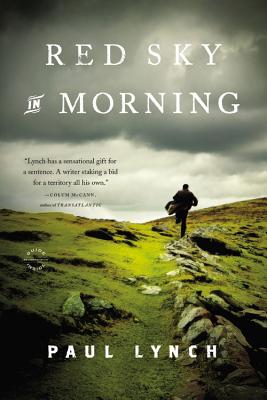 Red Sky in Morning (Paperback)
A Novel
Back Bay Books, 9780316230261, 304pp.
Publication Date: October 21, 2014
Other Editions of This Title:
Digital Audiobook (12/16/2013)
Hardcover (11/5/2013)
* Individual store prices may vary.
Description
A tense, thrilling debut novel that spans two continents, from "a writer to watch out for" (Colum McCann).

It's 1832 and Coll Coyle has killed the wrong man. The dead man's father is an expert tracker and ruthless killer with a single-minded focus on vengeance. The hunt leads from the windswept bogs of County Donegal, across the Atlantic to the choleric work camps of the Pennsylvania railroad, where both men will find their fates in the hardship and rough country of the fledgling United States.

Language and landscape combine powerfully in this tense exploration of life and death, parts of which are based on historical events. With lyrical prose balancing the stark realities of the hunter and the hunted, Red Sky in Morning is a visceral and meditative novel that marks the debut of a stunning new talent.
About the Author
Paul Lynch was born in 1977 and lives in Dublin. He was the chief film critic of Ireland's Sunday Tribune newspaper from 2007-2011. He has written regularly for the Sunday Times on film and has also written for the Irish Times, the Sunday Business Post, the Irish Daily Mail, and Film Ireland. He is the author of Red Sky in Morning.
Praise For Red Sky in Morning: A Novel…
"Lynch's language, which is musical, close, and alive, evokes something that seems quintessentially Irish....His combination of nightmarish poetry and heart-racing plot is what makes Red Sky in Morning so compelling, like a gorgeous, terrifying ghost story. You'll want to close your eyes and cover your ears, but find you can't turn away." ---Damaris Colhoun, Daily Beast

"Sumptuous and poetic....Lynch's sense of the period, and the huge disruptions in society which affected every single character, is clever and well informed, but he has taken a real and fascinating risk with the style." ---Colm Toíbín, The Guardian

"A novel of great beauty and violence from Irish writer Lynch....Lynch's poetic prose is gorgeous. He lovingly crafts every sentence."
---Kirkus Reviews

"Rendered in startlingly beautiful prose, not unlike the themes and style of Cormac McCarthy....This is strong stuff by a promising young author."
---Mark Levine, Booklist

"If Dublin-based Lynch's taut, absorbing, acerbically lyrical prose weren't enough, there's the intense and revelatory plot....Get it for all smart readers."
---Barbara Hoffert, Library Journal

"Paul Lynch has a sensational gift for a sentence, inherited from the likes of Cormac McCarthy, Sebastian Barry, and Daniel Woodrell. He is a writer to watch out for, staking a bid for a territory all his own."
---Colum McCann, author of Let the Great World Spin

"This book makes the literary synapses spark and burn -- forged in his own new and wonderful language, Paul Lynch reaches to the root, branch and bole of things, and unfurls a signal masterpiece."
---Sebastian Barry, author of The Secret Scripture

"Paul Lynch takes a giant first step with his debut, Red Sky in Morning. It is classic storytelling, rough and haunted people and the times that made them, powerfully conjured, written in language that demands attention. Lynch is bardic, given to sly and inspired word selections, with his own sprung rhythms and angled, stark musicality."
---Daniel Woodrell, author of Winter's Bone and The Outlaw Album

"Paul Lynch's writing is full of dark invention and brutal beauty. A raw and audacious talent which grips Irish writing by the neck."
---Hugo Hamilton, author of The Speckled People

"A textured thriller straight from the torment of Ireland's 19th century. Paul Lynch delivers a raw ancient world that Dickens would have recognized, and Roberto Bolaño too."
---Peter Behrens, author of The Law of Dreams and The O'Briens

"A cracking debut novel. Paul Lynch's startling, evocative prose veers closer to poetry.... This novel is a wonderful achievement."
---Kristoffer Mullin, The Sunday Times

"A compulsive read.... A combination of the poetic and the vicious. It unabashedly uses a 21st-century sensibility to subvert the conventions of the 'historical' novel."
---Arminta Wallace, Irish Times

"Muscular and opulent... the novel is ripe with spookily vivid writing. A very stylishly written book that takes the Irish novel into quite a different genre."
---The Examiner