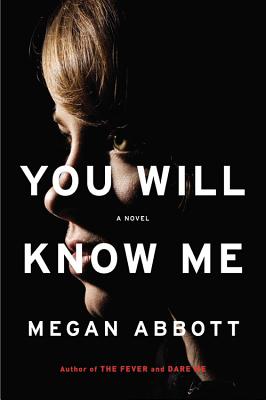 You Will Know Me
A Novel
Hardcover

* Individual store prices may vary.
Other Editions of This Title:
Digital Audiobook (7/25/2016)
Paperback (4/25/2017)
CD-Audio (7/26/2016)
Compact Disc (7/26/2016)
Mass Market (8/28/2018)
Description
A "shocking and perfect" bestseller about family and ambition from the award-winning author of Dare Me and The Turnout (New York Times Book Review​).

How far will you go to achieve a dream? That's the question a celebrated coach poses to Katie and Eric Knox after he sees their daughter Devon, a gymnastics prodigy and Olympic hopeful, compete. For the Knoxes there are no limits -- until a violent death rocks their close-knit gymnastics community and everything they have worked so hard for is suddenly at risk.

As rumors swirl among the other parents, Katie tries frantically to hold her family together while also finding herself irresistibly drawn to the crime itself. What she uncovers -- about her daughter's fears, her own marriage, and herself -- forces Katie to consider whether there's any price she isn't willing to pay to achieve Devon's dream.

From a writer with "exceptional gifts for making nerves jangle and skin crawl" (Janet Maslin), You Will Know Me is a breathless rollercoaster of a novel about the desperate limits of parental sacrifice, furtive desire, and the staggering force of ambition.
Praise For You Will Know Me: A Novel…
PRAISE FOR YOU WILL KNOW ME:


"[Abbott] is in top form in this novel. She resumes her customary role of black cat, opaque and unblinking, filling her readers with queasy suspicion at every turn."
—Jennifer Senior, New York Times

"...brilliant...beneath the glittering carapace of Abbott's lush, skillful, subtle writing, it's impossible to know what we're supposed to think. One of the strengths of this novel is that it doesn't mind what we believe--it is cooly at peace with whatever our take on matters might be...we, as readers, are made entirely responsible for our own theories and conclusions. In that sense, this is an exceptionally plausible work of fiction...The wrong kind of ambiguity in a crime novel can be fatal. Abbott judges it impeccably here..all of this Abbott pulls off with groundbreaking skill...excellent."
—Sophie Hannah, New York Times Book Review

"Taut and raw, this is a mesmerizing story from a master of suspense."—Kim Hubbard, People

"Compulsively creepy...a can't-put-it down novel that's a little bit Nancy Kerrigan vs. Tonya Harding, a little bit The Omen."—Leigh Haber, Oprah.com

"It's Abbott's psychological smarts that make You Will Know Me such a standout...Abbott steadily commands our attention with a suspense plot that unexpectedly somersaults and back flips whenever a landing seems in sight."—Maureen Corrigan, Washington Post

"Megan Abbott has written a book with the taut and muscular ruthlessness of a gymnast, a book that disorients with eerie countermelodies...You Will Know Me takes swift, unsettling, apparently effortless flight."—Annalisa Quinn, NPR.org

"Abbott's finest novel thus far, a dark inquest into the pressures to which American society subjects its girls."—Charles Finch, USA Today

"Master of mystery Abbott...brings her noir sensibility to the world of elite teen gymnastics."
—Entertainment Weekly

"Mesmerizing and nerve-jangling...beautifully adept at capturing the intensity of feeling inherent in the flush of youth, the more-innocent aspects of growing up...But it's how she infuses the ordinary with distinct oddities that keeps this tale humming scarily along."
—Daneet Steffans, The Boston Globe

"Brilliant and disturbing."—Tom Nolan, Wall Street Journal

"[A] sharply plotted novel."—Oline Cogdill, Associated Press

"Abbott commands our attention with a plot that somersaults and back flips whenever a safe landing seems in sight. But what's even more ingenious is how artfully her novel draws us readers into that closed world of BelStars Gym...You Will Know Me is a terrific accompaniment to this summer's Olympic frenzy. It's an all-around winner."
—Maureen Corrigan, NPR's Fresh Air

"Almost unbearably tense, chilling and addictive, You Will Know Me deftly transports the reader to the hyper-competitive arena of gymnastics where the dreams and aspirations of not just families but entire communities rest on the slender shoulders of one teenage girl. Exceptional."—Paula Hawkins, author of The Girl on the Train

"You Will Know Me hits that rarefied sweet spot between unnerving psychological suspense and a family drama with heart, inducing equal parts dread and unease, empathy and warmth. The pages couldn't turn fast enough...Luscious writing, a timely and unique premise, and an ending that will haunt you all summer long."—Jessica Knoll, New York Times bestselling author of Luckiest Girl Alive

"Is there anything Megan Abbott can't do? We will have to wait for the answer to that question because You Will Know Me continues her formidable winning streak. This story of an ordinary family with an extraordinary child is gorgeously written, psychologically astute, a page-turner that forces you to slow down and savor every word. And yes--please forgive me--she totally sticks the landing."—Laura Lippman, New York Times bestselling author of Hush Hush

"Megan Abbott's latest thriller plunges readers into the shockingly realistic life of young, female gymnasts whose severely regulated lives come with unthinkable consequences. Gritty, graphic, and yet beautiful and dreamlike in the way the story unfolds, You Will Know Me comes barreling at you with all the power and urgency of a high-speed train, as Abbott asserts herself as one of the greatest crime writers of our time."—Mary Kubica, New York Times bestselling author of The Good Girl

"You Will Know Me takes you into the dark heart of family, a journey that feels more menacing with every page. Abbott cranks the tension up in this disturbing tale of exactly what we are prepared to do for our children--I was reading compulsively into the night. A beautifully written, gripping read that feels unshakably real."—Kate Hamer, The Girl in the Red Coat

"Like stepping into a world with slightly too little oxygen. Dark and compelling, this is a 2 a.m. novel."—Lucie Whitehouse, author of Before We Met

"You Will Know Me is powerful and unsettling, a portrait of a family where tenderness can mean pain as well as love. Megan Abbott is exceptionally good at teasing out telling moments to reveal deeply buried truths."—Jane Casey, author of The Missing

"Chillingly believable, beautifully written...You Will Know Me is Megan Abbott's best novel to date. A triumph."—Paula Daly, author of The Mistake I Made

"Megan Abbott writes like a dream and grips like a vice. Weeks later, I still can't stop thinking about You Will Know Me."—Erin Kelly, author of The Poison Tree

"The tension starts in the second paragraph of page one and insinuates itself brilliantly throughout, unsettling and wrong footing me. I read it, holding my breath like Devon before the big leap. Loved every minute."—Fiona Barton, author of The Widow

"Look out for the gloriously talented Megan Abbott. She's ruthlessly acute, funny, heartbreaking, lyrical, brilliant...I've loved every one of her novels, but none as much as You Will Know Me. Three weeks after finishing it, I still pick it up again, to re-experience the delicious pleasure I felt, devouring it."
—Joyce Maynard, New York Times bestselling author of Under the Influence

"Thriller Award-winner Abbott (The Fever) takes a piercing look at what one family will sacrifice in the name of making their daughter a champion...Abbott keenly examines the pressures put on girls' bodies and the fierce, often misguided love parents have for their children."—Publishers Weekly (Starred Review)

"Abbott has a knack for dissecting the dark, beating heart of the most all-American activity. Her Dare Me (2012) brought a Fight Club intensity to cheerleading, and her she captures ripped palms and the muscle-bound physiques that attract the cruel taunts of classmates. But this equally dazzling tale is set not in the teens' world but rather in the adult boosters' strange tribe, exploring the agony and urgency of their desire, the unknowability of others, and the burden of expectations laid on the gymnasts. It's vivid, troubling, and powerful--and Abbott totally sticks the landing."
—Booklist (Starred Review)

"In true Abbott style, nothing is predictable here; the plot consistently confounds expectations with its clever twists and turns. Admirers of Patricia Highsmith, Laura Lippman, and Kimberly Pauley are in for a treat."—Library Journal (Starred Review)

"[Abbott] returns to the subject she always captures so intensely: the private desires of teenage girls."

—Entertainment Weekly

"[Abbott] does killer teens better than anyone...Menace and more menace."
—Sheryl Connelly, New York Daily News

"Abbott's ability to build suspense and feed on readers' fear is nearly unparalleled...It's both terrifying and gripping."
—Meredith Turits, Elle.com

"A smart, tense thriller about how far people will go to achieve a dream."
—Brenda Janowitz, Popsugar

"Present-day fiction's most terrifying chronicler of the inner lives of teenage girls."
—Chicago Reader

"Chock full of tension and suspense...gripping."
—Claire Stern, InStyle.com

"This spell-binding novel explores the darkness in teenage girls and gives insight into the disciplined world of elite gymnasts and the parents that get them there."
—Holly Parmalee, Serendipity Magazine

"The twists are good, as they are in any page-turner worth its salt. But Abbott is exceptional because she writes characters that are as careful as her plotting."
—Kevin Nguyen, GQ.com

"[You Will Know Me] will keep you glued to your beach blanket."—Marie Claire

"The young crafter of simmering psychological thrillers alights once again on teenage girls and the hidden forces--ambition, love, envy--that tie them together and drive them apart, sometimes fatally."—Boris Kachka, Vulture

"Abbott is a master at getting inside the teen mind and then exploring its outer reaches. Now she delves into the fierce world of gymnastics, all-consuming desire and what it takes to create a true champion...Cloaked within a mystery is another story--about marriage, parenting and the sanctity of family."
—Darcy Jacobs, Family Circle

"Megan Abbott must have ice in her veins. In hijacking young-adult fiction for her own devious grown-up purposes, she writes from such a chilly remove you may want to turn up the thermostat. But the underlying tension she sustains is so beautifully unbearable, you may be unable to leave the couch."
—Lloyd Sachs, The Chicago Tribune

"What puts flesh on the bones of Abbott's flying cheetah of suspense is her insight into parenting, marriage, and various sorts of interpersonal rivalry...The characters of the adult women in this book, none completely likable, are knowingly depicted...Abbott [is] above other writers in this genre, making her something of a Stephen King, whose work hangs right on the edge of the literary while making your skin crawl."
—Marion Winik, Newsday

"Megan Abbott is the mistress of noir."
—Sarah Bryan Miller, The St. Louis Post-Dispatch

"Abbott seems to tap into that thing that makes ordinary teen girls so dangerous in that toxic mix of hormones and lack of sense of self, and then she dials it up a tick or two to homicidal."
—Richard Alley, Memphis Flyer

"[Abbott's] books are driven as much by intricate character development and rhythmic sentences as they are by plot. They could easily be shelved with literary fiction."
—Lucy Feldman, Wall Street Journal

"You Will Know Me is the kind of tense, haunting tale that only Megan Abbott could tell, and once again cements her place as one of the most talented storytellers currently working in any genre."—Barry Lee Dejasu, New York Journal of Books

"Simply put, You Will Know Me is THE must read novel of the summer, and perhaps all of 2016."
—Keith Rawson, LitReactor

"Abbott is so good at writing these fierce competitors, almost all of whom get into some kind of trouble, because she, too, is golden. If you don't know her by now, you should."—Lisa Levy, Literary Hub

"If, then, you are secretly craving a modicum of drama to go with your women's gymnastics, you should read Megan Abbott's leotard-centric You Will Know Me...the style of her prose, and her focus on teen-age desire, ambition, and secrecy, have a broad, cinematic appeal."
—Jia Tolentino, The New Yorker

"Abbott, who put a menacing spin on the world of cheerleading in Dare Me, amplifies the sense of danger implicit in high-stakes gymnastics, as well as the competition among the highly invested parents. Think Dance Moms, directed by Alfred Hitchcock."
—School Library Journal

"Queen of teenage noir."
—Amy Gentry, Bustle

"Un-put-down-able."—Billy Heller, New York Post

"Megan Abbott gets better and better with each book."
—Ray Palen, BookReporter

"Abbott is a genius at writing about ambitious teen girls who are more complicated, deep, and fascinating than society gives them credit for. You Will Know Me is a suspenseful, wicked, eerily smart book."
—Maris Kreizman, Esquire.com

"It's the chilling emotional twists that make the story so intriguing."
—Margie Romero, Pittsburgh Post-Gazette

PRAISE FOR THE FEVER:

"Megan Abbott has created a mesmerizing, modern portrait of teenage life today. . . The Fever holds true to its title: It's dark, disturbing, strangely beautiful and utterly unshakeable."—Gillian Flynn, author of Gone Girl

"If the phenomena that led to the Salem Witch trials were to revisit the world today, it might very well look like the scenario in Megan Abbott's engrossing, disturbing, panic attack of a novel, The Fever. In a time when suicide and pregnancy pacts can go viral, this story of mass hysteria in a high school is not only completely plausible -- it's impossible to put down."—Jodi Picoult, New York Times bestselling author of The Storyteller

"Stunning....Nothing should be taken at face value in this jealousy-and hormone-soaked world except that Abbott is certainly our very best guide."—Kirkus (Starred Review)

"If you think there's an American author writing about the thorny intricacies of female relationships with more smarts and verve than Megan Abbott, feel free to step forward and make your case."—Adam Sternbergh, Slate

"The book to beat...in the 'Is it the next Gone Girl?' sweepstakes."—Janet Maslin, New York Times

"The beauty of Abbott's writing, and the skilled way she weaves the men's lesser narratives into Deenie's story, make this a standout in contemporary crime fiction. Megan Abbott knows what girls are made of."—Clea Simon, The Boston Globe
Little, Brown and Company, 9780316231077, 352pp.
Publication Date: July 26, 2016
About the Author
Megan Abbott is the award-winning author of nine novels, including You Will Know Me, The Fever, Dare Me, and The End of Everything. She received her PhD in literature from New York University. Her writing has appeared in the New York Times, the Wall Street Journal, the Los Angeles Times Magazine, The Guardian, and The Believer. Currently, she is a staff writer on HBO's David Simon show, The Deuce. She lives in New York City. 
Coverage from NPR