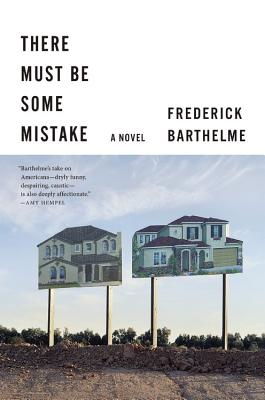 There Must Be Some Mistake (Hardcover)
A Novel
Little, Brown and Company, 9780316231244, 304pp.
Publication Date: October 7, 2014
Other Editions of This Title:
Paperback (5/16/2017)
* Individual store prices may vary.
Description
A fiftyish graphic designer forced into retirement discovers, via a parade of unlikely events, that it may still be a lovely day in the neighborhood, by "the master of the low-key epiphany." (The New Yorker)

Wallace Webster lives alone in Kemah, Texas at Forgetful Bay, a condo development where residents are passing away at an alarming rate. As he monitors events in the neighborhood, Wallace keeps in touch with his ex-wife, his grown daughter, a former coworker for whom he has much averted eyes, and a somewhat exotic resident with whom he commences an off-beat affair.

He sifts through the curious accidents that plague his neighbors, all the while reflecting on his past and shortening future. Required to reflect upon his own mortality, he wonders if "settling for" something less than he aspired to is a kind of cowardice, or just good sense.

Beneath the arresting repartee and the ever-present and often satisfying banality of our modern lives--from Google searches to real life mysteries on TV--lies Frederick Barthelme's affection for and curiosity about our human condition. THERE MUST BE SOME MISTAKE is warm and wry, beautifully written, and completely irresistible.
About the Author
Frederick Barthelme is the author of fourteen previous books of fiction. Until 2010, he directed the writing program at the University of Southern Mississippi and Mississippi Review. He now edits New World Writing, an online magazine started in 1995.
Praise For There Must Be Some Mistake: A Novel…
Praise for There Must Be Some Mistake

"Frederick Barthelme's books are a little jazzy, written in a minor key, like tunes that fool you by seeming to be simple enough to hum, until you realize that you can't mimic the melody. . . . There Must Be Some Mistake is a little miracle of faith, shown to us with an eye-opening attention to some of the glorious, perhaps even redemptive details of our dumbed-down so-called culture."—Ann Beattie

"There Must Be Some Mistake is so warm and funny-here is an appealing character with a sly wit who embraces life fully even while knee-deep in our dreary cultural junk, with an undercurrent of Scandinavian noir. Who but Frederick Barthelme could pull this off? The writing is superb. I wanted the story to go on and on."—Bobbie Ann Mason, author of The Girl in the Blue Beret



"Very nearly alone among his peers, Frederick Barthelme has, over the last thirty-five years, written fiction about what it actually feels like to live in contemporary post-religious, hyper-mediated America. And-even more of a rarity-he works hard to find a way to somehow tolerate/celebrate, with enormous subtlety and without an ounce of sentimentality, our bare-bones existence. In There Must Be Some Mistake, Barthelme has distilled his brutal, crucial vision into useable essence."—David Shields, author of How Literature Changed My Life

"[The reader is] spurred both to keep turning pages and linger over them... There is much to love about this novel."
—Dallas Morning News

"Barthelme, a master of minimalist suburbia-set fiction, returns with a buoyantly offbeat murder tale that doubles as a meditation on everything from contemporary art to Google to mortality... Throughout the novel, his narration provides punchy, wry commentary on the banality of pop culture, but the tone is, ultimately, infectiously optimistic."
—Publishers Weekly

"Barthelme's writing conveys much about the oddities of contemporary life with welcome humor."—Kirkus Reviews

"Frederick Barthelme, that sly master of suburban surrealism and deadpan portraitist of the confused, disengaged 21st-century man... This is the short of vaguely Southern, vaguely menacing, extremely funny human muck at which Barthelme excels. But beneath it all lurks his optimistic outlook."
—Cleveland Plain Dealer

"Pure joy."
—New York Times

"In Barthelme's world, there's no choice but to laugh at the onslaught of mundane terrors... There Must Be Some Mistake often reads like an amusing existential satire of the detective novel."—New York Times Book Review
or
Not Currently Available for Direct Purchase