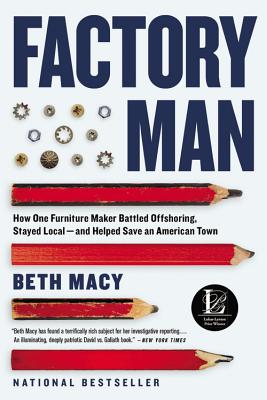 Factory Man
How One Furniture Maker Battled Offshoring, Stayed Local - and Helped Save an American Town
Paperback

* Individual store prices may vary.
Other Editions of This Title:
Digital Audiobook (7/14/2014)
Hardcover (7/15/2014)
Description
The instant New York Times bestseller about one man's battle to save hundreds of jobs by demonstrating the greatness of American business.

The Bassett Furniture Company was once the world's biggest wood furniture manufacturer. Run by the same powerful Virginia family for generations, it was also the center of life in Bassett, Virginia. But beginning in the 1980s, the first waves of Asian competition hit, and ultimately Bassett was forced to send its production overseas.

One man fought back: John Bassett III, a shrewd and determined third-generation factory man, now chairman of Vaughan-Bassett Furniture Co, which employs more than 700 Virginians and has sales of more than $90 million. In Factory Man, Beth Macy brings to life Bassett's deeply personal furniture and family story, along with a host of characters from an industry that was as cutthroat as it was colorful. As she shows how he uses legal maneuvers, factory efficiencies, and sheer grit and cunning to save hundreds of jobs, she also reveals the truth about modern industry in America.
Praise For Factory Man: How One Furniture Maker Battled Offshoring, Stayed Local - and Helped Save an American Town…
A New York Times Notable Book of 2014

One of Janet Maslin's Top 10 Books of 2014 in the New York Times

One of The Christian Science Monitor's Top 10 Nonfiction Books of 2014

One of Publishers Weekly Best Books of 2014: Nonfiction

A Goodreads Choice Awards Finalist: Business

"In a class with other runaway debuts like Laura Hillenbrand's "Seabiscuit" and Katherine Boo's "Behind the Beautiful Forevers": These nonfiction narratives are more stirring and dramatic than most novels. And Ms. Macy writes so vigorously that she hooks you instantly. You won't be putting this book down."

—Janet Maslin, New York Times

"Nonfiction storytelling at its finest.... It does what the best business books should: It delivers a heavily researched, highly entertaining story, at the end of which you realize you've learned something.... This is a great American story, the kind that we don't read often enough."—Bryan Burrough, New York Times

"A truly remarkable work of researched narrative nonfiction, one the probes every corner of its topic and values every subject who has something to say.... Factory Man does justice to every hidden corner of the story. It's a book that leaves you feeling better for having read it."—Lucas Mann, San Francisco Chronicle

"In a world of blue-collar victims, where logging chains seal forever the doors of mills and factories from the Rust Belt to the Deep South, Beth Macy's award-winning look at one furniture maker's refusal to give in is a breath of hope-and a damn fine story to read. The book tracks John Bassett's fight to keep American jobs on this side of borders and oceans, and keeps one American town from becoming a place of empty storefronts and FOR SALE signs."—Rick Bragg, Pulitzer Prize-winning author of The Most They Ever Had

"Beth Macy has done a masterful job in personalizing the biggest American economic story of our time--how to save American jobs in the 21st Century. John Bassett III is a cinematic figure and quintessential American, battling for his company, his town and his country."—Jonathan Alter, author of The Center Holds: Obama and His Enemies

"The author's brightly written, richly detailed narrative not only illuminates globalization and the issue of offshoring, but succeeds brilliantly in conveying the human costs borne by low-income people displaced from a way of life.... A masterly feat of reporting."—Kirkus (starred review)

"Macy chronicles Bassett's saga with vigor, integrity, soul, and skill, offering a humdinger of a globalization story and a true drama that reads like a novel."—Christian Science Monitor

"Macy's down-to-earth writing style and abundance of personal stories from manufacturing's beleaguered front lines make her work a stirring critique of globalization."—Carl Hays, Booklist

"Macy's riveting narrative is rich in local color.... Vivid reporting."—Publishers Weekly (starred review)

"The unlikely hero of Factory Man is a determined, ornery, and absolutely indomitable...business man. He's the head of a family furniture company and damned if he's going to be pushed around. Beth Macy has given us an inspiring and engaging tale for our times, but not the expected one."—Alex Jones, Pulitzer Prize-winning author of Losing the News: The Future of the News that Feeds Democracy, Director of the Shorenstein Center on Media, Politics and Public Policy and Laurence M. Lombard Lecturer in the Press and Public Policy

"Macy brings to the story a keen understanding of life among factory workers.... At its best, "Factory Man" traces the intertwined stories of a family, business, and town: the complex, paternalistic relationships, the shared secrets, the vexed bonds of interdependence. Macy writes movingly about what happens when workers in these factory towns face not only closing factories and skyrocketing unemployment but the loss of their community identity."—Kate Tuttle, Boston Globe

"I find myself deeply sympathetic to Macy's essential point, which is that globalization inflicts a great deal of suffering on millions of people, something the news media should do a better job of acknowledging and the government should do a better job of mitigating."—Joe Nocera, New York Times

"Like some of the best nonfiction writers today - Michael Lewis and Katherine Boo come to mind first - Macy takes a topic that is either too dry, too complicated, or too depressing for most journalists to tackle and she tackles it with vigor, integrity, soul, and skill."—Janet Saidi, Christian Science Monitor

A "feat of reporting.... There's a big generous heart at the center of this book, and it's hard not to compare Factory Man to the seminal nonfiction work of Tracy Kidder or even the storytelling that made David Simon's The Wire one of the best TV shows ever.... Factory Man is a valuable American story, and one of the best books I've read this year."—Elisabeth Donnelly, Flavorwire

"Macy's passion and enthusiasm are palpable on every page.... She makes a complex, now universal story understandable."—Mimi Swartz, New York Times Book Review

"An educational, fascinating reading adventure.... A moving book about the loss of American jobs -- one of the most vital issues of this century."—Steve Weinberg, The Dallas Morning News

"The epic struggle of Virginia furniture manufacturer John Bassett III (JBIII) to save his business has given crackerjack reporter Beth Macy the book she was born to write. Longtime champion of the downtrodden and the working American, Macy brings globalization down to a human scale, giving a real voice and a recognizable face to everyone involved, from factory worker to government official to Chinese importer. Thorough reporting and brilliant writing combine to make FACTORY MAN an exciting, fast-paced account of a quintessentially American story that affects us all."—Lee Smith, author of Guests on Earth

"Beth Macy sees twists and subtleties that other journalists can't see, and she writes about the world around her with grit, honesty and remarkable grace. She has a police detective's diligence and determination, a poet's way with words, and a born storyteller's gift for spot-on narrative."—Martin Clark, author of The Legal Limit

"An Appalachian Random Family.... Macy digs in all directions, visiting company towns without companies, unearthing family secrets, and explaining the economic forces that determine our lives."—Boris Kachka, New York Magazine

"Factory Man deserves to be read for anyone wanting to wrap their heads around the present-day dynamics and politics of globalisation. Macy's book is an important read...."—Shawn Donnan, Financial Times

"This business book, laced with Byzantine intrigue, has "made for Hollywood" stamped all over it."—Cecil Johnson, The Fort Worth Star-Telegram

"Boisterous.... Factory Man is a Big Tale of a Big Man doing Big Things, and a rebuke to those who would declare American manufacturing dead."—Earl Pike, Cleveland Plain Dealer

"Spirited, meticulously researched and well-written.... A page-turning tale that covers the company's history, family squabbles and the black-sheep son who rescued the company through pluck, persistence and political wrangling."—Margaret Jaworski, Success Magazine

"A well-crafted and epic tale.... Artfully told."—Marc Levinson, The Wall Street Journal

"A remarkable work.... Rarely, if ever, have I read a piece of book journalism that was more painstakingly researched or more compellingly transferred to the printed page.... It's as much about people as it is about bedroom suites and international commerce, and that human touch imbues it with the flesh and heart that sets it apart from most nonfiction."—Jeff DeBell, The Roanoke Times

A "deeply nuanced portrayal of the effects of globalization on a single company.... Exhaustively researched."—Chris Serres, Minneapolis Star Tribune

"John Bassett's story has everything. An extraordinary dynasty, a relevant and inspiring message, and one of the best heroes I've read about in years. It works on every level, from the most personal betrayal to the realities of the global economy, from the struggle of one worker in a small Appalachian town to the future of our cultural as a whole. Part of me wishes I'd found John Bassett III, because this is powerful stuff, but it's obvious the story is in excellent hands with Beth Macy. Sometimes the right writer comes along with the right story at the right time. This is clearly that book."—Bret Witter, author of Dewey and Until Tuesday

"In a compelling and meticulously researched narrative, Macy follows the story from the Blue Ridge Mountains to China and Indonesia, chronicling [John] Bassett's tireless work to revive his company, and with it, an American town."—Garden & Gun

"A bracing saga.... Macy is an engaging writer."—Michael Boodro, Elle Decor

"It's a must-read just for its look at what happens at home when we send jobs overseas and how we all play a role. This one is a page-turner."—DesignSponge

"A triumph.... Get Factory Man and take your time with it. It's a big ol' delicious toasted sandwich of a book."—Kurt Rheinheimer, The Roanoker

"I've been reading Beth Macy for years. She is a great American writer. She sees everything, all the precious detail. A few years back, as the world was collapsing around us, she did a story on the temp who was answering phones at a hotline for those in financial hot water. The temp was this immense hero in all these ways that nobody else would have ever recognized. Of course, Macy never called her a hero. She just let the story do the work."—Roland Lazenby, author of Michael Jordan

Beth Macy "got the story of a lifetime. And she wrote this book in the "Seabiscuit" tradition, combining the power of truth-that's-stranger-than-fiction with the colorful verve of a novel."—Janet Maslin, New York Times
Back Bay Books, 9780316231411, 496pp.
Publication Date: June 9, 2015
About the Author
Beth Macy is the author of the widely acclaimed and bestselling books Truevine and Factory Man. Based in Roanoke, Virginia for three decades, her reporting has won more than a dozen national awards, including a Nieman Fellowship for Journalism at Harvard.