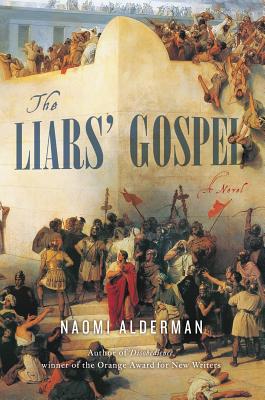 The Liars' Gospel
A Novel
Hardcover

* Individual store prices may vary.
Other Editions of This Title:
Digital Audiobook (3/11/2013)
Paperback (4/8/2014)
Description
An award-winning writer reimagines the life of Jesus, from the points of view of four people closest to him before his death.

This is the story of Yehoshuah, who wandered Roman-occupied Judea giving sermons and healing the sick. Now, a year after his death, four people tell their stories. His mother grieves, his friend Iehuda loses his faith, the High Priest of the Temple tries to keep the peace, and a rebel named Bar-Avo strives to bring that peace tumbling down.

It was a time of political power plays and brutal tyranny. Men and women took to the streets to protest. Dictators put them down with iron force. In the midst of it all, one inconsequential preacher died. And either something miraculous happened, or someone lied.

Viscerally powerful in its depictions of the period -- massacres and riots, animal sacrifice and human betrayal -- The Liars' Gospel makes the oldest story entirely new.
Praise For The Liars' Gospel: A Novel…
PRAISE FOR NAOMI ALDERMAN'S
THE LIARS' GOSPEL
"A visceral retelling of the events surrounding the life of Jesus. Her would-be messiah is a puzzling drifter marginal to his own story; the ferocity of Barabbas and Judas seizes the narrative and occupies its center ground."—
Hilary Mantel, author of Bringing Up the Bodies
"By turns poetic and visceral,
The Liars' Gospel
liberates towering figures from the stasis of iconography, giving them psychological depth."
---Abigail Meisel,
New York Times Book Review
—
-
"A novel of such intensity, meaning and depth that it must be destined to become a classic."
—
Bidisha, Presenter of BBC Radio Four's Saturday Review
"Head spinning perspectives on the life and times of Jesus, from a novelist who wields her pen like a sword."
—
More
"Vibrant descriptions....haunting prose.... Alderman transforms an ancient story into her own engaging meditation on power, oppression, and belief."
—
Publishers Weekly
"Superb....The best-known story of all takes on messy, intricate, surging new life when freed from its biblical shackles in Naomi Alderman's reimagining."
—
Victoria Moore, Daily Mail
"A provocative and fascinating retelling of one of the foundational narratives of Western culture."
—
Julie Subrin, Tablet Magazine
"Courageous....Alderman's revision of the Christ figure is a visceral, intelligent one, and it works superbly."
—
Arifa Akbar, The Independent
"Alderman re-creates with startling immediacy the culture of first-century Judea, with its political intrigue and riots, and with its characters wondering at what the life of Yehoshuah has meant to them."
—
Kirkus
"Provocative and mesmerizing....Alderman here succeeds magnificently....
The Liars' Gospel
roots its characters firmly and vividly in their historical and political context."—
Rebecca Abrams, New Statesman
Little, Brown and Company, 9780316232784, 320pp.
Publication Date: March 12, 2013
About the Author
Naomi Alderman is the recipient of the 2017 Baileys Women's Prize for Fiction for The Power. She is also the author of The Liars' Gospel and Disobedience, which won the Orange Prize for New Writers, has been published in ten languages, and has been made into a film by Rachel Weisz.

Alderman was selected for Granta's once-a-decade list of Best of Young British Novelists and was chosen by Margaret Atwood as part of the Rolex Mentor and Protégé Arts Initiative. She is the cocreator and lead writer of the bestselling smartphone audio adventure app Zombies, Run! She contributes regularly to The Guardian and presents Science Stories on BBC Radio 4. She lives in London.
or
Not Currently Available for Direct Purchase