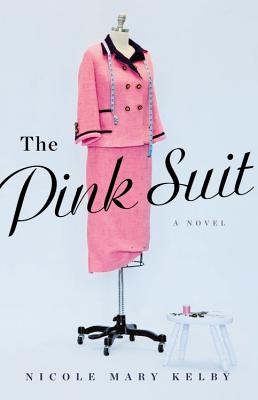 The Pink Suit
A Novel
Hardcover

* Individual store prices may vary.
Other Editions of This Title:
Digital Audiobook (4/28/2014)
Paperback (4/28/2015)
Description
"Inspired by the true story behind Jackie Kennedy's iconic outfit, Kelby has stitched a compelling tale of politics, fashion and history." -- People

On November 22, 1963, Jacqueline Kennedy accompanied her husband to Dallas dressed in a pink Chanel-style suit. Much of her wardrobe, including the pink suit, came from the New York boutique Chez Ninon where a young Irish immigrant named Kate worked behind the scenes to meticulously craft the memorable outfits.

Kate is torn between the glamorous world of Chez Ninon and her traditional Manhattan neighborhood. Finding balance is not easy in a time when women are still expected to follow the rules. And when you're in love, it's impossible. Kelby's luxurious narrative gives fascinating insight into the real story behind the iconic pink suit, introducing the reader to the wildly unforgettable characters that made Jackie Kennedy into the fashion icon of the century.
Praise For The Pink Suit: A Novel…
Entertainment Weekly's #1 Mother's Day pick for 2014An Oprah Magazine Top Ten Book of May 2014
—
-
"Luxuriate in shades of pink, in descriptions of haute couture so exquisite and precise that you can feel elegant just by reading the words. Nicole Mary Kelby has stitched together from scraps of facts a compelling novel, a lovable heroine, and a living neighborhood in its last few moments of innocence. From its startling opening to its poignant ending,
The Pink Suit
shows us that behind events of global significance, there are unknown individuals worthy of our interest." --Susan Vreeland, author of
Clara and Mr. Tiffany
and
Luncheon of the Boating Party
—
-
"B
eautifully written and engrossing,
The Pink Suit
gives us an extraordinary alternative reality, transforming JFK and Jackie's romance into the unforgettable love story of a seamstress and a butcher. Kate and Patrick are wonderful creations, and the evocation of the early 1960s is moving and convincing. Kelby spins a compelling tale of one of the most iconic garments ever sewn, and makes it entirely her own."
-Claire Kendal, author of
The Book of You
—
-
"
The Pink Suit
is a rare work, fascinating and beautifully crafted.Nicole Mary Kelby's sensuous prose is as opulent as the couture she describes." - Jennifer Chiaverini, author of the New York Times bestseller
Mrs. Lincoln's Dressmaker
—
-
"
The Pink Suit
is a wonderfully absorbing and richly textured novel, strikingly rendered with a keen eye for the details of art and fashion and an equally acute ear for the workings of the human heart. Kelby captures perfectly the yearnings, disappointment and aspirations of an unforgettable heroine against the backdrop of a national tragedy."
-Anne D. LeClaire, author of
Entering Normal
and
The Lavender Hour
—
-
"One of history's most tragic and iconic outfits has long had its own strange and compelling story. Now, at last, that story has been told-and beautifully."
-Jeffrey Kluger, author of
Lost Moon: The Perilous Journey of Apollo 13
—
-
"
The Pink Suit
, built around the Garment District back story of that now-famous outfit, is sure to catapult the writer's career straight from pret-a-porter to haute couture... Kate gets an insider's glimpse into the rarefied world of high-society matrons and wealthy socialites so often cloaked in mystery to outsiders. So do we... The Minnesota author herself seems poised to reach rosy new career heights with the publication of this carefully tailored novel."—
The Minneapolis Star Tribune
"While the novel is filled with politics, history and lots of insider views of designer fashion, Kate remains grounded... It's a look at an ordinary woman and how she played a small role in an extraordinary time."
—
The Fort Worth Star Telegram
"Novelist Nicole Mary Kelby picks up those threads of memory and weaves them into
The Pink Suit,
a subtly heartbreaking, completely believable tale inspired by the Irish immigrant dressmaker who made Jacqueline Kennedy's Chanel knockoff."—
Dallas Morning News
"A novel that's just about the pink suit worn by Jackie Kennedy that day in Dallas? Yes-and it's terrific."
—
Entertainment Weekly
"Getting a behind the scenes glimpse inside the fashion industry of the 1960s was a treat. But the real charm of the book is the protagonist herself, portrayed as a strong, independent and courageous woman who defies conventional expectations."
—
Historical Novel Society
"Inspired by the true story behind Jackie Kennedy's iconic outfit, Kelby has stitched a compelling tale of politics, fashion and history."
—
People
"A luxurious narrative... This is a novel that book clubs will relish."
—
Bookpage
"A delectable romantic novel with brains and a heart."
—
Maggie Gee, author of The White Family
"Excels brilliantly."
—
Publisher's Weekly
"Here reality and fiction intertwine, held together by the power of a single, fascinating narrative thread."
—
Harper's Bazaar (UK)
Little, Brown and Company, 9780316235655, 288pp.
Publication Date: April 29, 2014
About the Author
Nicole Mary Kelby is the critically acclaimed author of White Truffles in Winter, In the Company of Angels, Whale Season, and the Florida Book Award winner A Travel Guide for Reckless Hearts, among other works. She divides her time among St. Paul, Minnesota, the UK, and Ireland.
or
Not Currently Available for Direct Purchase