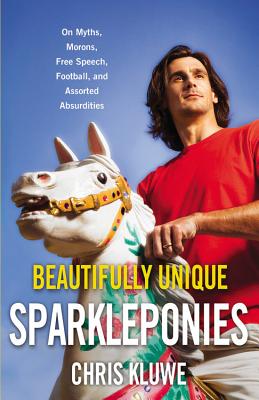 Beautifully Unique Sparkleponies
On Myths, Morons, Free Speech, Football, and Assorted Absurdities
Hardcover

* Individual store prices may vary.
Other Editions of This Title:
Digital Audiobook (6/24/2013)
Description
Hi. In your hands, right now, you hold the culmination of thousands of years of human intelligence, ingenuity, and brilliance. Now put your goddamn phone down and pay attention to my book.

What is in my book, you ask? (I'm really glad you asked, by the way, because now I get to tell you.)

Time travel. Gay marriage. Sportsballing. Futuristic goggles that DO NOTHING.

Tiny brags from my publisher, stuff like: "This is an uproarious, uncensored take on empathy, personal responsibility, and what it means to be human."

Excessive brags about myself: "An extraordinarily clever, punishingly funny, sharp-tongued blogosphere star, NFL player, husband and father, one-time violin prodigy, voracious lifetime reader, obsessive gamer, and fearless champion of personal freedom."

Oh, and also an essay on the Pope's Twitter account. Honestly, if that doesn't draw you in, there's no hope left for humanity. I also give my own funeral eulogy, in case you were hoping I'd go away and die now!

So please, join me in the glorious art of windmill tilting by reading this "collection of rousing, uncensored personal essays, letters, and stories" (I have no idea why that's in quotes).

Join the herd of Beautifully Unique Sparkleponies.

(You know you want to.)
Praise For Beautifully Unique Sparkleponies: On Myths, Morons, Free Speech, Football, and Assorted Absurdities…
"The most interesting man in the N.F.L." -- The New York Times

"The quirky and sometimes pugnacious ex-punter for the Vikings reveals a little more about his views on social issues, and a lot more about himself, his career and how his frenetic and far-ranging mind works....Kluwe proves himself to be, indeed, a man for all season--not just football season." -- The Minneapolis Star Tribune

"In a league (and sports climate) which has become one, long, repetitive sound bite, a guy who will actually say something meaningful." -- BleacherReport.com

"Chris Kluwe is a glimmering sparklepony of candor (and not afraid to dive fearlessly into the marriage equality debate)." -- Mother Jones

"It's a strongly worded, profanity laced political and philosophical manifesto from an unlikely new pundit: pro football player Chris Kluwe ... Mr. Kluwe's particular talent as a prose stylist lies in his creative use of inventive swear words." -- The Wall Street Journal's "Speakeasy"

"Kluwe is a genuine iconoclast.... Kluwe's writing makes for an entertaining read. He's as adept at the art of the take-down... but he is capable of toning it down when he has to.... His words present compelling arguments on myriad deep and unsolvable, yet relentlessly fascinating problems." -- The Pittsburgh Post-Gazette

"Intelligent and thought-provoking, Beautifully Unique Sparkleponies is relentlessly honest; Kluwe pulls no punches, spares no language and writes a rip-roaring debut." -- Shelf Awareness

"A lively collection. In mixing the profane with the prophetic while using a variety of literary devices, the author succeeds at being both entertaining and enlightening. An intriguing assortment of work from an athlete with a lot on his mind." -- Kirkus

"Kluwe is a brainy loudmouth dyspeptic idealistic pessimistic utopian punter/gay rights activist/champion of free speech/family guy who plays guitar. He's sort of Charles Barkley meets Bill "Spaceman" Lee--but with more gravitas." -- ESPN.com

"Kluwe's combination of passion and intelligent self-deprecation has resulted in some must-read stuff....Kluwe is a talented writer with plenty to say. He just happens to kick footballs for a living." -- The Maine Edge

"Chris Kluwe writes much better than I can punt." John Scalzi, award-winning author of Old Man's War and Redshirts
Little, Brown and Company, 9780316236775, 272pp.
Publication Date: June 25, 2013
About the Author
Chris Kluwe grew up in Southern California among a colony of wild chinchillas and didn't learn how to communicate outside of barking and howling until he was fourteen years old. He has played football in the NFL, once wrestled a bear for a pot of gold, and lies occasionally. He is also the eternal disappointment of his mother, who just can't understand why he hasn't cured cancer yet. Do you know why these bio things are in third person? I have no idea. Please tell me if you figure it out.
or
Not Currently Available for Direct Purchase