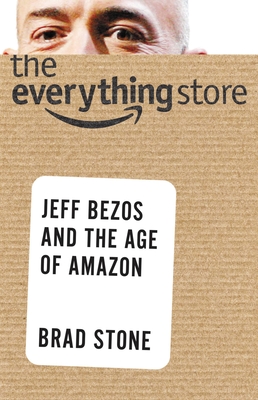 The Everything Store
Jeff Bezos and the Age of Amazon
Hardcover

* Individual store prices may vary.
Other Editions of This Title:
Digital Audiobook (10/14/2013)
Paperback (8/12/2014)
Hardcover (10/15/2013)
CD-Audio (10/15/2013)
Description
The definitive story of Amazon.com, one of the most successful companies in the world, and of its driven, brilliant founder, Jeff Bezos.

Amazon.com started off delivering books through the mail. But its visionary founder, Jeff Bezos, wasn't content with being a bookseller. He wanted Amazon to become the everything store, offering limitless selection and seductive convenience at disruptively low prices. To do so, he developed a corporate culture of relentless ambition and secrecy that's never been cracked. Until now. Brad Stone enjoyed unprecedented access to current and former Amazon employees and Bezos family members, giving readers the first in-depth, fly-on-the-wall account of life at Amazon. Compared to tech's other elite innovators -- Jobs, Gates, Zuckerberg -- Bezos is a private man. But he stands out for his restless pursuit of new markets, leading Amazon into risky new ventures like the Kindle and cloud computing, and transforming retail in the same way Henry Ford revolutionized manufacturing.

The Everything Store will be the revealing, definitive biography of the company that placed one of the first and largest bets on the Internet and forever changed the way we shop and read.
Praise For The Everything Store: Jeff Bezos and the Age of Amazon…
Winner of the Financial Times and Goldman Sachs Business Book of the Year AwardChosen as a Best Book of the Year by the Washington Post, Forbes, The New Republic, The Economist, Bloomberg,and Gizmodo, and as one of the Top 10 Investigative Journalism Books by Nieman Reports

"Mr. Stone tells this story with authority and verve, and lots of well-informed reporting.... A dynamic portrait of the driven and demanding Mr. Bezos." -- Michiko Kakutani, New York Times

"Engrossing.... Stone's long tenure covering both Bezos and Amazon gives his retelling a sureness that keeps the story moving swiftly." -- New York Times Book Review

"Jeff Bezos is one of the most visionary, focused, and tenacious innovators of our era, and like Steve Jobs he transforms and invents industries. Brad Stone captures his passion and brilliance in this well-reported and compelling narrative." -- Walter Isaacson, author of Steve Jobs

"Stone's account moves swiftly and surely." -- New York Times Book Review, "Editor's Choice"

"The Everything Store is a revelatory read for everyone--those selling and those sold to--who wants to understand the dynamics of the new digital economy. If you've ever one-clicked a purchase, you must read this book." -- Steven Levy, author of Hackers and In the Plex

"A deeply reported and deftly written book.... Like Steven Levy's "In the Plex: How Google Thinks, Works, and Shapes Our Lives," and "Gates: How Microsoft's Mogul Reinvented an Industry -- and Made Himself the Richest Man in America" by Stephen Manes and Paul Andrews, it is the definitive account of how a tech icon came to life." -- Seattle Times

"Stone's book, at last, gives us a Bezos biography that can fit proudly on a shelf next to the best chronicles of America's other landmark capitalists." -- Forbes

"Stone's tale of the birth, near-death, and impressive revival of an iconic American company is well worth your time." -- Matthew Yglesias, Slate

"An engaging and fascinating read.... An excellent chronicle of Amazon's rise.... A gift for entrepreneurs and business builders of the new generation." -- Business Insider

"Outstanding.... An authoritative, deeply reported, scoopalicious, nuanced, and balanced take that pulls absolutely no punches." -- Adam Lashinsky, Fortune

"Fair-minded, virtually up-to-the-minute history of the retail and technology behemoth and the prodigious brain behind it.... Stone's inside knowledge of a company ordinarily stingy with information is evident throughout the book.... Stone presents a nuanced portrait of the entrepreneur, especially as he sketches in Bezos' unusual family history and a surprising turn it took during the writing of the book. His reporting on the Kindle's disruption of traditional publishing makes for riveting reading. A must-add to any business bookshelf." -- Kirkus

"Brad Stone has done a remarkable job in The Everything Store, in a way that Bezos would appreciate...." -- The Financial Times

"An immersive play-by-play of the company's ascent.... It's hard to imagine a better retelling of the Amazon origin story." -- The New Republic

"The meticulously reported book has plenty of gems for anyone who cares about Amazon, Jeff Bezos, entrepreneurship, leadership just the lunacy it took to build a company in less than two decades that now employs almost 90,000 people and sold $61 billion worth of, well, almost everything last year." -- Washington Post

"Stone has broken new ground, demonstrating the massive influence Amazon exercises not only in the retail sector, but also throughout society, including government regulation or the lack of it." -- Neiman Reports

"Offers absorbing management insights... Insiders will get a serious glimpse at an industry behemoth." -- San Francisco Chronicle

"A tome that paints a fascinating picture of a remarkable tech entrepreneur." -- The Economist

"Illuminating." -- Salon

"Stone's shoe-leather reporting is what makes the book stand out." -- GeekWire

"As fine a profile of a secretive, fast-growing company as you are likely to encounter." -- Michael Moritz, Chairman, Sequoia Capital, LinkedIn.com
Little, Brown and Company, 9780316239905, 576pp.
Publication Date: October 22, 2013
About the Author
Brad Stone is senior executive editor of global technology at Bloomberg News and the author of the New York Times bestseller The Everything Store: Jeff Bezos and the Age of Amazon. He has covered Silicon Valley for more than 15 years and lives in San Francisco.