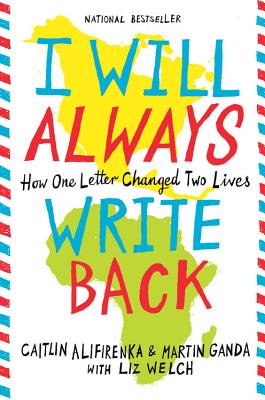 I Will Always Write Back (Paperback)
How One Letter Changed Two Lives
Little, Brown Books for Young Readers, 9780316241335, 416pp.
Publication Date: May 3, 2016
* Individual store prices may vary.
Description
The New York Times bestselling true story of an all-American girl and a boy from Zimbabwe and the letter that changed both of their lives forever.

It started as an assignment. Everyone in Caitlin's class wrote to an unknown student somewhere in a distant place.
Martin was lucky to even receive a pen-pal letter. There were only ten letters, and fifty kids in his class. But he was the top student, so he got the first one. That letter was the beginning of a correspondence that spanned six years and changed two lives. In this compelling dual memoir, Caitlin and Martin recount how they became best friends --and better people--through their long-distance exchange. Their story will inspire you to look beyond your own life and wonder about the world at large and your place in it.
About the Author
Caitlin Alifirenka and Martin Ganda met as pen pals in 1997 and are still best friends today. Caitlin, an ER nurse, lives outside Philadelphia with her husband and young daughters. Martin currently lives in New York. He has dual degrees in mathematics and economics from Villanova University and an MBA in finance from Duke University. Liz Welch is an award-winning journalist and memoirist whose critically acclaimed first book, The Kids Are All Right, co-authored with her sister Diana Welch, won an ALA Alex Award. Her stories have appeared in the New York Times, Parade, Life, Cosmopolitan, Vogue, Glamour, Real Simple, Self, Marie Claire, and other publications.