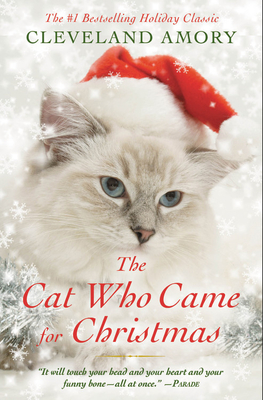 The Cat Who Came for Christmas
Paperback

* Individual store prices may vary.
Description
A cat charms its way into a curmudgeon's heart one hilarious holiday season in this "extraordinary" bestselling Christmas classic (Parade), the perfect gift for the animal lover in your life.
'Twas the night before Christmas when a bedraggled white feline entered the heart -- and home -- of Cleveland Amory. To say it is a friendly takeover is an understatement. For the cat who came for Christmas is clearly of the Independent Type, and Cleveland Amory, cranky or not, is a pushover where animals are concerned.
Toe to toe they stand -- Amory at six feet three, the cat at six inches -- and eyeball to eyeball with each other on every issue: whether or not to come when called; to recognize one's name; to take a trip, a pill, a bath, or a walk on a leash; to be civil to New People; or even in an age when Thin Is In, why anyone in his right mind would want to be the Last Fat Cat. We will not spoil The Cat Who Came For Christmas by telling you who blinks first. Suffice it to say that in this hilarious battle, nine times out of ten, it is not the cat.
Praise For The Cat Who Came for Christmas…
"Cleveland Amory has probably done more for more animals than any other
person in this country. But what he has done here, for this particular animal,
is in some ways just as remarkable. He has written a book which, from start to
finish I found powerfully compelling, an extraordinary combination of humor and
philosophy -- both his own and his cat's."—Norman Cousins

"This extraordinary true story will touch your head and your heart and
your funny bone-all at once. I predict this book will not just have nine lives,
but nine generations of lives."—Parade

"The Cat Who Came for Christmas arrived on the one day I was home between two extended overseas trips and my desk was piled high. So some reluctance touched my decision even to take a quick glance at the formidable pile of galleys. One and a half hours later I was still reading about that darned cat. It is that kind of book. That kind of cat, too."—Walter Cronkite
Back Bay Books, 9780316242684, 256pp.
Publication Date: October 22, 2013
About the Author
Cleveland Amory (1917-1998) wrote many highly successful books about animals, including The Cat Who Came for Christmas, The Cat and the Curmudgeon, and The Best Cat Ever, as well as such widely praised works of social history as The Proper Bostonians, The Last Resorts, and Who Killed Society? He founded the Fund for Animals in 1967.