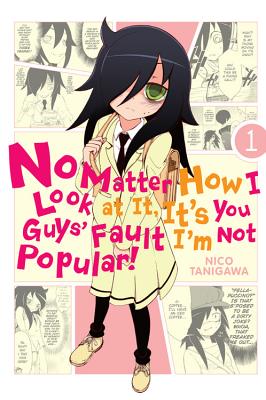 No Matter How I Look at It, It's You Guys' Fault I'm Not Popular!, Vol. 1 (Paperback)
Yen Press, 9780316243162, 144pp.
Publication Date: October 29, 2013
Other Editions of This Title:
Paperback (1/28/2020)
Paperback (10/15/2019)
Paperback (3/26/2019)
Paperback (1/20/2015)
Paperback (10/28/2014)
Paperback (1/21/2014)
* Individual store prices may vary.
Description
Tomoko Kuroki naturally assumed she'd be popular when she got to high school...but then cold, hard reality swooped in for the attack! Turns out all the popularity points she's racked up in her video game dating sims are worth squat in real life, and Tomoko's far from prepared to navigate high school! How can she possibly hope to impress her classmates when she can't even talk to them?! A new high-school heroine is born (maybe?)!
About the Author
A team of two manga artists, Nico Tanigawa is the creator of a number of school-life comedies, including No Matter How I Look At It, It's You Guys' Fault I'm Not Popular!