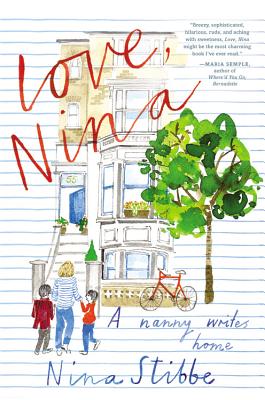 Love, Nina
A Nanny Writes Home
Hardcover

* Individual store prices may vary.
Description
"Breezy, sophisticated, hilarious, rude and aching with sweetness: Love, Nina might be the most charming book I've ever read." -- Maria Semple, author of Where'd You Go, Bernadette

In 1982, 20-year-old Nina Stibbe moved to London to work as a nanny to two opinionated and lively young boys. In frequent letters home to her sister, Nina described her trials and triumphs: there's a cat nobody likes, suppertime visits from a famous local playwright, a mysteriously unpaid milk bill, and repeated misadventures parking the family car.

Dinner table discussions cover the gamut, from the greats of English literature, to swearing in German, to sexually transmitted diseases. There's no end to what Nina can learn from these boys (rude words) and their broad-minded mother (the who's who of literary London). A charming, hilarious, sweetly inspiring celebration of bad food and good company, Love, Nina makes a young woman's adventures in a new world come alive.
Praise For Love, Nina: A Nanny Writes Home…
"I went back to listen to the audiobook of Love, Nina again, and again, I honked like a goose through the whole thing."—Ann Patchett, author of The Dutch House and Bel Canto

"My feel-good recipe is to have a top self-help book on the go together with a novel with a light and jolly perspective on life. On the novel front, anything by P.G. Wodehouse never fails, but this year, Love Nina: A Nanny Writes Home worked just the same magic."—Helen Fielding, author of Bridget Jones's Diary

"I adored this book, and I could quote from it forever. It's real, odd, life-affirming, sharp, loving...and I can't remember the last time I laughed out loud so frequently while reading."—Nick Hornby, The Believer

"[Love, Nina is] observant, funny, terse, at times a bit rude. It affords a glimpse into a rarefied London social and literary milieu...These letters are winning from the start...we simply like being in Ms. Stibbe's company."—Dwight Garner, The New York Times

"I have never laughed so hard reading a book. Nina Stibbe's recollections of life as a London nanny are both hilarious and heartwarming."—J. Courtney Sullivan, author of Maine and The Engagements

"I must MOST EARNESTLY recommend Love, Nina by Nina Stibbe. It's the most piss-funny thing I've read all year. I can't remember a book since Adrian Mole that so brilliantly, drily nailed day-to-day life in BRILLIANT, faux-naive prose."—Caitlin Moran, author of How to Build a Girl

"Nina Stibbe is the funniest new writer to arrive in years. LOVE, NINA is a memoir so warm, so witty and so wise, it's like finding the friend you always deserved."—Andrew O'Hagan, author of Be Near Me and Missing

"What a funny, artist-filled life she lived, and how well she watched and participated. This is an offbeat paean to families, real and cobbled-together, to sisters and siblings, and to communicating with love. It's also a rare and delectable epistolary slice of life."—Booklist (starred review)

"I loved this book. What a beady eye she has for domestic life, and how deliciously fresh and funny she is - a real discovery."—Deborah Moggach, author of The Best Exotic Marigold Hotel

"You'll find yourself laughing out loud but also touched by the book's depiction of family as it should be: people bound not just by blood but by shared affinities, humor and unfailing interest in hearing the answer to the question, 'How was your day?'"—People

"Enchanting . . . a glimpse into the domestic life of a fascinating family."—The Wall Street Journal
Little, Brown and Company, 9780316243391, 336pp.
Publication Date: April 22, 2014
About the Author
Nina Stibbe is the author of Love, Nina, Man at the Helm, Paradise Lodge, and An Almost Perfect Christmas. She lives in Cornwall, England with her husband and their two children.
or
Not Currently Available for Direct Purchase