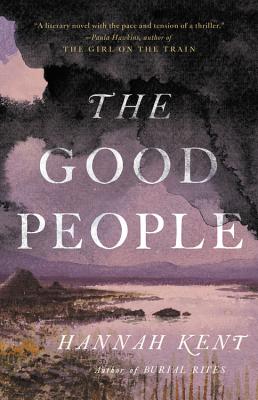 The Good People (Hardcover)
Little, Brown and Company, 9780316243964, 400pp.
Publication Date: September 19, 2017
Other Editions of This Title:
Digital Audiobook (9/18/2017)
Paperback (7/10/2018)
Compact Disc (9/19/2017)
CD-Audio (9/26/2017)
Hardcover, Large Print (9/19/2017)
* Individual store prices may vary.
Description
From the author of Burial Rites, "a literary novel with the pace and tension of a thriller that takes us on a frightening journey towards an unspeakable tragedy" (Paula Hawkins, bestselling author of The Girl on the Train and Into the Water).

Based on true events in nineteenth century Ireland, Hannah Kent's startling new novel tells the story of three women, drawn together to rescue a child from a superstitious community.

Nora, bereft after the death of her husband, finds herself alone and caring for her grandson Micheal, who can neither speak nor walk. A handmaid, Mary, arrives to help Nora just as rumors begin to spread that Micheal is a changeling child who is bringing bad luck to the valley. Determined to banish evil, Nora and Mary enlist the help of Nance, an elderly wanderer who understands the magic of the old ways.

Set in a lost world bound by its own laws, The Good People is Hannah Kent's startling new novel about absolute belief and devoted love. Terrifying, thrilling and moving in equal measure, this follow-up to Burial Rites shows an author at the height of her powers.
About the Author
Hannah Kent was born in Adelaide in 1985. Her first novel, Burial Rites, has been translated into nearly thirty languages and was shortlisted for the Baileys Women's Prize for Fiction (formerly the Orange Prize), the Guardian First Book Award and the International IMPAC Dublin Literary Award. Hannah is also the co-founder and publishing director of Australian literary journal Kill Your Darlings. The Good People is her second novel.
Praise For The Good People…
"Ms. Kent has a knack for conjuring the unsettled
spirit world through deft stylistic flourishes...THE GOOD PEOPLE is far
from a high-handed condemnation of superstitious belief. It makes the terrors
of the past feel palpable and imminent. It makes you reach for whatever good
luck charms you carry with you."—Sam Sacks, The Wall Street Journal

"Rural pre-famine Ireland in all its beauty and desolation is alive on
every page of this exquisite novel...'The Good People' is a dramatic tale of
desperation, set in a bleak time and place when no amount of protective ritual
and belief - or goodness - can rescue people from their circumstances."—Katherine Weber, The New York Times Book Review

"Kent's suspenseful storytelling plunges readers into
early 19th-century Ireland. She brings vivid life to the hardscrabble
scenes...Although 'The Good People' is fiction, it faithfully represents the hold
of ancient Celtic myths on generations of Irish."—Minneapolis Star Tribune

"Add Kent to the list of terrific Australian novelists
writing today. While Liane Moriarty (Big Little Lies) mines modern
marriage and mores for her page-turning mysteries, Kent (Burial Rites)
goes back in time to find reality-based stories of women who pay
the
price for challenging society's expectations. The Good People has great
characters, a setting that seeps
into
your bones and the always compelling tug between the spiritual and the
superstitious."—USA Today (starred review)

"If Stevie Wonder is correct, when you believe in
things you don't understand, then you suffer. Kent's novel validates his
indictment of superstition."—Kirkus

"Kent skillfully depicts a world where anything
outside the norm falls under suspicion, particularly women who are not under
the protection of a man."—Library Journal

Faith, folk-knowledge, and fear coalesce in remote 19th-century
Ireland in this second novel from Kent...Though rife with description, backstory,
and a surfeit of gossip, the book's pervasive sense of foreboding and clear
narrative arcs keep the tale immersive. Kent leads the reader on a rocky,
disquieting journey to the misty crossroads of Irish folk beliefs past and
future.—Publisher's Weekly

"Kent brings her talent for writing dark and atmospheric historical fiction to this tale set in rural Ireland in 1825... Kent's immersive setting, benefiting from impressive historical research and the use of Gaelic vocabulary, features both a dramatically alive natural world and a believably fearsome supernatural one. Inspired by true events and exploring those places where reason, religion, and superstition cross paths, this will please lovers of haunting literary fiction. "—Booklist

"Kent has a terrific feel for the language of her setting..This is a serious and compelling novel about those in desperate circumstances cling to ritual as a bulwark against their own powerlessness."—The Guardian

"Taking its inspiration from newspaper reports of a real court case in County Kerry in 1826, THE GOOD PEOPLE is an even better novel than Burial Rites-a starkly realized tale of love, grief and misconceived beliefs."—The Sunday Times UK

"Kent has a wonderful talent for taking fragments of historical facts and breathing life into them through her fiction. She has matched her debut with another disturbing and haunting novel."—Sunday Herald

"The novel is thrillingly alive to the dynamic of poor, close-knit communities, where fear of the outsider trumps reason and compassion."—Metro

"An intricate, heartbreaking portrayal of three women and the conflict between religious belief and folklore."—Stylist

"An imaginative tour-de-force that recreates a way of perceiving the world with extraordinary vividness...With its exquisite prose, this harrowing, haunting narrative of love and suffering is sure to be a prize-winner."
—Daily Mail

"Lyrical and unsettling, THE GOOD PEOPLE is a vivid account of the contradictions of life in rural Ireland in the 19th century. A literary novel with the pace and tension of a thriller, Hannah Kent takes us on a frightening journey towards an unspeakable tragedy. I am in awe of Kent's gifts as a storyteller."--Paula Hawkins, author of The Girl on the Train

"THE GOOD PEOPLE is, like Burial Rites, a thoroughly engrossing entrée into the macabre nature of a vanished society, its virtues and its follies and its lethal impulses. THE GOOD PEOPLE takes us straight to a place utterly unexpected and believable, where amidst the earnest mayhem people impose on each other, there is no patronizing quaintness, but a compelling sense of the inevitability of solemn horrors."--Thomas Keneally, author of Schindler's Ark and The Daughters of Mars

"Remarkable.... Kent displays an uncanny ability to immerse herself in an unfamiliar landscape and to give that landscape a life - a voice - that is utterly convincing.... A haunting novel, shrewdly conceived and beautifully written."--The Australian

"The Good People breathes life into the mythologies of
Irish folklore. It unfolds the story of two women desperate to reclaim what
little power they can over lives touched with hopelessness and despair in a
changing time."—Shelf Awarness
or
Not Currently Available for Direct Purchase