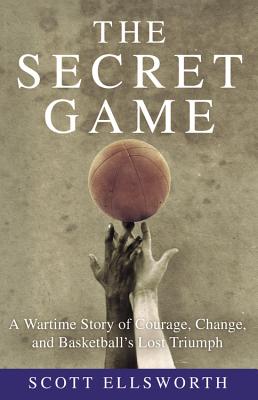 The Secret Game
A Wartime Story of Courage, Change, and Basketball's Lost Triumph
Hardcover

* Individual store prices may vary.
Other Editions of This Title:
Digital Audiobook (3/9/2015)
Paperback (3/1/2016)
Description
Winner of the 2016 PEN/ESPN Award for Literary Sports Writing: The true story of the game that never should have happened -- and of a nation on the brink of monumental change.

In the fall of 1943, at the little-known North Carolina College for Negroes, Coach John McLendon was on the verge of changing basketball forever. A protégé of James Naismith, the game's inventor, McLendon taught his team to play the full-court press and run a fast break that no one could catch. His Eagles would become the highest-scoring college team in America -- a basketball juggernaut that shattered its opponents by as many as sixty points per game.

Yet his players faced danger whenever they traveled backcountry roads. Across town, at Duke University, the best basketball squad on campus wasn't the Blue Devils, but an all-white military team from the Duke medical school. Composed of former college stars from across the country, the team dismantled everyone they faced, including the Duke varsity. They were prepared to take on anyone -- until an audacious invitation arrived, one that was years ahead of anything the South had ever seen before. What happened next wasn't on anyone's schedule.

Based on years of research, The Secret Game is a story of courage and determination, and of an incredible, long-buried moment in the nation's sporting past. The riveting, true account of a remarkable season, it is the story of how a group of forgotten college basketball players, aided by a pair of refugees from Nazi Germany and a group of daring student activists, not only blazed a trail for a new kind of America, but helped create one of the most meaningful moments in basketball history.
Praise For The Secret Game: A Wartime Story of Courage, Change, and Basketball's Lost Triumph…
"As a member of the Duke community, I have long been aware and proud of the secret game. Now Scott Ellsworth has brought it to light. The true story behind this extraordinary, long-buried game goes beyond any one school or any one state.
The Secret Game
is a triumphant look at how basketball has broken down barriers, and helped create a new kind of America. Every citizen needs to know this story--and to know it now."—
Mike Krzyzewski, head coach of Duke Men's Basketball
"There is a basketball on the cover, but this is much more than a story about basketball. Yes, there was a ground-breaking basketball game played in Durham, N.C., seven decades ago, and it is recounted in great detail by Scott Ellsworth. But what we really have here is indispensable social history. White people need to read this book. People of color need to read this book. Whoever you are, you need to read this book."
—
Bob Ryan, Boston Globe, ESPN, author of Scribe: My Life in Sports
"A powerful book that is a page-turner from start to finish.... Ellsworth has written an important book that should appeal to people of all colors."
—
Bob D'Angelo, Tampa Tribune
"A fascinating new work of cultural and sports history.... Through a mixture of oral history and archival research, Ellsworth captures the rich human details of a whole generation of largely forgotten basketball players."
—
Nick Romeo, Boston Globe
"It would be difficult, if not impossible, for me to overstate my admiration for Scott Ellsworth's magnificent
The Secret Game
. It's a book about race, a book about the South, a book about America, a book about the '40s, a book about change as well as how things remain the same. This is one of the smartest and most eloquent books I've come across in a long time. A masterpiece."—
Steve Yarbrough, author of The Realm of Last Chances
"A historian with the soul of a poet, Ellsworth offers a remarkably nuanced, vibrant, and eloquent account of life in the South during WWII, and his portraits of the principal players in this secret drama are multitextured and complex."
—
Wes Lukowsky, Booklist (starred review)
"Ellsworth has unearthed a brave moment in basketball, forgotten to history, which resonates far beyond the court."
—
Billy Heller, New York Post
"Scott Ellsworth has unearthed the facts of this little-known but hugely important moment. His research is as overwhelming as his story-telling style is accessible and engaging. If you love basketball, truly love the game and all that it means in terms of this country and its civil rights history, you'll want to read and reread
The Secret Game
."—
Roland Lazenby, author of Michael Jordan: The Life
"Ellsworth skillfully puts this story in the context of World War II, which forced this country to face -- albeit slowly -- its unjust treatment of those who also spilled blood to protect American democracy. He lets us know what happened to each of the players after the secret game -- their lives and their triumph no longer lost or forgotten."
—
Cliff Bellamy, The Herald Sun
"Riveting."
—
Kevin Nance, Chicago Tribune
"Amazing."
—
Robert Gray, Shelf Awareness
"Beautifully paced, its eloquence cloaked within a common touch."
—
Jeff Calder, The Atlanta Journal-Constitution
"A compelling story about basketball, race and transformation...."
—
D.G. Martin, Winston-Salem Journal
"[
The Secret Game
] should be read by anyone with an interest in basketball history, or American sports history. Or maybe even American history for that matter."—
Bill Reynolds, Providence Journal
"Ellsworth tells their story in the vein of
Seabiscuit
and
The Boys in the Boat
.... He reminds us who heroes are and what they can be."—
Daniel Solzman, The Kentucky Democrat
"Ellsworth chronicles a groundbreaking matchup....He weaves 50 years of story lines...[and] the takeaway is the unimaginable bravery of both teams."
—
Lisa Sorg, Indy Week
"Mesmerizing.... An elegant, deeply talented writer."
—
Jennifer Conlin, frequent contributor to the New York Times
"Engrossing..."
—
Chris Skaugset, The Daily News
"A riveting, little-known story reminding readers of a rising generation of risk-takers who fought against Jim Crow laws and ushered in the Civil Rights Movement."
—
Genesis Jackson, Duke Today
Little, Brown and Company, 9780316244619, 400pp.
Publication Date: March 10, 2015
About the Author
Scott Ellsworth is the New York Times bestselling author of The Secret Game, which was the winner of the 2016 PEN/ESPN Award for Literary Sports Writing. He has written about American history for the New York Times, the Washington Post, and the Los Angeles Times.

Formerly a historian at the Smithsonian Institution, he is the author of Death in a Promised Land, his groundbreaking account of the 1921 Tulsa race riot. He lives with his wife and twin sons in Ann Arbor, where he teaches at the University of Michigan.
or
Not Currently Available for Direct Purchase