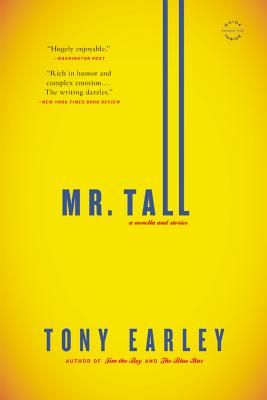 Mr. Tall (Paperback)
A Novella and Stories
Back Bay Books, 9780316246149, 272pp.
Publication Date: August 11, 2015
Other Editions of This Title:
Digital Audiobook (8/25/2014)
Hardcover (8/26/2014)
* Individual store prices may vary.
Description
A Washington Post Top 50 Fiction Book for 2014

Frank O'Connor International Short Story Award finalist

In Mr.Tall, his first story collection in two decades, Tony Earley brings us seven rueful, bittersweet, riotous studies of characters both ordinary and mythical, seeking to make sense of the world transforming around them. He demonstrates once again the prodigious storytelling gifts that have made him one of the most accomplished writers of his generation.

In the title story, a lonely young bride terrifyingly shares a remote mountain valley with a larger-than-life neighbor, while the grieving widow of "The Cryptozoologist" is sure she's been visited by a Southern variant of Bigfoot. "Have You Seen the Stolen Girl?" introduces us to the ghost of Jesse James, who plagues an elderly woman in the wake of a neighborhood girl's abduction. In "Haunted Castles of the Barrier Islands" a newly empty-nest couple stumbles through an impenetrable Outer Banks fog seeking a new life to replace the one they have lost, while "Yard Art" follows the estranged wife of a famous country singer as she searches for an undiscovered statue by an enigmatic artist. In the concluding novella, "Jack and the Mad Dog," we find Jack-the giant killer of the stories-in full flight from threats both canine and existential.

Earley indelibly maps previously undiscovered territories of the human heart in these melancholy, comic, and occasionally strange stories. Along the way he leads us on a journey from contemporary Nashville to a fantastical land of talking dogs and flying trees, teaching us at every step that, even in the most familiar locales, the ordinary is never just that.
About the Author
Tony Earley is the author of four previous books including the novels The Blue Star (LB, 3/08) and Jim the Boy (LB, 6/00). He lives with his family in Nashville, Tennessee, where he is the Samuel Milton Fleming Professor of English at Vanderbilt University.
Praise For Mr. Tall: A Novella and Stories…
"Hugely enjoyable... its loping, shaggy charm lands squarely between Theroux's dourness and Guterson's dreaminess, with a dallop of down-home Appalachian soul to boot."--Washington Post


"Earley's poetic sentences empower his stories, making them more poignant, more real, as when Jesse James's laugh causes a suburban woman to imagine "a mouth filled with cobwebs," or when, beset by a horrible flood, Jack the giant-killer's "brain began to shout the thoughts inside his head so that he might hear them." This collection reminds us that imaginative leaps may at times take readers away form what they call reality, but may just as easily bring us closer to it."--Boston Globe

"Tony Earley writes warm, funny stories that will break your heart. His humor and empathy will whisk you from beginning to end, and the sadness and regret at his stories' core will resonate in your memory... Here he has assembled a group of stories that are sad, droll and unforgettable. They are sophisticated and intricate in their construction, yet appealing and accessible--a pleasure to read, never a chore. They show Earley at his best."--Minneapolis Star Tribune

"Assured, evocative tales rich in humor and complex emotion."--New York Times Book Review



"Earley has grown up. Even if apple orchards still conceal secrets, mountain hollows house strange denizens, and the trains rumble reassuringly in the distance, there is undoubtedly a hard edge to this collection... Welcome, perhaps, to the Late Earley."—Publishers Weekly (starred review)

"Punctuated by sharp insights and wry observations on the human condition, featuring strong, idiosyncratic characters having small epiphanies in their small towns."—Kirkus Reviews

"Both funny and bittersweet, these stories offer vivid characters and imaginative scenarios."—Booklist

"Tony Earley more than measures up with Mr. Tall—Vanity Fair

"Studded with his penchant for finding enchantment in everyday lives, their folk tale patina presages the more overt magic running through his new collection of short stories... Throughout, these new fables remain tethered to Earley's trademark preoccupations--the strange alchemy by which people connect, a heartfelt grasping for what comes next."—Daily Beast

"Tony Earley bewitches his readers with an idyll of boyhood so completely realized that we never want to leave it."—Malcolm Jones, Newsweek

"At the heart of The Blue Star is a good, old-fashioned love story . . . Earley writes with the same lyrical simplicity that he employed in Jim the Boy, calling to mind his literary idol Willa Cather."—Boston Globe

"A very fine book, full of moments of humor and tenderness . . . The Blue Star is, in more ways than one, a wonderful reminder of how we used to live."—John Freeman, Minneapolis Star Tribune

Praise for JIM THE BOY

"From its title to its closing sentence, Tony Earley's first novel returns to basics, back to modernness in the old sense of the world. It's not a big book, just a good one-and in this instance good is higher praise than great."—Walter Kirn, New York Times Book Review

"So perfectly depicted that it exists outside of real time."—Orlando Sentinel

Praise for HERE WE ARE IN PARADISE

"Tony Earley does the practically impossible . . . These stories are both incredibly funny and effortlessly convincing."—Louise Erdrich, author of The Round House and The Plague of Doves

"[Earley] writes his stories with care, word by word and sentence by sentence, and they are distinguished by their feeling for the specifics of lives lived in one place, and for their intelligence, and for their humor."—Charles Baxter, author of The Soul Thief and The Feast of Love

"Each of Tony Earley's stories is like a little novel: fully imagined, fully realized . . . He sees beneath the surface, the calm water of everyday lives, into the hidden depths of the soul."—Lee Smith, author of On Agate Hill and Cakewalk