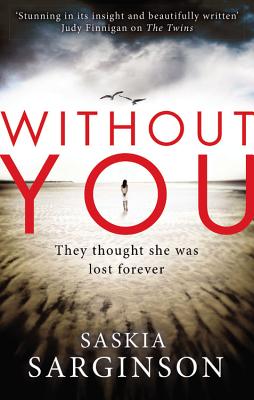 Without You (Paperback)
Redhook, 9780316246248, 400pp.
Publication Date: June 10, 2014
* Individual store prices may vary.
Description
1984 - Suffolk, England.
When 17-year-old Eva goes missing at sea, everyone presumes that she drowned. Her parents' relationship is falling apart, undermined by guilt and grief. But her younger sister, Faith, refuses to consider a life without Eva; she's determined to find her sister and bring her home alive.
Close to the shore looms the shape of an island -- out of bounds, mysterious, and dotted with windowless concrete huts. What nobody knows is that inside one of the huts Eva is being held captive. That she is fighting to survive -- and return home...
About the Author
Saskia Sarginson was awarded a distinction in her MA in Creative Writing at Royal Holloway after a BA in English Literature from Cambridge University and a BA in Fashion Design & Communications. Before becoming a full-time author, Saskia's writing experience included being a health and beauty editor on women's magazines, a ghost writer for the BBC and Harper Collins and copy-writing and script editing. Saskia lives in south London with her four children.
Praise For Without You…
"A perfect R&J summer read, a psychological thriller of sisters and a dreadful childhood incident, the details of which are drip fed to us throughout the book, building layers of complexity to the story at each revelation....Highly compulsive."—The Bookseller on The Twins

"Beautifully Done."—Publishers Weekly on The Twins

"[O]utstandingly good. Part-thriller, part-love story, I guarantee you will not be able to put it down."—The Sun (UK) on The Twins

"Everybody has an opinion about twins and the bond between them. Well this novel has two sets of twins and will make you curious to know more. The competition, the struggle for power but also the loyalty between them are extraordinary... This novel reads like a modern fairy tale, I loved it."—Pages & Pages, Sydney on The Twins

"Beautifully written with characters you'll learn to love."—Dymocks Rouse Hill, Sydney on The Twins

"This debut novel by Saskia Sarginson reveals a stunning writer with deep insight into people, their thoughts and behavior. It is a beautifully crafted and compelling story that won't disappoint."—NZ Women's Weekly on The Twins

"The debut novel from British author Saskia Sarginson simply called The Twins, is anything but simple: it's a beautifully layered novel about childhood, the haunting nature of secrets and the unbreakable bond of twins...a compelling slow burn of a story with evocative writing. It's an accomplished first novel by Saskia Sarginson and it was with genuine pleasure I read she's already at work on her next novel - which I will definitely be adding to my wish list."—The Well Read Kitty on The Twins

"This book got its hooks into us and wouldn't let go. Hypnotic, with real emotional punch."—Star, 4 starred review (UK) on The Twins
or
Not Currently Available for Direct Purchase