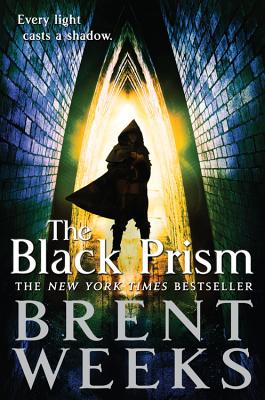 The Black Prism (Paperback)
Orbit, 9780316246279, 678pp.
Publication Date: July 23, 2013
Description
The first book in the blockbuster fantasy epic from New York Times bestselling author Brent Weeks.

THE BLACK PRISM begins an action-packed tale of magic and adventure . . .
Guile is the Prism, the most powerful man in the world. He is high priest and emperor, a man whose power, wit, and charm are all that preserves a tenuous peace. Yet Prisms never last, and Guile knows exactly how long he has left to live.
When Guile discovers he has a son, born in a far kingdom after the war that put him in power, he must decide how much he's willing to pay to protect a secret that could tear his world apart.
Dive into this incredible, New York Times bestselling fantasy series with THE BLACK PRISM.
Lightbringer
The Black Prism
The Blinding Knife
The Broken Eye
The Blood Mirror

For more from Brent Weeks, check out:
Night Angel
The Way of Shadows
Shadow's Edge
Beyond the Shadows
Night Angel: The Complete Trilogy (omnibus)
Perfect Shadow: A Night Angel Novella (e-only)
The Way of Shadows: The Graphic Novel
About the Author
Brent Weeks was born and raised in Montana. He wrote on bar napkins and lesson plans before landing his dream job years and thousands of pages later. Brent lives in Oregon with his wife, Kristi, and their daughters. Find out more about the author at www.brentweeks.com or on twitter @brentweeks.
Praise For The Black Prism…
"Brent Weeks is so good it's starting to tick me off."—Peter V. Brett, New York Times bestselling author of The Desert Spear

"Weeks manages to ring new tunes on...old bells, letting a deep background slowly reveal its secrets and presenting his characters in a realistically flawed and human way." --- Publishers Weekly

"Weeks has written an epic fantasy unlike any of its contemporaries. It is a truly visionary and original work, and has set the bar high for others in its subgenre." ---graspingforthewind.com
Advertisement