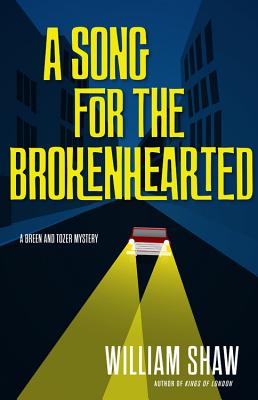 A Song for the Brokenhearted (A Breen and Tozer Mystery #3) (Hardcover)
Mulholland Books, 9780316246910, 416pp.
Publication Date: January 19, 2016
* Individual store prices may vary.
Description
The earthshaking decade of the 1960s comes to a sweeping and dangerous close, as William Shaw's detective duo battle the most powerful members of London society.
After being wounded in the line of duty, Detective Sergeant Breen recuperates on the family farm of his former partner, Helen Tozer. To fill the long and empty hours, he reviews the open case file for a murder that has haunted Helen for years: that of her younger sister. Breen discovers that the teenage victim had been having a secret affair with James Fletchet, the son of an affluent local landowner, celebrated for his service in Kenya during the Mau Mau Uprising.
Breen and Tozer return to London's Criminal Investigation Division, where their questions about Fletchet's past are met with resistance and suspicion. The deeper they probe, the more people they implicate in their investigation. New Scotland Yard doesn't look kindly upon breaking rank, and it's only a matter of time before Breen and Tozer make themselves a target.
Shaw's stirring, heartfelt and diabolically plotted mystery series is everything a reader looks for: enveloping, invigorating, and wonderfully entertaining.
About the Author
William Shaw is an award-winning pop-culture journalist, who has has written regularly for the UK's Observer, Independent, and Telegraph, as well as the New York Times, Wired and Details. His previous novels to feature Breen and Tozer are She's Leaving Home and The Kings of London. Shaw lives in Sussex, England.
Praise For A Song for the Brokenhearted (A Breen and Tozer Mystery #3)…
"Superb . . . Shaw picks up multiple plot threads, expertly weaving them into a complex story . . . Shaw perfectly captures the end of an uneasy era, and the utterly terrifying final scene will leave readers breathless."—Publishers Weekly (starred)

"Gripping . . . Echoes Robert Galbraith's crime novels, and neither author suffers by the comparison. This is a totally engaging series."—Library Journal (starred review)

"Shaw raises the bar with each entry in this series. . . . A genre-bending psychological thriller, perfect for those who like Elizabeth George's Lynley novels."—Booklist (starred review)

"Thoroughly gripping . . . Shaw draws incisive attention to little-known historical events and crafts a wholly satisfying thriller."—Kirkus Reviews

"A first-rate mystery and a compelling and accurate portrait of a changing society"—Laura Wilson, The Guardian [UK]

"Combines nostalgic period detail with an emotional intensity found only in the very best crime fiction."—The Sunday Times [UK]

"A proper conspiracy thriller . . . William Shaw delivers a perfect motive in the third of his excellent Breen and Tozer mysteries . . . It involves real history, real people, real crimes with real consequence."—Jeff Noon, Spectator [UK]