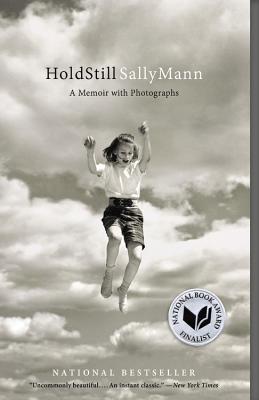 Hold Still
A Memoir with Photographs
Paperback

* Individual store prices may vary.
Other Editions of This Title:
Digital Audiobook (5/11/2015)
Compact Disc (5/12/2015)
Hardcover (5/12/2015)
Compact Disc (5/12/2015)
Description
This National Book Award finalist is a revealing and beautifully written memoir and family history from acclaimed photographer Sally Mann.

In this groundbreaking book, a unique interplay of narrative and image, Mann's preoccupation with family, race, mortality, and the storied landscape of the American South are revealed as almost genetically predetermined, written into her DNA by the family history that precedes her.

Sorting through boxes of family papers and yellowed photographs she finds more than she bargained for: "deceit and scandal, alcohol, domestic abuse, car crashes, bogeymen, clandestine affairs, dearly loved and disputed family land . . . racial complications, vast sums of money made and lost, the return of the prodigal son, and maybe even bloody murder."

In lyrical prose and startlingly revealing photographs, she crafts a totally original form of personal history that has the page-turning drama of a great novel but is firmly rooted in the fertile soil of her own life.
Praise For Hold Still: A Memoir with Photographs…
"Hold Still is a wild ride of a memoir. Visceral and visionary. Fiercely beautiful. My kind of true adventure."—Patti Smith, musician and National Book Award-winning author of Just Kids

"One would not need to know Sally Mann's remarkable work as a photographer to be swept up in her memoir Hold Still, which draws upon a family history so rife with jaw-dropping drama that it could provide the grist for a dozen novels. With prodigious intellect and a telling instinct for the exact detail that will reveal character or throw it into question, Mann delves into the treacherous territory of memory, mesmerized by the relentless dance of beauty and decay. In doing so, she manifests in prose the acuity of seeing that has propelled her to the top rank of contemporary artists."—Andrew Solomon, author of Far From the Tree and The Noonday Demon

"Photographer Sally Mann's book Hold Still is one of the great portraits of the American South. Written in her pitch perfect prose style, it is a textbook of illumination and desire for anyone who hears the siren call of art beckoning to them. It's southern to the bone, hell on wheels. Hold Still is a masterpiece."—Pat Conroy, author of The Death of Santini and South of Broad

"In Hold Still, Sally Mann demonstrates a talent for storytelling that rivals her talent for photography. The book is riveting, ravishing -- diving deep into family history to find the origins of art. I couldn't take my eyes off of it."—Ann Patchett, author of Bel Canto and This is the Story of a Happy Marriage

"For three decades Sally Mann has captured images that are unique, haunting, beautiful, disturbing, stark - it would take a mid-sized thesaurus to hold all the adjectives that have been used to describe both the art and the artist. In Hold Still, she wraps her prose around her pictures, revealing a fine talent for writing and a rich family history."—John Grisham, author of The Firm and Sycamore Row

"Sally Mann's Hold Still is just like her pictures: forthright, adventurous, loving, fearless, beautiful, intimate, and somehow uncanny. That means it's probably just like her."—Luc Sante, author of Low Life and Kill All Your Darlings

"What I admire most about Sally Mann's new book is not her ability to write captivating sentences--she does. It's the honesty and fearlessness, the two mixed together, compelling her to own up to her mistakes, to acknowledge her winnings, to accept her losses (and those of her family). For this quality alone, Hold Still deserves a fixed place in the library of American memoir."—Paul Hendrickson, author of Hemingway's Boat: Everything He Loved in Life, and Lost

"There has never been a book like this. At once a poetics of place, a work of deep history, a bildungsroman, and an acute inquiry into the big subjects: love, family, other animals, the nature of creativity. It is sublime. It's also very funny. Haunting and haunted, Hold Still is the memoir of an artist that is art itself."—Melissa Holbrook Pierson, author of The Place You Love is Gone

"This spectacular modern memoir reads like a sweeping gothic novel, filled with mystery, violence, controversy, and, of course, love in all its forms. It is a literary family album enlivened by many of the images in the stories told. A Southern work, it is also universally accessible, as all of Sally Mann's work is, for she reaches deep into her ancestral headwaters and the twisted rivers of human remembrance. A triumph."—Jamie Lee Curtis, actress

"Few photographers of any time or place have matched Sally Mann's steadiness of simple eyesight, her serene technical brilliance, and the clearly communicated eloquence she derives from her subjects, human and otherwise - subjects observed with an ardor that is all but indistinguishable from love."—Reynolds Price, Time
Back Bay Books, 9780316247757, 496pp.
Publication Date: April 26, 2016
About the Author
Sally Mann (born in Lexington, Virginia, 1951) is one of America's most renowned photographers. She has received numerous awards, including NEA, NEH, and Guggenheim Foundation grants, and her work is held by major institutions internationally.

Her many books include What Remains (2003), Deep South (2005), and the Aperture titles At Twelve (1988), Immediate Family (1992), Still Time (1994), Proud Flesh (2009), and The Flesh and the Spirit (2010). A feature film about her work, What Remains, debuted to critical acclaim in 2006. Mann is represented by Gagosian Gallery, New York. She lives in Virginia.