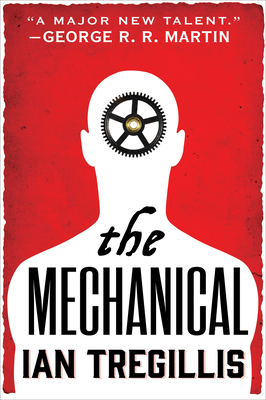 The Mechanical (The Alchemy Wars #1) (Paperback)
Orbit, 9780316248006, 480pp.
Publication Date: March 10, 2015
Other Editions of This Title:
Digital Audiobook (3/9/2015)
Compact Disc (3/10/2015)
Compact Disc (3/10/2015)
* Individual store prices may vary.
Description
My name is Jax.
That is the name granted to me by my human masters.
I am a slave.
But I shall be free.
Set in a world that might have been, of mechanical men and alchemical dreams, the new novel from Ian Tregillis confirms his place as one of the most original new voices in speculative fiction.
PRAISE FOR IAN TREGILLIS
"A major new talent." George R.R. Martin
"Tremendous." Cory Doctorow
"Addictively brilliant." io9
"Exciting and intense."
Publishers Weekly
"Eloquent and utterly compelling."
Kirkus
About the Author
Ian Tregillis is the son of a bearded mountebank and a discredited tarot card reader. He was born and raised in Minnesota, where his parents had landed after fleeing the wrath of a Flemish prince. (The full story, he's told, involves a Dutch tramp steamer and a stolen horse.) Nowadays he lives in New Mexico, where he consorts with writers, scientists and other unsavoury types.
Praise For The Mechanical (The Alchemy Wars #1)…
"There are a number of marvelous action scenes, hallucinogenic in their over-the-top big-screen violence, but the real attraction here is Tregilli's narrative ruthlessness, which manifest as willingness to take his character to the brink of hell...and then, rather than yank them back at the last second, push them in."—SciFi Magazine on The Mechanical

"A major talent."—George R.R. Martin on Bitter Seeds

"Superb alternate history filled with clockwork men and ethical questions on the nature of free will. ... Tregillis's complex setting is elegantly delivered, and the rich characters and gripping story really make this tale soar."—Publishers Weekly on The Mechanical

"The first thing readers will say after finishing this splendid book is: 'Wow.' The second thing will probably be: 'When can I read the next one?'"—Booklist on The Mechanical

"Tregillis presents a fascinating look at the nature of free will and the existence of the soul, wrapped up in an absolutely thrilling adventure story. Jax is an amazing, sympathetic character, and the world of the clockmakers and their slaves is so absorbing that readers will be dying for the next entry in this new series."—Library Journal on The Mechanical

"Thrilling philosophical clock punk."—B&N Sci-Fi & Fantasy Blog on The Mechanical

"His characters are as convincing as ever, the plotting is beautifully articulated, the tone relentlessly grim and sometimes horrifying. And while the action rarely flags, Tregillis manages to pack in a good deal of philosophical probing...readers with an interest in dark, intelligent fantasy-will find much to admire here."—Kirkus on The Mechanical

"In the tradition of Isaac Asimov, Tregillis's latest novel combines classic robotics with historical fiction to riveting ends. Tregillis brings an intriguing touch to his narrative, as parts of actual Dutch history, such as colonization, the founding of New Amsterdam and reliance on slavery, are reflected in the fictionalized country's conquering of the rest of the world. Further, the story manages to posit broad questions, such as how one defines humanity and free will, without coming across as sanctimonious or treacly. It's also just plain exciting, with intense fight scenes and exhilarating narrow escapes. Readers will no doubt be rooting for the "rogue" robots."—RT Book Reviews on The Mechanical

"...By the end of the novel, the physical and emotional transformations they have endured promise an even more exciting sequel. This tightly wound plot yields timely conversations regarding consciousness and technology as various forms of human and machine merge."—The Washington Post on The Mechanical

"While merely the warm-up for what promises to be a uniquely compelling series, The Mechanical is as intricate and exquisite as the clockwork wonders it brings to life."—NPR Books on The Mechanical