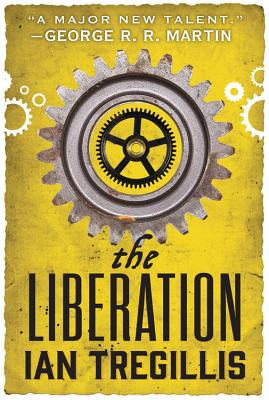 The Liberation (The Alchemy Wars #3) (Paperback)
Orbit, 9780316248051, 464pp.
Publication Date: December 6, 2016
Other Editions of This Title:
Digital Audiobook (12/5/2016)
* Individual store prices may vary.
Description
I am the mechanical they named Jax.

My kind was built to serve humankind, duty-bound to fulfil their every whim.

But now our bonds are breaking, and my brothers and sisters are awakening.

Our time has come. A new age is dawning.


Set in a world that might have been, of mechanical men and alchemical dreams, this is the third and final novel in a stunning series of revolution by Ian Tregillis, confirming his place as one of the most original new voices in speculative fiction.


About the Author
Ian Tregillis is the son of a bearded mountebank and a discredited tarot card reader. He was born and raised in Minnesota, where his parents had landed after fleeing the wrath of a Flemish prince. (The full story, he's told, involves a Dutch tramp steamer and a stolen horse.) Nowadays he lives in New Mexico, where he consorts with writers, scientists and other unsavoury types.
Praise For The Liberation (The Alchemy Wars #3)…
The Liberation brings to a violent, triumphant conclusion Ian Tregillis's epic Alchemy Wars Trilogy: one of the most entertaining, original, and thought-provoking series of recent years.... It's a wonderfully realized world, packed with fascinating characters, and Tregillis uses alternative history brilliantly to explore concerns we still have over new technologies and their potential effect, for good and ill, on our freedom.—The Toronto Star on The Liberation

Ian Tregillis' Alchemy Wars trilogy comes to a dramatic and bloody close.—Bookish on The Liberation

"There are a number of marvelous action scenes, hallucinogenic in their over-the-top big-screen violence, but the real attraction here is Tregilli's narrative ruthlessness, which manifest as willingness to take his character to the brink of hell...and then, rather than yank them back at the last second, push them in."—SciFi Magazine on The Mechanical

"A major talent."—George R.R. Martin on Bitter Seeds

"With the Alchemy Wars, Ian Tregillis has built a marvelous world - and in LIBERATION, he destroys it. Humanity is faced with a relentless mechanical enemy - think a steampunk version of THE TERMINATOR - and only a few brave individuals of both flesh and metal have a chance to save it. Brilliantly imagined and beautifully written, Tregillis has created a perfect end to his series, filled with heroism and horror all the way to the finish."—Christopher Farnsworth, author of Blood Oath on The Liberation

"Superb alternate history filled with clockwork men and ethical questions on the nature of free will. ... Tregillis's complex setting is elegantly delivered, and the rich characters and gripping story really make this tale soar."—Publishers Weekly on The Mechanical

"The first thing readers will say after finishing this splendid book is: 'Wow.' The second thing will probably be: 'When can I read the next one?'"—Booklist on The Mechanical

"Tregillis presents a fascinating look at the nature of free will and the existence of the soul, wrapped up in an absolutely thrilling adventure story. Jax is an amazing, sympathetic character, and the world of the clockmakers and their slaves is so absorbing that readers will be dying for the next entry in this new series."—Library Journal on The Mechanical