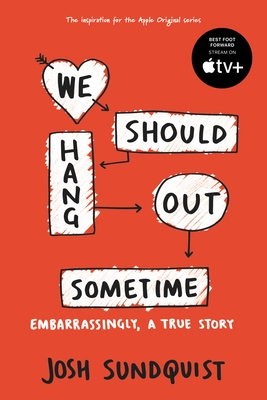 We Should Hang Out Sometime
Embarrassingly, a true story
Paperback

* Individual store prices may vary.
Other Editions of This Title:
Digital Audiobook (12/22/2014)
Description
From Paralympic ski racer and YouTube star, Josh Sundquist, comes an always-funny (and sometimes-awkward) memoir about teenage misadventures. The inspiration for the series Best Foot Forward, streaming soon on Apple TV+!

When I was twenty-five years old, it came to my attention that I had never had a girlfriend. At the time, I was actually under the impression that I was in a relationship, so this bit of news came as something of a shock.

Why was Josh still single? To find out, he tracked down each of the girls he had tried to date since middle school and asked them straight up: What went wrong?

The results of Josh's semiscientific investigation are in your hands. From a disastrous Putt-Putt date involving a backward prosthetic foot, to his introduction to CFD (Close Fast Dancing), and a misguided "grand gesture" at a Miss America pageant, this story is about looking for love--or at least a girlfriend--in all the wrong places.

Poignant, relatable, and totally hilarious, this memoir is for anyone who has ever wondered, "Is there something wrong with me?"

(Spoiler Alert: the answer is no.)
Praise For We Should Hang Out Sometime: Embarrassingly, a true story…
Praise for We Should Hang Out Sometime:An Amazon.ca Best Books of December 2014 for Children and Teens SelectionA YALSA 2015 Teens Top Ten Nominee"You should read this book sometime. I loved it so much."—Justine Ezarik, New York Times bestselling author of I, Justine: An Analog Memoir

"Often hilarious, occasionally awkward, and always hopeful, Josh's quest for love will have readers rooting for him all the way."—Jennifer E. Smith, author of The Statistical Probability of Love at First Sight and The Geography of You and Me

"Josh Sundquist has written a sharp, funny memoir without an ounce of self-pity about how the fear of rejection can be far more crippling than any disease. A hilarious, heartfelt reminder that finding the courage to accept love is an inside job."—Aaron Hartzler, author of Rapture Practice

"Sundquist is a storyteller-flawed, wry, laid-back and sympathetic. Anyone who's felt awkward will alternately (or simultaneously) wince and burst out laughing at his earnest misadventures with stalkers, "Close Fast Dancing" and flow charts... but above all, they'll be rooting for Sundquist to hang out with a girl. Funny, sympathetic and poignant, Sundquist's memoir has a high probability of success."—Kirkus Reviews

"An autobiographical account that's equal parts hilarious and cringe-inducing...While his recent interviews and meetings with the girls from his past are often just as uncomfortable as their dates were, they also lead to answers as genuine as his narrative."—Publishers Weekly

"[A] laugh-out-loud memoir...This is a unique, earnest, and funny coming-of-age story about Sundquist's experiences. Readers will appreciate the humorous and often embarrassingly accurate tales depicted in the pages of this book."—SLJ

"Josh's voice is engaging and conversational, and readers will relate as they laugh along at his misadventures. From a disastrous putt-putt date to just general, suffusing awkwardness, Josh (who grew up to be a Paralympic ski racer) discovers that revisiting the past can be both embarrassing and enlightening. Irresistible fun."—Booklist

"[Sundquist's] findings are illuminating for anyone who has experienced social awkwardness in the field of attraction...and his gift for encouragement shines forcefully from his final chapters, where he assesses what went wrong and relates how he has used his new self-awareness to find love. Readers familiar with Sundquist's website and YouTube channel will be a natural audience for this."—The Bulletin

"Sundquist has written a compelling memoir, to which teens will be able to relate, as it probes the universal insecurities of teen dating."—School Library Connection
Little, Brown Books for Young Readers, 9780316251006, 352pp.
Publication Date: January 19, 2016
About the Author
Josh Sundquist is a Paralympic ski racer, cancer survivor, popular YouTube vlogger, motivational speaker, and Halloween enthusiast. Every Tuesday, Josh releases a new video to 200,000-plus subscribers on his YouTube channel. He is the author of We Should Hang Out Sometime and the bestselling Just Don't Fall. As a motivational speaker, Josh speaks to schools, conventions, and corporations across the world. He invites you to visit him online at joshsundquist.com or follow him at @JoshSundquist.