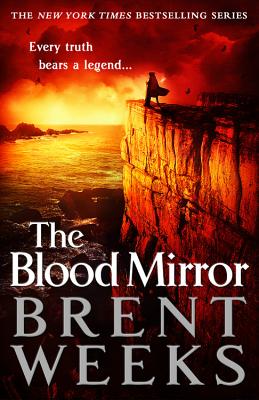 The Blood Mirror (Lightbringer #4) (Hardcover)
Orbit, 9780316251334, 704pp.
Publication Date: October 25, 2016
Other Editions of This Title:
Digital Audiobook (10/24/2016)
Paperback (7/18/2017)
Compact Disc (10/25/2016)
Compact Disc (10/25/2016)
* Individual store prices may vary.
Description
The fourth book in the blockbuster Lightbringer series from New York Times bestselling fantasy author Brent Weeks.
When does an empire fall?
The Seven Satrapies have collapsed into four-and those are falling before the White King's armies.
Gavin Guile, ex-emperor, ex-Prism, ex-galley slave, formerly the one man who might have averted war, is now lost, broken, and trapped in a prison crafted by his own hands to hold a great magical genius. But Gavin has no magic at all. Worse, in this prison, Gavin may not be alone.
Kip Guile will make a last, desperate attempt to stop the White King's growing horde. Karris White attempts to knit together an empire falling apart, helped only by her murderous and possibly treasonous father-in-law Andross Guile.
Meanwhile, Teia's new talents will find a darker use-and the cost might be too much to bear.
Together, they will fight to prevent a tainted empire from becoming something even worse.

Devour this epic fantasy series from the New York Times bestselling author of the Night Angel trilogy.

Lightbringer
The Black Prism
The Blinding Knife
The Broken Eye
The Blood Mirror
For more from Brent Weeks, check out:
Night Angel
The Way of Shadows
Shadow's Edge
Beyond the Shadows
Night Angel: The Complete Trilogy (omnibus)
Perfect Shadow: A Night Angel Novella (e-only)
The Way of Shadows: The Graphic Novel
About the Author
Brent Weeks was born and raised in Montana. He wrote on bar napkins and lesson plans before landing his dream job years and thousands of pages later. Brent lives in Oregon with his wife, Kristi, and their daughters. Find out more about the author at
www.brentweeks.com
or on twitter @brentweeks.
Praise For The Blood Mirror (Lightbringer #4)…
"Brent Weeks has a style and immediacy of detail that pulls the reader relentlessly into his story. He doesn't allow you to look away."—Robin Hobb

"The Lightbringer series is great fun. Nobody does break-neck pacing and amazingly-executed plot twists like Brent Weeks."—Brian McClellan, author of Promise of Blood

"His plot feels like an orchestrated chess match between genius grandmasters."—Publishers Weekly on The Broken Eye

"The Blinding Knife was even better than the The Black Prism (and that's saying something!)"—B&N.com on The Blinding Knife

"Brent Weeks is so good it's starting to tick me off."—Peter V. Brett, New York Times bestselling author of The Desert Spear on The Night Angel Trilogy

"The Blinding Knife is a wonderful work of high fantasy with engaging characters facing the perfect antagonists, set in a creatively-wrought and increasingly chaotic world brimful of imaginative magic and interesting politics. Weeks holds fast to the traditions of his genre while adding a compelling new flavor."—The Ranting Dragon

"One of the best epic fantasies I've ever read."—Staffer's Book Review on The Blinding Knife

"Weeks manages to ring new tunes on...old bells, letting a deep background slowly reveal its secrets and presenting his characters in a realistically flawed and human way."—Publishers Weekly on The Black Prism

"...A solid, entertaining yarn."—The Onion A.V. Club on The Black Prism

"Weeks has written an epic fantasy unlike any of its contemporaries. It is a truly visionary and original work, and has set the bar high for others in its subgenre."—graspingforthewind.com

"One of the best Fantasy books of 2012!"—A Dribble of Ink on The Blinding Knife