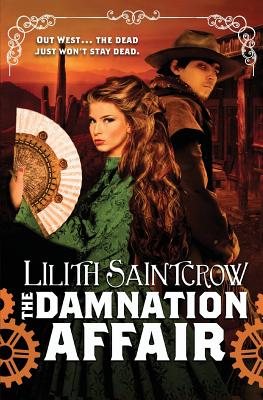 The Damnation Affair (Bannon & Clare #2) (Paperback)
Orbit, 9780316251594, 304pp.
Publication Date: February 5, 2013
* Individual store prices may vary.
Description
The West is a wild place, where the poison wind blows and the dead walk. But there is gold, and whiskey, and enough room for a man to forget what he once was--until he no longer can.


Jack Gabriel's been the sheriff in Damnation almost since the town grew out of the dust and the mud. He keeps the peace--sort of--and rides the circuit every dawn and dusk with the chartermage, making sure the wilderness doesn't seep into their fragile attempt at civilization. Away from the cities clinging to the New World's eastern rim, he doesn't remember what he was. At least, not much.
But Damnation is growing, and along comes a schoolmarm. Catherine Barrowe is a right proper Boston miss, and it's a mystery why she would choose this town where everything scandalous and dangerous is probably too much for a quality lady like her. Sometimes the sheriff wonders why she came out West--because everyone who does is running from something. He doesn't realize Cat may be prickly, delicate, and proper, but she is also determined. She's in Damnation to find her wayward older brother Robbie, whose letters were full of dark hints about gold, trouble...and something about a claim.
In a West where charm and charter live alongside clockwork and cold steel, where hot lead kills your enemy but it takes a blessing to make his corpse stay down, Cat will keep digging until she finds her brother. If Jack knew what she was after, he could solve the mystery--because he was the one who killed Robbie.
The thing is, Cat's brother just won't stay dead, and the undead are rising with him...
Word Count ~ 95,000
Bannon and Clare
The Iron Wyrm Affair
The Red Plague Affair
The Ripper Affair
The Damnation Affair (e-only)
For more from Lilith Saintcrow, check out:
Gallow and Ragged
Trailer Park Fae

Dante Valentine Novels
Working for the Devil
Dead Man Rising
Devil's Right Hand
Saint City Sinners
To Hell and Back

Dante Valentine (omnibus)
Jill Kismet Novels
Night Shift
Hunter's Prayer
Redemption Alley
Flesh Circus
Heaven's Spite
Angel Town

Jill Kismet (omnibus)

A Romance of Arquitaine Novels
The Hedgewitch Queen
The Bandit King
Blood Call (coming August 2015)
About the Author
Lilith Saintcrow was born in New Mexico, bounced around the world as an Air Force brat, and fell in love with writing when she was ten years old. She currently lives in Vancouver, WA.

Praise For The Damnation Affair (Bannon & Clare #2)…
Praise for Lilith Saintcrow:

" Saintcrow scores a hit with this terrific Steampunk series that rockets through a Britain-that-wasn't with magic and industrial mayhem with a firm nod to Holmes. Genius and a rocking good time." - Patricia Briggs

"Saintcrow...never fails to deliver excitement." --- Romantic Times

"Lyrical language and movie-worthy fight scenes are staples in Saintcrow's novels, and this one is no exception." --- midwestbookreview.com

"Lilith Saintcrow's foray into steampunk plunges the reader into a
Victorian England rife with magic and menace, where clockwork horses
pace the cobbled streets, dragons rule the ironworks, and it will take a
sorceress' discipline and a logician's powers of deduction to unravel a
bloody conspiracy." -- Jacqueline Carey

"Saintcrow melds a complex magic system with a subtle but effective steampunk society, adds fully-fleshed and complicated characters, and delivers a clever and highly engaging mystery that kept me turning pages, fascinated to the very end." -- Laura Anne Gilman

"Innovative world building, powerful steam punk, master storyteller at her best. Don't miss this one....She's fabulous. "
--- Christine Feehan

"Lilith Saintcrow spins a world of deadly magic, grand adventure, and fast-paced intrigue through the clattering streets of a maze-like mechanized Londonium. The Iron Wyrm Affair is a fantastic mix of action, steam, and mystery dredged in dark magic with a hint of romance. Loved it! Do not miss this wonderful addition to the steampunk genre."
--- Devon Monk