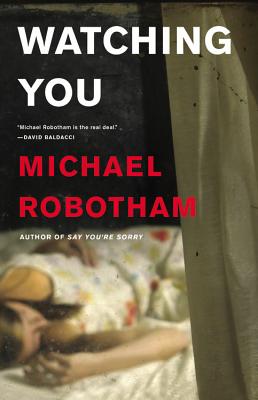 Watching You (Joseph O'Loughlin #7) (Hardcover)
Mulholland Books, 9780316252003, 432pp.
Publication Date: March 11, 2014
Other Editions of This Title:
Digital Audiobook (3/10/2014)
Paperback (2/10/2015)
Compact Disc (3/11/2014)
Compact Disc (3/11/2014)
* Individual store prices may vary.
Description
New York Times bestselling author Michael Robotham brings us face-to-face with a manipulative psychopath who has destroyed countless lives and is about to claim one final victim.

Marnie Logan often feels like she's being watched: a warm breath on the back of her neck, or a shadow in the corner of her eye that vanishes when she turns her head.

She has reason to be frightened. Her husband Daniel has inexplicably vanished, and the police have no leads in the case. Without proof of death or evidence of foul play, she can't access his bank accounts or his life insurance. Depressed and increasingly desperate, she seeks the help of clinical psychologist Joe O'Loughlin.

O'Loughlin is concerned by Marnie's reluctance to talk about the past and anxious to uncover what Marnie is withholding that could help with her treatment. The breakthrough in Marnie's therapy and Daniel's disappearance arrives when Marnie shares with O'Loughlin her discovery of the Big Red Book, a collage of pictures, interviews, and anecdotes from Marnie's friends and relatives that Daniel had been compiling as part of a surprise birthday gift.

Daniel's explorations into Marnie's past led him to a shocking revelation on the eve of his disappearance: Anyone who has ever gotten close to Marnie has paid an exacting price. A cold-blooded killer is eliminating the people in Marnie's life, and now that O'Laughlin is a part of it, he is next in line.
About the Author
Michael Robotham has been an investigative journalist in Britain, Australia and the US. One of world's most acclaimed authors of thriller fiction, he lives in Sydney with his wife and three daughters.
Praise For Watching You (Joseph O'Loughlin #7)…
"Always surprising and never dull. That's the bottom line on Michael Robotham's psychological suspense novels, which star a sympathetic clinical psychologist named Joe O'Loughlin and feature the walking wounded on his challenging client list."
—
Marilyn Stasio
,
The New York Times Book Review
"[A] stylish Hitchcock homage"
—
Vogue
"It'll keep you guessing and gasping."
—
Entertainment Weekly
"Tastily written and cleverly designed . . . Robotham's skillful plotting is impressive: This is the kind of book where you'll flip back to see how well he larded clues and hints throughout, and the ending provides a major kick."
—
USA Today
"With lots of suspense and a few surprising twists, this novel is a quick and rewarding read."
—
Judy Romanowich Smith
,
Star Tribune
or
Not Currently Available for Direct Purchase