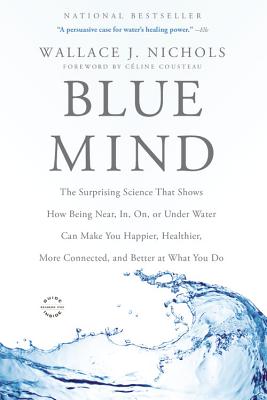 Blue Mind
The Surprising Science That Shows How Being Near, In, On, or Under Water Can Make You Happier, Healthier, More Connected, and Better at What You Do
Paperback

* Individual store prices may vary.
Other Editions of This Title:
Digital Audiobook (7/21/2014)
Hardcover (7/22/2014)
Description
A landmark book by marine biologist Wallace J. Nichols on the remarkable effects of water on our health and well-being.

Why are we drawn to the ocean each summer? Why does being near water set our minds and bodies at ease? In Blue Mind, Wallace J. Nichols revolutionizes how we think about these questions, revealing the remarkable truth about the benefits of being in, on, under, or simply near water.

Combining cutting-edge neuroscience with compelling personal stories from top athletes, leading scientists, military veterans, and gifted artists, he shows how proximity to water can improve performance, increase calm, diminish anxiety, and increase professional success. Blue Mind not only illustrates the crucial importance of our connection to water; it provides a paradigm shifting "blueprint" for a better life on this Blue Marble we call home.
Praise For Blue Mind: The Surprising Science That Shows How Being Near, In, On, or Under Water Can Make You Happier, Healthier, More Connected, and Better at What You Do…
"A visionary." ---Outside

"Nichols's message is a critical and compelling one." ---David Bennett, Green Team Operations & Innovations, Google

"If your time on our planet needs less stress and more happiness, find your way to Nichols's Blue Mind for the surprisingly simple and joyous ways water can change your life."—Timothy Dykman, Ocean Revolution

"Nichols insists on a more experiential brand of activism, encouraging individuals to encounter the oceans directly, in order to build personal and emotional connections-to get their feet wet."—GQ Magazine
Back Bay Books, 9780316252119, 368pp.
Publication Date: July 21, 2015
About the Author
Wallace "J." Nichols, Ph.D., is a research associate at the California Academy of Sciences and founder/co-director of Ocean Revolution, SEE the WILD, and LiVBLUE. His work has been broadcast on NPR, BBC, PBS, National Geographic and Animal Planet and featured in Time, Newsweek, GQ, Outside, Fast Company, Scientific American, and New Scientist. He lives in California with his partner Dana and his two daughters.
1. What elements of the other-than-human world have you courted and/or been courted by? When did you first encounter this beloved? Who were you with and what happened? How has this experience made you the person you are today?
2. About the brain and the ocean, David Poeppel is quoted as saying, "We're drawn to their mysteries . . . we strive to find a language to describe them." What mysteries of the universe are you drawn to? What language do you use to describe them? Intellectual? Emotional?
3. This chapter starts by describing the people he encountered while traveling along the coastal trail from Oregon to Mexico. What emotion did these people have in common? How do you feel when standing at the edge of a body of water? What expressions have you noticed on the faces of other people when they are near water? How does this differ depending on the activity you and they are engaged in?
4. When you're in the vicinity of water, what senses are you aware of ? How does this change when you are in water? What about when you are submerged under water? How does this sensual awareness influence your emotions and your relation-ship with water?
5. In what ways does water play a role in your job, field of study, hobbies, and recreational activities? How does water motivate you? What if water were no longer available for these activities? How would your motivation change? How would your life change?
6. What role has water played in your health and well-being? How has water put your health at risk? In what ways has it been healing?
7. Some people turn to water for inspiration, while others easily get bored sitting on a beach. What has been your experience? What do you think explains the difference in people's reactions to water? How do you think this has changed in society over time? Why?
8. What role did water play in the stories told by your ancestors? What role did water play in their ceremonies and rituals? In what ways has this relationship with water been passed down through time? What has been lost through time?
9. The final chapter opens with a quote from Marcel Proust that reads, "The real voyage of discovery consists not so much in seeking new territory, but possibly in having new sets of eyes." In what way has Blue Mind given you new eyes?