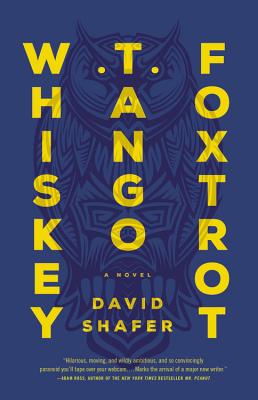 Whiskey Tango Foxtrot (Hardcover)
Mulholland Books, 9780316252638, 432pp.
Publication Date: August 5, 2014
Other Editions of This Title:
Digital Audiobook (8/4/2014)
Paperback (5/26/2015)
CD-Audio (6/2/2015)
* Individual store prices may vary.
Description
Three young adults grapple with the usual thirty-something problems -- boredom, authenticity, an omnipotent online oligarchy -- in David Shafer's darkly comic debut novel.

The Committee, an international cabal of industrialists and media barons, is on the verge of privatizing all information. Dear Diary, an idealistic online Underground, stands in the way of that takeover, using radical politics, classic spycraft, and technology that makes Big Data look like dial-up. Into this secret battle stumbles an unlikely trio: Leila Majnoun, a disillusioned non-profit worker; Leo Crane, an unhinged trustafarian; and Mark Deveraux, a phony self-betterment guru who works for the Committee.

Leo and Mark were best friends in college, but early adulthood has set them on diverging paths. Growing increasingly disdainful of Mark's platitudes, Leo publishes a withering takedown of his ideas online. But the Committee is reading -- and erasing -- Leo's words. On the other side of the world, Leila's discoveries about the Committee's far-reaching ambitions threaten to ruin those who are closest to her.

In the spirit of William Gibson and Chuck Palahniuk, Whiskey Tango Foxtrot is both a suspenseful global thriller and an emotionally truthful novel about the struggle to change the world in- and outside your head.
About the Author
David Shafer is a graduate of Harvard and the Columbia Journalism School. He has lived in Argentina and Dublin, and has been a journalist, sometimes a carpenter, once a taxi driver and briefly a flack for an NGO. He now lives in Portland with his wife, daughter, and son.
Praise For Whiskey Tango Foxtrot…
"Is it too late to nominate a candidate for novel of the summer? . . . A paranoid, sarcastic and clattering pop thriller . . . Mr. Shafer gets the playfulness-to-paranoia ratio about exactly right. . . . He's got a sick wit and a high style. Reading his prose is like popping a variant of the red pill in
The Matrix:
Everything gets a little crisper. . . .
Whiskey Tango Foxtrot
is a page-turner, yet many more "literary" writers will, I suspect, envy Mr. Shafer's tactile prose. His eye is hawklike. . . . Mr. Shafer has written a bright, brash entertainment, one that errs, when it errs at all, on the side of generosity, narrative and otherwise. It tips you, geekily and humanely, through the looking glass."—
Dwight Garner
,
New York Times
"Shafer's savvy, sardonic take on our social media- and Big Data-worshiping society is as current as your Twitter feed..Just in time for your August beach trip, put Whiskey on your Amazon Wish List. As if they don't already know you want it."
—
Patty Rhule
,
USA Today
"Genius techno-­thriller à la Neal ­Stephenson, powered by social-media info-conspiracy à la Dave Eggers."
—
Lev Grossman
,
Time
"No summary can do justice to the snap and smarts of this witty tale. . . . A clever book with an entertaining narrator just exploding with personalities."
—
Jenni Laidman
,
Chicago Tribune
"Zinging with wit and pop culture savvy . . . Shafer's writing is hip, wickedly hilarious, cutting edge, and ultimately concerned with old-fashioned notions of morality and redemption. . . His inventive, comic, dystopian semi-thriller restored my faith in fiction."
—
Mark Lindquist
,
Seattle Times
or
Not Currently Available for Direct Purchase