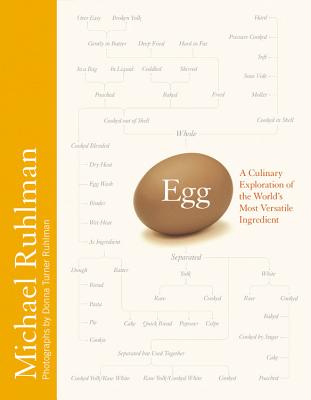 Egg
A Culinary Exploration of the World's Most Versatile Ingredient
Hardcover

* Individual store prices may vary.
Description
In this innovative cookbook, James Beard award-winning author Michael Ruhlman explains why the egg is the key to the craft of cooking.

For culinary visionary Michael Ruhlman, the question is not whether the chicken or the egg came first, it's how anything could be accomplished in the kitchen without the magic of the common egg. He starts with perfect poached and scrambled eggs and builds up to brioche and Italian meringue. Along the way readers learn to make their own mayonnaise, pasta, custards, quiches, cakes, and other preparations that rely fundamentally on the hidden powers of the egg.

A unique framework for the book is provided in Ruhlman's egg flowchart, which starts with the whole egg at the top and branches out to describe its many uses and preparations -- boiled, pressure-cooked, poached, fried, coddled, separated, worked into batters and doughs, and more.

A removable illustrated flowchart is included with this book. Nearly 100 recipes are grouped by technique and range from simple (Egg Salad with Tarragon and Chives) to sophisticated (nougat). Dozens of step-by-step photographs guide the home cook through this remarkable culinary journey.
Praise For Egg: A Culinary Exploration of the World's Most Versatile Ingredient…
"As useful as it is elegant, as comforting as it is revelatory, Egg elevates its humble subject to well-deserved heights, providing detailed (and delicious) instructions along the way."—Dan Barber, executive chef and co-owner of Blue Hill and Blue Hill at Stone Barns

"We're obsessed with Michael Ruhlman's new cookbook Egg, and know that you're going to love it as much as we do."—Alessandra Bulow, Epicurious

"The subtitle is no exaggeration, and Ruhlman, with great panache, proves it on page after page of his master class...You'll never see eggs in the same way again."—William Grimes, The New York Times Book Review

"Home cooks and professionals will embrace this useful resource, which includes a pull-out flow chart measuring over four feet long."—Publisher's Weekly (starred review)

"The chart alone is genius."—Michael Symon, chef, author, and co-host of The Chew

"I am, notoriously, an egg slut. This book has everything you need to know about the ingredient that gives in so many ways. And keeps on giving."—Anthony Bourdain, author, television host, producer

—David Lebovitz

"Ruhlman leaves no yolk unturned."—Amanda Gold, The San Francisco Chronicle

—Dorie Greenspan

In [Egg], Michael Ruhlman shows how a single ingredient plus a battery of fundamental techniques equals infinite possibilities in the kitchen."—The Wall Street Journal

—Mark Knoblauch

"Even the most devoted fan of the humble egg can gain a new perspective on the ingredient in Michael Ruhlman's new book."
—Rebekah Denn, The Seattle Times

"Michael Ruhlman has a new cookbook that will likely change the way you think about the egg."—NPR, The Salt

"Eggis a book that could serve as a useful primer for novices but will especially appeal to avid cooks who are curious about why and how recipes work."—Heller McAlpin, The Christian Science Monitor

"Egg explores eggs' diversity while focusing on the basics."—Debbie Arrington, The Sacramento Bee

"Ruhlman's cookbook makes you appreciate anew just how integral eggs are to the spectrum of cooking and baking."—Greg Morago, The Houston Chronicle
Little, Brown and Company, 9780316254069, 256pp.
Publication Date: April 8, 2014
About the Author
Michael Ruhlman is the bestselling and James Beard Award-winning author of many classic culinary books, including The Making of a Chef, Egg, Ratio, The Elements of Cooking, and Charcuterie. He lives in Cleveland, Ohio.
or
Not Currently Available for Direct Purchase